Status: Closed
| Type of posting | Posting date(EST): | Summary | Downloads |
| --- | --- | --- | --- |
| Custom Event Sets | 9/4/2023 5:00:00 AM | | |
| Update and Respond Shapefile | 8/31/2023 1:00:00 PM | | |
| Landfall SSEs | 8/30/2023 10:00:00 AM | | |
| 24 Hr Pre-Landfall SSEs | 8/29/2023 10:00:00 AM | | |
| 48 Hr Pre-Landfall SSEs | 8/28/2023 10:00:00 AM | | |
24 Hr Pre-Landfall SSEs | Summary

Posting Date: August 29, 2023, 10:00:00 AM
As of 8:00 am EDT, Tuesday, August 29, Idalia was located about 320 miles south-southwest of Tampa, with maximum 1-minute sustained winds of 80 mph and a minimum central pressure of 977 mb, per the National Hurricane Center. The storm is moving due north at 14 mph.
ALERT™ subscribers can download similar stochastic event (SSE) IDs for Idalia from the Downloads tab of this posting on the ALERT website. Compatible with Touchstone® and Touchstone Re™, the SSEs were selected based on Idalia's projected key meteorological parameters at landfall, in particular central pressure, storm track, and forward speed. They are recommended for use with exposures in Florida.
Catalog Viewer users are suggested to use the following initial ranges for search, in addition to the forecast track: Forward Speed 10-25 mph; Central Pressure 945 to 967 mb; Radius of Maximum Winds 25-37 mi.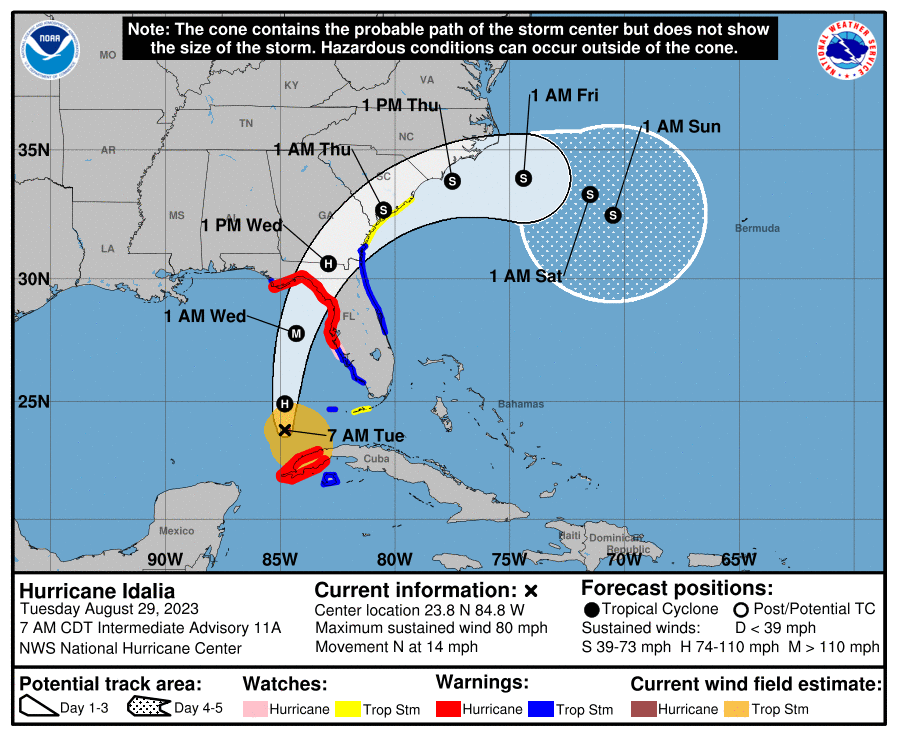 Idalia is forecast to be a Saffir-Simpson Category 3 hurricane at landfall. A Hurricane Warning is currently in effect from the middle of Longboat Key northward to Indian Pass, including Tampa Bay. A Storm Surge Warning is in place from Englewood to Indian Pass. Peak surge of 8 to 12 feet is expected somewhere between Aucilla River and Chassahowitzka.
The Verisk ALERT team will release an updated set of similar stochastic events on Wednesday, August 30 by around 10:00 am Boston time. Additional plans beyond landfall - including an industry loss estimate - are very likely given the forecast, with timing and details still to be determined. Our next update will be Wednesday morning.
24 Hr Pre-Landfall SSEs | Downloads

Posting Date: August 29, 2023, 10:00:00 AM
The information provided herein is strictly confidential and is solely for the use of Verisk clients; disclosure to others is prohibited.
Similar Stochastic Event IDs
Note: These lists give event IDs taken from our stochastic catalog that have similar characteristics as the current event.
| Product | File Type | Description | Download |
| --- | --- | --- | --- |
| TOUCHSTONE / Re | Excel (xls) | Selected set of stochastic events, with Readme in Excel format, with track map and industry losses | |
| TOUCHSTONE / Re | CSV (csv) | Selected set of stochastic events, formatted for import into Touchstone/Re | |
Additional Downloads
Note: Additional downloads related to the posting are listed below. Please use the appropriate application to view these files.
| Title | File Type | Description | Download |
| --- | --- | --- | --- |
| SSE Track Files | .shp/.lyr | Track files for today's SSE selections for use in GIS applications | |