M7.0 Dolores, Philippines Earthquake
Status: Closed
| Type of posting | Posting date(EST): | Summary | Downloads |
| --- | --- | --- | --- |
| Similar Stochastic Events | 7/27/2022 1:00:00 PM | | |
Similar Stochastic Events | Summary

Posting Date: July 27, 2022, 1:00:00 PM
A magnitude 7.0 earthquake struck the Philippines last night, centered in Abra province on the island of Luzon, less than 15 km from the town of Dolores. The earthquake struck at a focal depth of 10 km, making it a fairly shallow event. Damage was reported, primarily in Abra, where dozens of homes were reported collapsed and hundreds of other buildings showed foundation or wall cracks. Five people were killed by the temblor, mainly in collapsing structures, and at least 47 others were injured. The quake also triggered in excess of fifty small landslides in the mountainous region where the earthquake struck. The shaking was felt as far away as Manila, where train services were briefly stopped at rush hour, but no major damage was reported in the nation's capital.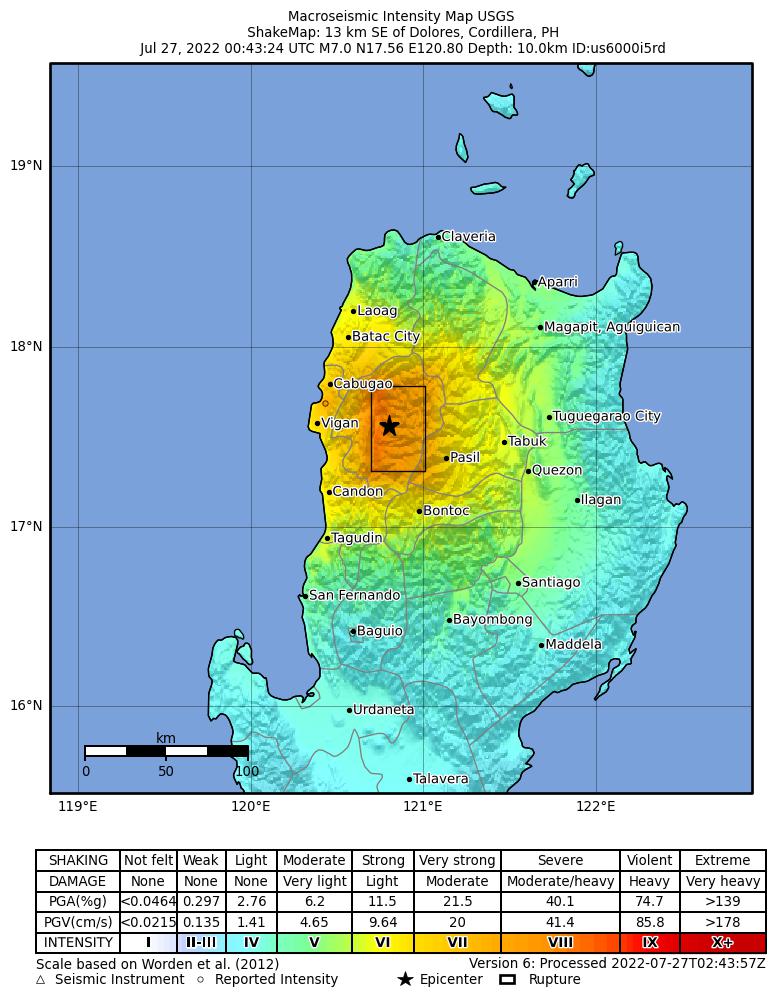 ALERT™ subscribers can download similar stochastic event (SSE) IDs for this event from the Downloads tab. Compatible with Touchstone® and Touchstone Re™, the SSEs were selected based on event parameters (not industry losses) and should be used only for exposures in the Philippines.
This is the final scheduled ALERT for this event.
Similar Stochastic Events | Downloads

Posting Date: July 27, 2022, 1:00:00 PM
The information provided herein is strictly confidential and is solely for the use of AIR clients; disclosure to others is prohibited.
Similar Stochastic Event IDs
Note: These lists give event IDs taken from our stochastic catalog that have similar characteristics as the current event.
| Product | File Type | Description | Download |
| --- | --- | --- | --- |
| TOUCHSTONE / Re | Excel (xls) | Selected set of stochastic events with insured industry losses | |
| TOUCHSTONE / Re | CSV | Selected set of stochastic events formatted for import into Touchstone / Re | |