Status: Closed
| Type of posting | Posting date(EST): | Summary | Downloads |
| --- | --- | --- | --- |
| Final Update | 7/7/2021 3:00:00 PM | | |
| Event Update 4 | 7/6/2021 9:00:00 AM | | |
| Event Update 3 | 7/5/2021 9:00:00 AM | | |
| Event Update 2 | 7/4/2021 9:00:00 AM | | |
| Event Update 1 | 7/3/2021 9:00:00 AM | | |
| Event Summary | 7/2/2021 1:00:00 PM | | |
Event Update 2 | Summary

Posting Date: July 4, 2021, 9:00:00 AM
AIR is monitoring Tropical Storm Elsa, located at 18.3°N, 76.2°W, with maximum sustained winds of 65 mph and a central pressure of 1007 mb, as of 8 a.m. Atlantic Standard Time on July 4, according to the National Hurricane Center (NHC).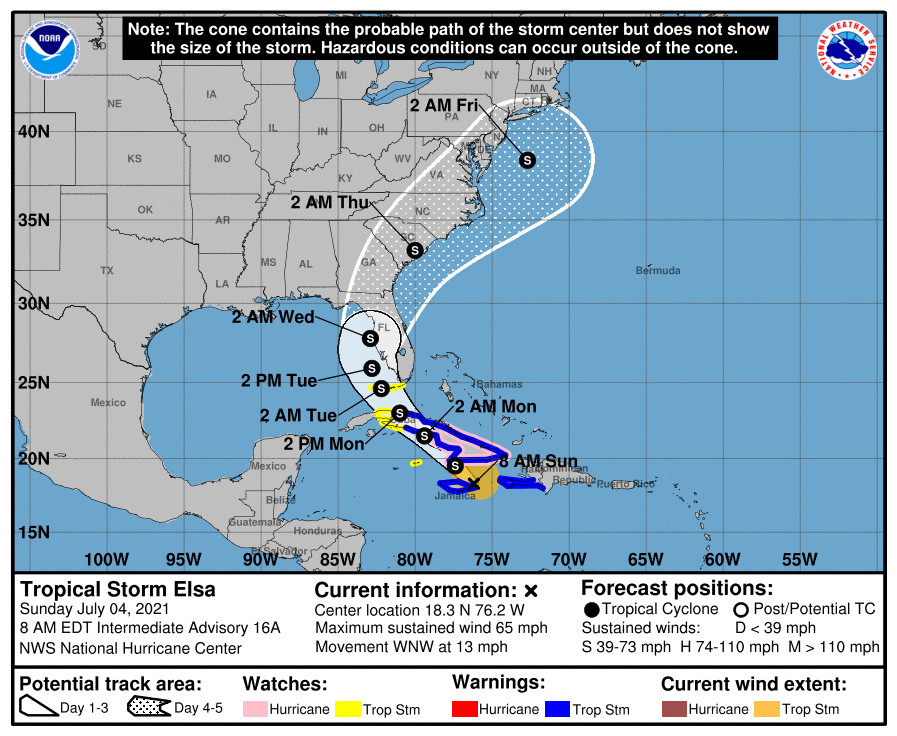 According to the latest report from the Air Force Hurricane Hunters, Elsa appears better organized but provided a less intense reading, with minimum pressure a few millibars higher than was observed last night. Elsa also appears to have continued its west-northwestward forward movement, although the storm has slowed to 13 mph from its rapid forward movement of 31 mph yesterday morning.
According to NHC, Elsa is expected to move near or over Jamaica and eastern Cuba this morning, crossing or moving just south of central and western parts of Cuba today into tomorrow, July 5. Early tomorrow, Elsa is expected to turn northward, then head toward the Florida Keys. By late tomorrow, Elsa is expected to be near the Florida Keys and near or over the west coast of Florida on Tuesday, July 6, after which the storm is forecast to turn northeastward and pick up speed in its forward movement as it moves across the Southeast U.S. and the western Atlantic.
Elsa's exact track will dictate the storm's intensity. If the storm's core moves directly over Jamaica or Cuba, the mountainous terrain would likely disrupt it; however, if Elsa threads its way between these islands today, the storm could strengthen. In either case, Elsa is expected to weaken tomorrow, July 5.
The NOAA Hurricane Hunters will be investigating Elsa again today.
NHC Forecast Hazards
Heavy rain will impact the Cayman Islands and Cuba today into Monday. Tropical storm conditions and dangerous storm surge are expected with hurricane conditions possible in portions of eastern Cuba later this morning. Tropical storm conditions are possible in central and western Cuba tonight and Monday.
There is an increasing risk of tropical storm conditions, storm surge, and rainfall impacts beginning late Monday in the Florida Keys, and a Tropical Storm Watch is in effect for portions of the Florida Keys. There is a risk of tropical storm conditions, storm surge, and rainfall impacts along the Florida Peninsula Monday night through Wednesday and the coasts of Georgia and the Carolinas Wednesday and Thursday.
Uncertainty in the forecast remains larger than usual due to Elsa's potential interaction with Cuba.
ALERT Plans
Elsa is currently projected to make an eventual landfall in the U.S. as a tropical storm on Tuesday or Wednesday. If this forecast holds, AIR will not release similar stochastic events for this storm. If Elsa strengthens and is projected to make landfall in the mainland U.S. as a hurricane within ~48 hours, however, AIR will begin to release similar stochastic events, and, assuming the forecast remains for a hurricane landfall, each day at 10:00 a.m. EDT through landfall.
For the Caribbean impacts from Elsa, AIR does not plan to issue similar stochastic events at this time.
Please be aware that additional information on Hurricane Elsa is available to Verisk Weather Respond subscribers. Beginning Wednesday, June 30, and continuing through U.S. landfall, Respond® subscribers receive data packs that include forecast wind footprints for Elsa four times daily. These footprints can be analyzed in any GIS tool to evaluate the strength, path, and impact of the event as it approaches land. Contact your AIR or Verisk representative to learn more about this and other Verisk Real-Time Analytics that can be paired with ALERT®.

AIR continues to monitor Elsa and will provide another ALERT update at 9 a.m. EDT tomorrow, July 5.
Event Update 2 | Downloads

Posting Date: July 4, 2021, 9:00:00 AM