Status: Closed
| Type of posting | Posting date(EST): | Summary | Downloads |
| --- | --- | --- | --- |
| Final Update | 7/7/2021 3:00:00 PM | | |
| Event Update 4 | 7/6/2021 9:00:00 AM | | |
| Event Update 3 | 7/5/2021 9:00:00 AM | | |
| Event Update 2 | 7/4/2021 9:00:00 AM | | |
| Event Update 1 | 7/3/2021 9:00:00 AM | | |
| Event Summary | 7/2/2021 1:00:00 PM | | |
Event Update 4 | Summary

Posting Date: July 6, 2021, 9:00:00 AM
AIR is monitoring Tropical Storm Elsa, located at 24.5°N, 82.6°W, with maximum sustained winds of 60 mph and a central pressure of 1007 mb, as of 8 a.m. Atlantic Standard Time on July 6, according to the National Hurricane Center (NHC).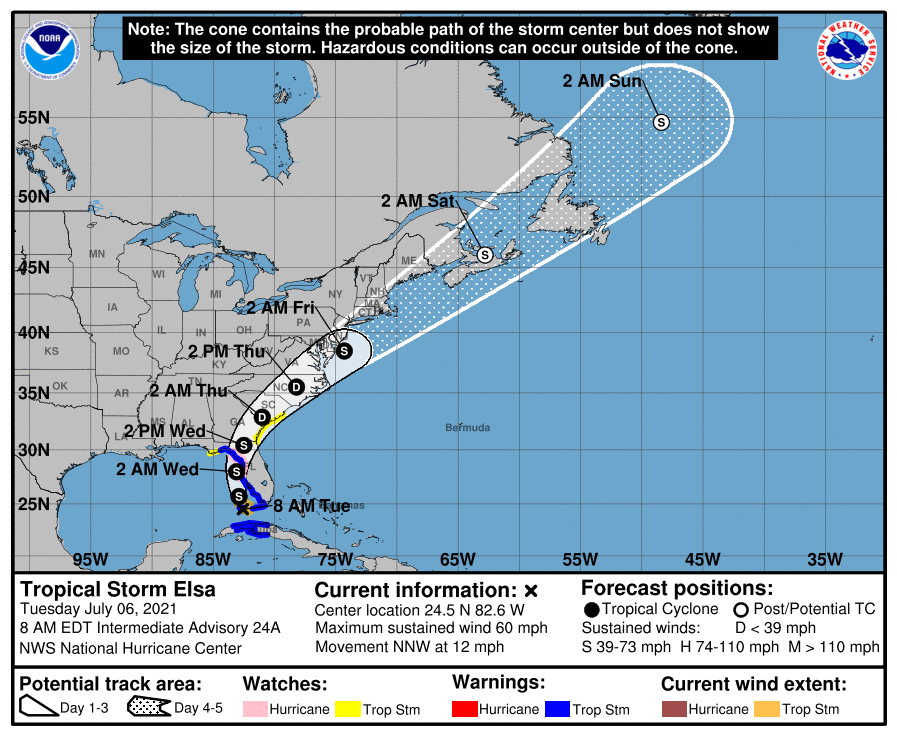 According to NHC, now that Elsa is gradually pulling away from Cuba, it will have an opportunity to strengthen; however, the environmental conditions are only marginal for the storm to do so. Dry air on the western side of the cyclone and some westerly shear should prevent rapid intensification. Currently, Elsa is over the Florida Straits, affecting the Lower and Middle Keys with tropical storm–force wind gusts. Doppler radar data and satellite images indicate that the core of the storm is fairly small and has maximum winds of around 60 mph. Elsa is moving north-northwest at 12 mph; the outer rain bands associated with the storm are spreading northward across southern Florida.
Elsa should turn northward today, bringing the core of the storm parallel to and likely offshore Florida's west coast through tonight. The small cyclone will likely strengthen slowly before it turns slightly to the north-northeast and moves inland over the Big Bend region of Florida early Wednesday. Models now show Elsa just below hurricane force before landfall in Florida.
Elsa is then forecast to move across coastal Georgia and the Carolinas Wednesday night through early Friday. The storm is then anticipated to accelerate and move northeastward off the mid-Atlantic and New England coasts.
The Air Force Hurricane Hunters will be investigating Elsa later this morning, and the data the plane collects will be valuable in assessing the storm's intensity and structure.

NHC Forecast Hazards
Heavy rain will impact Cuba today.
A Hurricane Watch has been issued for a portion of the west-central and Big Bend coast of Florida, where hurricane conditions are possible tonight and early Wednesday. Tropical storm conditions are expected across portions of the Florida Keys and much of the west coast of the state, where a Tropical Storm Warning is in effect. As Elsa moves across the western Florida Peninsula through Wednesday, heavy rainfall may result in isolated flash, urban, and minor river flooding, with considerable flash and urban flooding possible in southwest and western portions of Florida. There is a danger of life-threatening storm surge along portions of the west coast of Florida tonight and Wednesday, and a Storm Surge Warning is in effect for that area.
A Tropical Storm Watch has been issued for the Georgia coast and portions of the South Carolina coast, where tropical storm conditions are possible late Wednesday and early Thursday. Mid to late week, heavy rainfall across coastal Georgia, South Carolina, North Carolina, and southeastern Virginia may result in isolated flash and urban flooding, with considerable flash and urban flooding possible across coastal Georgia and the Lowcountry of South Carolina.
ALERT Plans
Elsa is currently projected to make an eventual landfall in the U.S. as a tropical storm tomorrow. If this forecast holds, AIR will not release similar stochastic events for this storm. If Elsa strengthens and is projected to or makes landfall in the mainland U.S. as a hurricane, however, AIR will release similar stochastic events on Wednesday, July 7 at 10:00 a.m. EDT.

For the Caribbean impacts from Elsa, AIR does not plan to issue similar stochastic events at this time.

Please be aware that additional information on Hurricane Elsa is available to Verisk Weather Respond subscribers. Beginning Wednesday, June 30, and continuing through U.S. landfall, Respond® subscribers receive data packs that include forecast wind footprints for Elsa four times daily. These footprints can be analyzed in any GIS tool to evaluate the strength, path, and impact of the event as it approaches land. Contact your AIR or Verisk representative to learn more about this and other Verisk Real-Time Analytics that can be paired with ALERT®.

AIR continues to monitor Elsa and will provide another ALERT update tomorrow, Wednesday, July 7.
Event Update 4 | Downloads

Posting Date: July 6, 2021, 9:00:00 AM