Status: Closed
| Type of posting | Posting date(EST): | Summary | Downloads |
| --- | --- | --- | --- |
| Similar Stochastic Events | 9/19/2022 3:00:00 PM | | |
Similar Stochastic Events | Summary

Posting Date: September 19, 2022, 3:00:00 PM
A magnitude 6.9 earthquake struck Taiwan on Sunday, September 18th, leading to reports of a building collapse, stranded tourists due to a landslide, a bridge failure, and more than 100 injuries. The quake was centered near the township of Chishang, in Taitung county in southeastern Taiwan, at a depth of 10 km. It was preceded by a magnitude 6.5 event several hours prior, and dozens of aftershocks, one reaching 5.9 in magnitude, have occurred since. A tsunami warning was initially broadcast after the main shock took place, but was rescinded shortly after.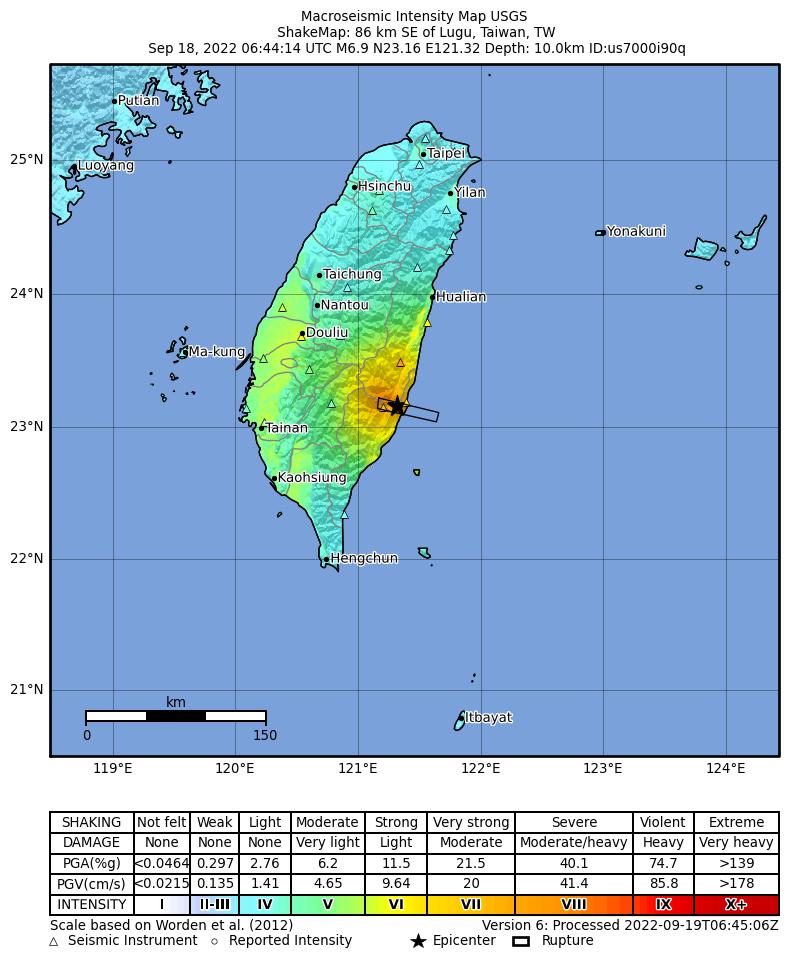 ALERT™ subscribers can download similar stochastic event (SSE) IDs for this earthquake from the Downloads tab of this posting on the ALERT website. Compatible with Touchstone® and Touchstone Re™, the SSEs were selected based on event parameters such as location, magnitude, and depth, and should be used with exposures in Taiwan.  
The location, preliminary fault mechanism, and aftershock activity indicates that this earthquake (sequence) most likely occurred as a result of the Longitudinal Valley fault (LVF) movement. LVF is the major active fault in Taiwan taking up much of the plate motion between the Philippine Sea plate and Eurasian plate in this collision zone.
Much of the reported damage so far has been north of the quake's epicenter. In the town of Yuli, in nearby Hualien county, a three story building collapsed, though no reports of serious injuries in that incident. A group of tourists were also stranded in Yuli while viewing orange lilies on a mountainside in the area as a landslide occurred. As of this writing, the group had all been rescued. Elsewhere in Hualien, a man was killed in an accident in a cement factory. Overall, one death and 146 injuries have been reported so far related to this earthquake.
No additional ALERTs are planned for this event at this time.
Similar Stochastic Events | Downloads

Posting Date: September 19, 2022, 3:00:00 PM
The information provided herein is strictly confidential and is solely for the use of AIR clients; disclosure to others is prohibited.
Similar Stochastic Event IDs
Note: These lists give event IDs taken from our stochastic catalog that have similar characteristics as the current event.
| Product | File Type | Description | Download |
| --- | --- | --- | --- |
| TOUCHSTONE / Re | Excel (xls) | Selected set of stochastic events with Readme, in Excel format | |
| TOUCHSTONE / Re | CSV (csv) | Selected set of stochastic events formatted for import into Touchstone/Re | |