Status: Active
| Type of posting | Posting date(EST): | Summary | Downloads |
| --- | --- | --- | --- |
| Similar Stochastic Events | 9/20/2022 1:00:00 PM | | |
Similar Stochastic Events | Summary

Posting Date: September 20, 2022, 1:00:00 PM
A magnitude 7.6 earthquake struck approximately 20 miles southeast of Aquila, Mexico, on the central Pacific coast on Monday, September 19th, at a depth of 15.1 kilometers. The quake shook buildings as far away as Mexico City, though no reports of damage were reported in the capital city. A tsunami warning was issued, but later revised, and water levels were ultimately not expected to vary more than 0.3 meters as a result of the quake. In Coalcoman, east of the epicenter, there were reports of visible cracks in the walls of many buildings and homes, with some damage to roofs and building facades as well. In Manzanillo, along the coast and also not far from the epicenter, a man was reportedly killed by a collapsing wall at a shopping mall.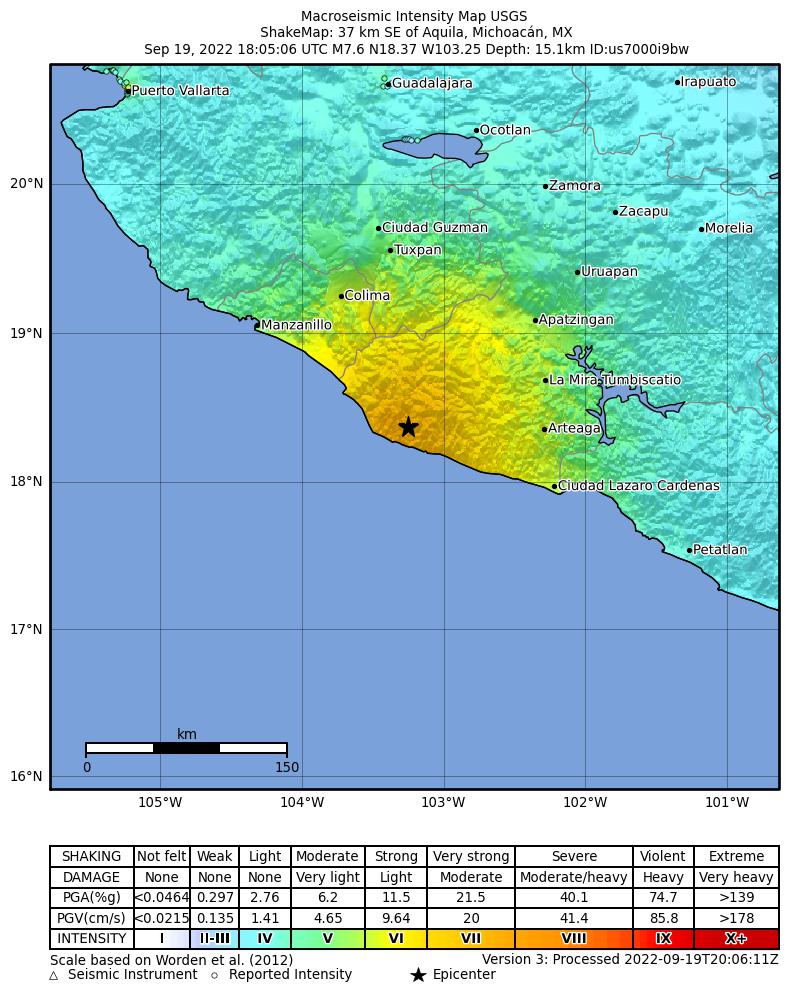 Per the United States Geological Survey, the quake occurred as the result of shallow thrust faulting. The location, depth, and mechanism of the event are broadly consistent with slip on or near the boundary interface between the subducting Cocos oceanic plate and the North America plate. The broad-scale tectonics of the Pacific Coast of Mexico are controlled by the northeastward subduction of the Cocos plate beneath the North America plate at a rate of approximately 70 mm/yr.
Earthquakes are a common occurrence along the Middle America subduction zone. In the preceding 50 years, there have been 13 other earthquakes M6.5 or larger within 250 km of the September 19th event. This includes the 1995 M8.0 event approximately 125 km to the northwest as well as the 1985 M8.0 event approximately 80 km to the southeast. Both the 1985 M8.0 event and a M7.1 earthquake near Matzaco, Mexico, in 2017 occurred on the date September 19. Despite the coincidence, there is no specific date or time of year when Mexico is statistically more prone to seismic activity.
No additional ALERTs are planned for this event at this time.
Similar Stochastic Events | Downloads

Posting Date: September 20, 2022, 1:00:00 PM
The information provided herein is strictly confidential and is solely for the use of AIR clients; disclosure to others is prohibited.
Similar Stochastic Event IDs
Note: These lists give event IDs taken from our stochastic catalog that have similar characteristics as the current event.
| Product | File Type | Description | Download |
| --- | --- | --- | --- |
| TOUCHSTONE / Re | Excel (xls) | Selected set of stochastic events with Readme in Excel format | |
| TOUCHSTONE / Re | CSV (csv) | Selected set of stochastic events formatted for import into Touchstone/Re | |