Status: Closed
| Type of posting | Posting date(EST): | Summary | Downloads |
| --- | --- | --- | --- |
| Similar Stochastic Events | 3/20/2023 11:00:00 AM | | |
Similar Stochastic Events | Summary

Posting Date: March 20, 2023, 11:00:00 AM
A magnitude 6.8 earthquake occurred just off the coast of Ecuador on Saturday, damaging buildings and injuring hundreds in both Ecuador and Peru. Fourteen of the fifteen reported fatalities, as of this writing, were in Ecuador. The towns of El Oro and Machaca, near to the epicenter, both reported collapsed buildings. In Guayaquil, the second most populous city in Ecuador, cracks were reported in walls and foundations. In Peru, the worst impacts appear to have been felt in the Tumbes region, which is on the border with Ecuador. Peru's lone fatality thus far was in that area, and there were also reports of damage to walls at an army barracks.
ALERT™ subscribers can download similar stochastic event (SSE) IDs for this earthquake's impacts from the Downloads tab of this posting on the ALERT website. Compatible with Touchstone® and Touchstone Re™, the SSEs were selected based on the quake's key parameters such as location, magnitude, and focal depth. The Event IDs provided are recommended for use with exposures in Ecuador and Peru.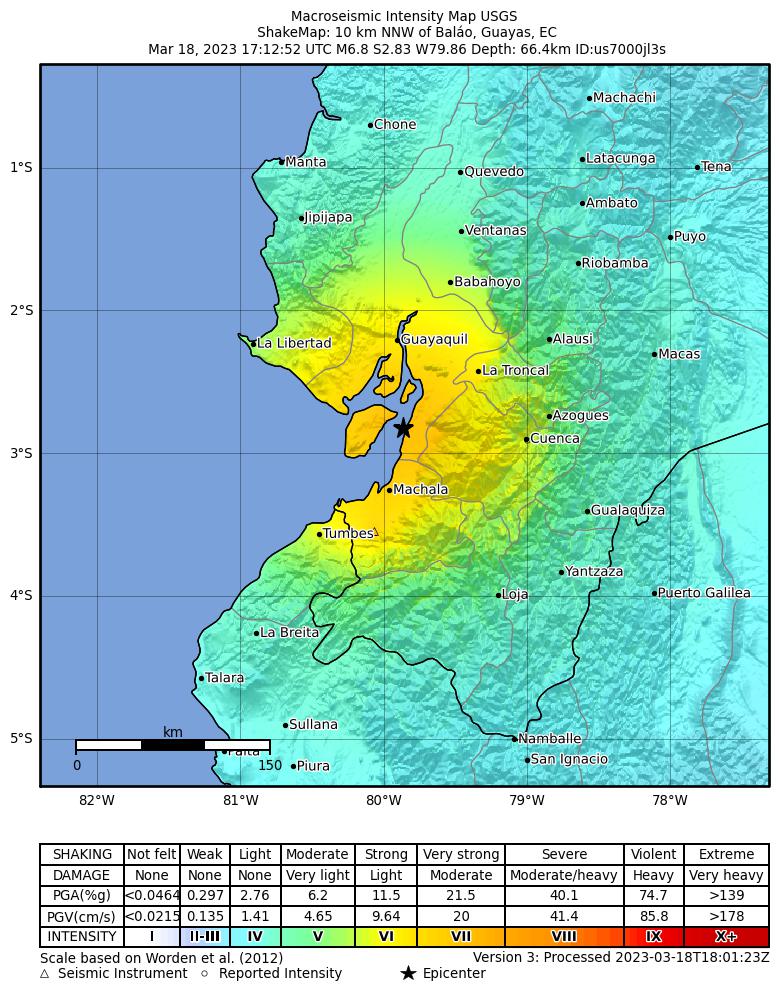 Located along the "ring of fire", Ecuador is highly prone to earthquakes. Over the past 50 years, the country has seen six temblors of magnitude 7 or higher, including a magnitude 7.8 event in 2016 which killed more than 600 people and caused widespread damage. Tectonic activity in Ecuador is largely dominated by the effects of the subduction of the Nazca Plate beneath the South American Plate.
No additional ALERT activity is planned for this earthquake at this time.
Similar Stochastic Events | Downloads

Posting Date: March 20, 2023, 11:00:00 AM
The information provided herein is strictly confidential and is solely for the use of AIR clients; disclosure to others is prohibited.
Similar Stochastic Event IDs
Note: These lists give event IDs taken from our stochastic catalog that have similar characteristics as the current event.
| Product | File Type | Description | Download |
| --- | --- | --- | --- |
| TOUCHSTONE / Re | Excel (xls) | Selected set of stochastic events, with Readme in Excel format | |
| TOUCHSTONE / Re | CSV (csv) | Selected set of stochastic events, formatted for import into Touchstone/Re | |