Flooding in St. Louis and Kentucky
Status: Monitoring
| Type of posting | Posting date(EST): | Summary | Downloads |
| --- | --- | --- | --- |
| Summary of Impacts | 7/29/2022 12:00:00 PM | | |
Summary of Impacts | Summary

Posting Date: July 29, 2022, 12:00:00 PM
Record rainfall has caused flooding across the central U.S. over the past week, with the greatest impacts coming in and around the city of St. Louis, and more recently, in the state of Kentucky.
The emergency began on Tuesday, as torrential rains dropped as nine inches of water on the city, breaking the previous 24 hour rainfall record, and causing serious flash flooding throughout the city and surrounding areas. Towns across the region were hit with reight to ten inches of rain, the majority of that falling in just six hours Monday night into Tuesday morning. On Thursday, an additional two to four inches of rain fell in the area, exacerbating the situation. The additional rain led to part of the western side of city of St. Louis near Hodiamont Avenue being submerged in up to seven feet of water. Multiple rescues were reported from stranded vehicles, as well as several children and staff rescued from a day care. Drier conditions are expected in this region on Friday and Saturday, and flood waters should begin to recede.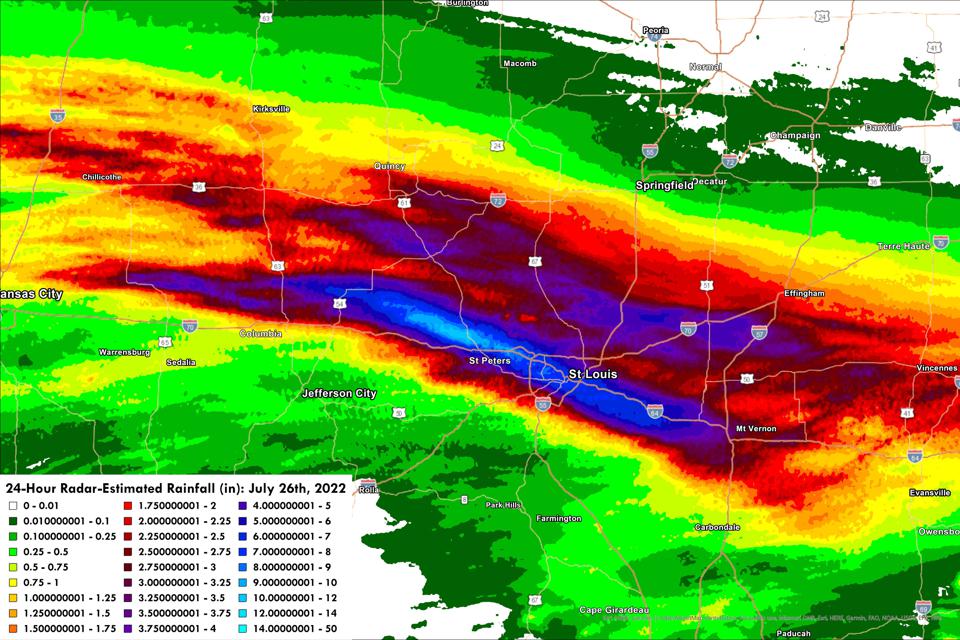 The same system that brought heavy precipitation in the St. Louis area also brought historic rainfall and resulting devastation to the state of Kentucky. In excess of twelve inches of rain have been reported in some locations across the state since the start of the week, with total in excess of six inches widespread. Eight people have been killed by the impacts so far, and hundreds of homes are expected to be completely lost. Governor Andy Brashear described the flooding as "the worst in my lifetime in the state of Kentucky". Floyd county, in the eastern part of the state, saw in excess of six inches of rain in just four hours on Thursday, and more than 80 people have been rescued from their homes there, primarily in the towns of Wayland and Maytown. Perry County was also hard hit, with the county emergency management director describing it as the worst catastrophe to hit that part of the state in his lifetime. Other counties to declare local states of emergency in the state include Breathitt, Clay, Letcher, Owsley and Pike. Conditions are expected to improve in the coming days, and it appears likely as of now that the worst flooding with this system has likely occurred already.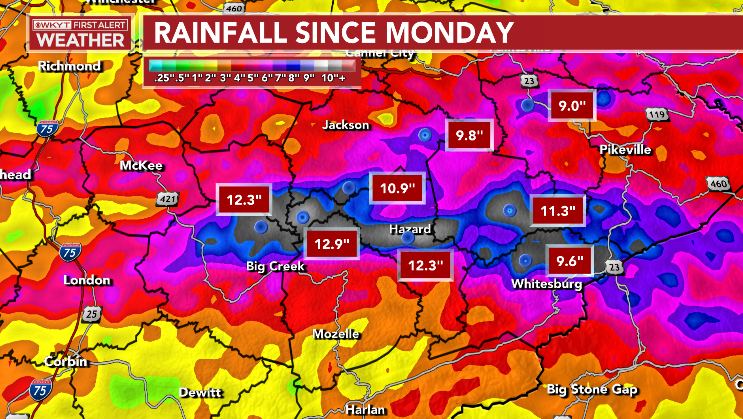 Though no additional ALERTs are planned at this time, the ALERT team will continue to monitor the situation and provide updates as warranted.
Summary of Impacts | Downloads

Posting Date: July 29, 2022, 12:00:00 PM