Atmospheric Rivers in California
Status: Monitoring
| Type of posting | Posting date(EST): | Summary | Downloads |
| --- | --- | --- | --- |
| January 18 Update | 1/18/2023 12:00:00 PM | | |
| January 13 Update | 1/13/2023 1:00:00 PM | | |
| Monitoring | 1/9/2023 2:00:00 PM | | |
January 18 Update | Summary

Posting Date: January 18, 2023, 12:00:00 PM
After three weeks of nearly continuous storm activity, California is finally getting a reprieve from wind, rain, and snow this week.
Latest Impacts
The last in a series of nine atmospheric river events to impact California moved across the state over this past weekend, putting 8 million residents of the battered state back under a Flood Watch. Evacuation warnings were in place Sunday evening for residents near the Carmel River in Monterey County, on California's Central Coast, where officials reported an estimated $30 million in damage to infrastructure. A warning was also in place for residents in Sacramento County's Wilton area, though both have since been lifted.
A mobile home park in Acampo, CA, in San Joaquin County was inundated by water on Sunday and required evacuation of 175 residents, according to the San Joaquin County Sherriff. Nearby, State Route 99 remains closed due to flood damage, and multiple other state highways remain closed as of Wednesday. Officials warned some roads in the state, particularly those in remote areas, could be closed for several week. In Calaveras County, officials marked 20 homes as currently uninhabitable, with about 80 total damaged, the majority of which were in the town of Valley Springs. Across the state, more than 500 landslides have been reported since December 30, according to the California Geological Survey.
Verisk ALERT Plans
At this time, the Verisk ALERT team does not expect the industry insured losses from this event to reach our ALERT threshold for U.S. Flood, and therefore do not currently have plans to release an industry loss estimate or other analytics. However, the Flood and ALERT teams are continuing to analyze the impacts of this event and should that ongoing analysis significantly alter our present view, we may revisit a potential ALERT and industry loss estimate at that time. We will provide a final update for this event by early next week.
Other Verisk Real-Time Flood Data
Verisk AER's FloodScan system has been mapping flooding daily throughout California since early January. FloodScan automatically maps large-scale inland flooding across North America, Africa, and South America from cloud-penetrating passive microwave satellite observations. Flood maps are updated daily as long as rain-free skies allow signals from the ground to reach the satellites. FloodScan data browser registration is free and requires only a valid email address, and can be used to view flood maps and place orders for GIS-compatible GeoTiff files of FloodScan's products.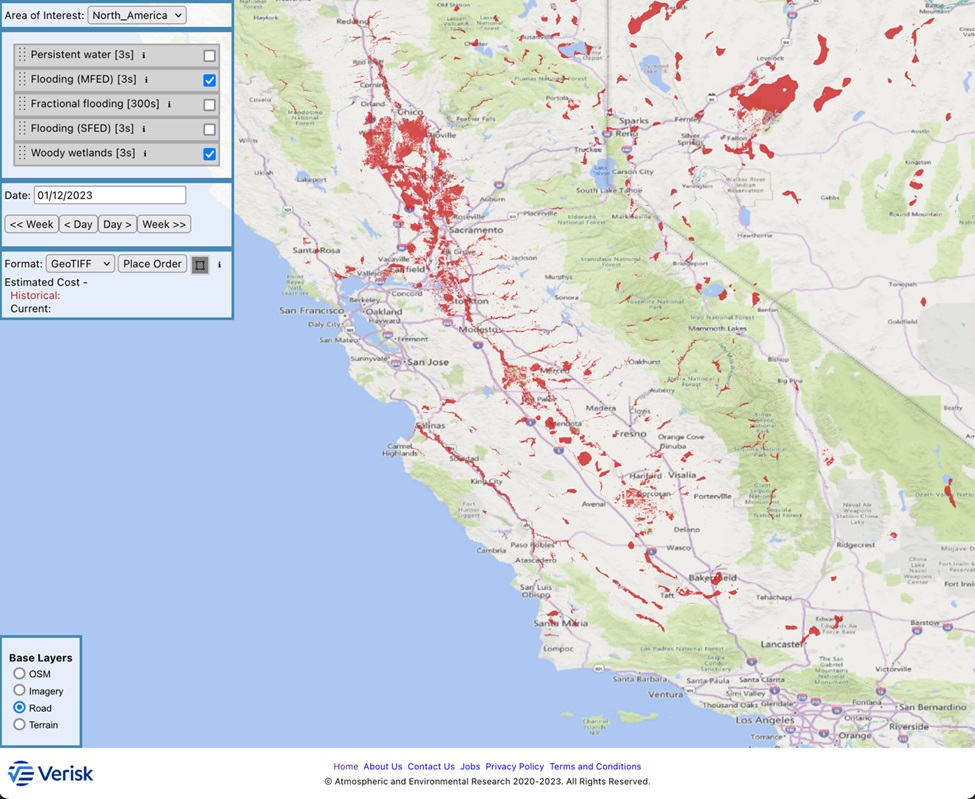 Read more about FloodScan here, and contact your Verisk representative with any questions.
Best Regards,
The Verisk ALERT Team
January 18 Update | Downloads

Posting Date: January 18, 2023, 12:00:00 PM