Status: Active
| Type of posting | Posting date(EST): | Summary | Downloads |
| --- | --- | --- | --- |
| August 21 Update | 8/21/2023 12:00:00 PM | | |
| Monitoring | 8/18/2023 10:00:00 AM | | |
Monitoring | Summary

Posting Date: August 18, 2023, 10:00:00 AM
Hurricane Hilary will threaten the Baja peninsula of Mexico this weekend as a hurricane and bring gusty winds and flash flooding potential to the southwestern U.S. into Monday. A Hurricane Watch is in place for the central portion of the west coast of the Baja peninsula. Areas of interior southern California and Nevada are forecast to see a widespread 4 to 6 inches of rain, with some areas potentially seeing up to 10 inches. As of 8am EDT, Hilary was about 400 miles south of Cabo San Lucas, Mexico, with a minimum central pressure of 942 mb and maximum 1-minute sustained winds of 145 mph, per the National Hurricane Center (NHC).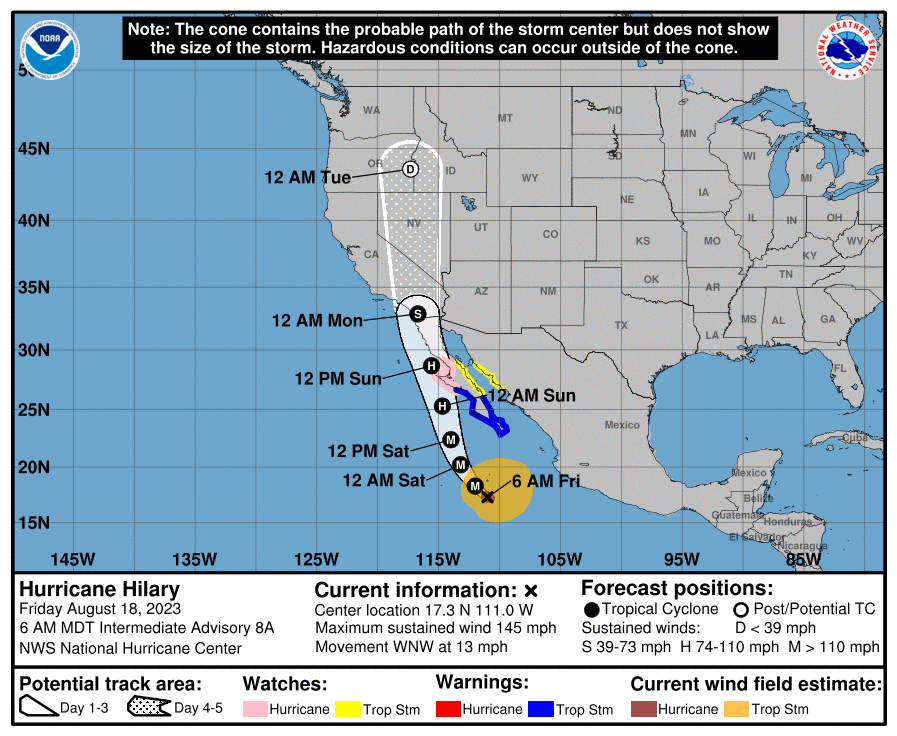 The storm is forecast to maintain its strength for the next 24 hours, before weakening begins due to cooler waters and eventually, interaction with the terrain of Baja California. The current NHC forecast shows Hilary falling to Tropical Storm strength by the time it reaches the California border.
Tropical storms of any kind are rare in California. In 1997, Hurricane Nora passed into California inland while still at tropical storm strength, dumping nearly 6 inches of rain in San Diego. The last landfalling Tropical Storm was in Long Beach, CA in 1939, and the last storm to reach the west coast of the U.S. at Hurricane strength was in 1858.
Assuming Hilary makes landfall or makes a close enough pass to bring hurricane winds onshore over Baja California, we will issue similar stochastic events for the Verisk Hurricane Model for Mexico on Monday, August 21st, by noon EDT. We will also be monitoring flood impacts across the southwestern U.S., and will follow up on related plans, if any, early next week.
Monitoring | Downloads

Posting Date: August 18, 2023, 10:00:00 AM