U.S. Winter Storm December 21-26
Status: Closed
| Type of posting | Posting date(EST): | Summary | Downloads |
| --- | --- | --- | --- |
| Event Summary | 1/4/2023 10:00:00 AM | | |
Event Summary | Summary

Posting Date: January 4, 2023, 10:00:00 AM
A major winter storm impacted a large swath of the U.S. over the Christmas holiday, affecting more than 40 states with high winds, heavy precipitation, and record cold temperatures.
On Wednesday, December 21st, an upper-level trough continued to deepen over the Rockies/Northern Plains; the associated cold front began to build and intensify over the central US. To the west of the system, the Pacific Northwest was impacted by cold temperatures and gusty winds/extreme wind chills, as well as scattered snow and wintery precipitation. Snow accumulations and ice impacted parts of Colorado near Denver, and with the passage of the system, extremely cold temperatures moved into the region overnight into the 22nd. Denver itself saw a one-hour temperature drop of 37 (42 to 5 F) degrees, and a two day drop of 75 degrees (51 to -24 F), both records. Cheyenne, WY saw a similarly impressive drop of 40 degrees in just 30 minutes. Below-zero temperatures continued for a couple days, and the winter storm led to widespread power outages. The frontal system continued eastward on the 22nd, dipping south into Texas and the southern Plains. Arctic air surged into TX, OK, and AR, with temperatures dropping to below freezing through the weekend. Strong wind gusts and some snow flurries also impacted these states.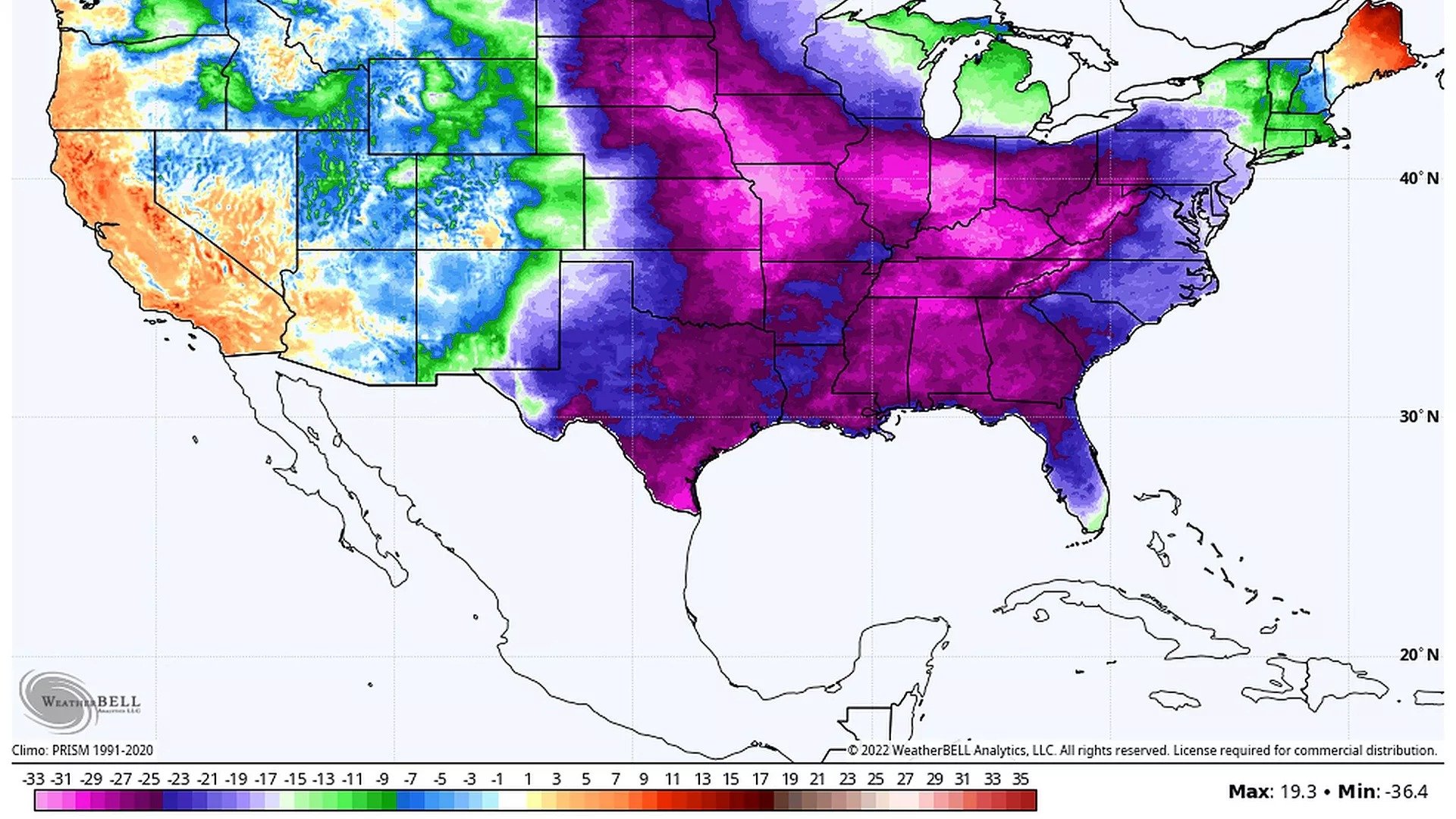 Through the 22nd/23rd, the cold front was moving across the Midwest, with the southern end trailing across the southeastern states. Temperatures below freezing and wintery precipitation impacted parts of the Southeast. Middle Tennessee saw snow accumulations of ½ to 2" with strong winds resulting in low visibility and sporadic power outages, along with temperatures dipping into the single digits, including the lowest minimum temperature in Nashville, TN since 1996 (-1 F). In the Midwest, heavy snowfall accumulations, gusty winds and extreme cold impacted from IA up through MN and N. MI. As the system moved over the Great Lakes region over the next couple days, over a foot to two feet of lake effect snow impacted northern and western MI, as well as western NY.
The frontal system moved over the Mid-Atlantic and Northeast states by the late afternoon of the 23rd. With strong wind gusts, the temperatures dropped significantly across PA through VA with the front passing northeastward; snow and ice accumulations of a few inches impacted western/central PA and the Mid-Atlantic states. North and South Carolina experienced wind chills below zero with wind gusts between 40 and 50 mph. The cold reached as far south as central Florida as Tampa experienced its first back-to-back nights of below freezing temperatures since 2010, and parts of the state received light snowfall on Christmas day.
Elsewhere, New Jersey experienced heavy rains and strong winds which left many flood-prone areas underwater on the 23rd. Along the immediate coast of Massachusetts, minor coastal flooding was experienced, and Portland, ME saw its fourth highest tide on record. The main surface low moved into southern Canada by early morning on the 24th, with lingering effects continuing across the Midwest and Northeast. Parts of northern and western New England continued to see multiple inches of snow accumulate, with northern NH, VT and ME seeing up to a foot of snow. Bitter cold temperatures and gusty winds continued across the Northeast through the 25th.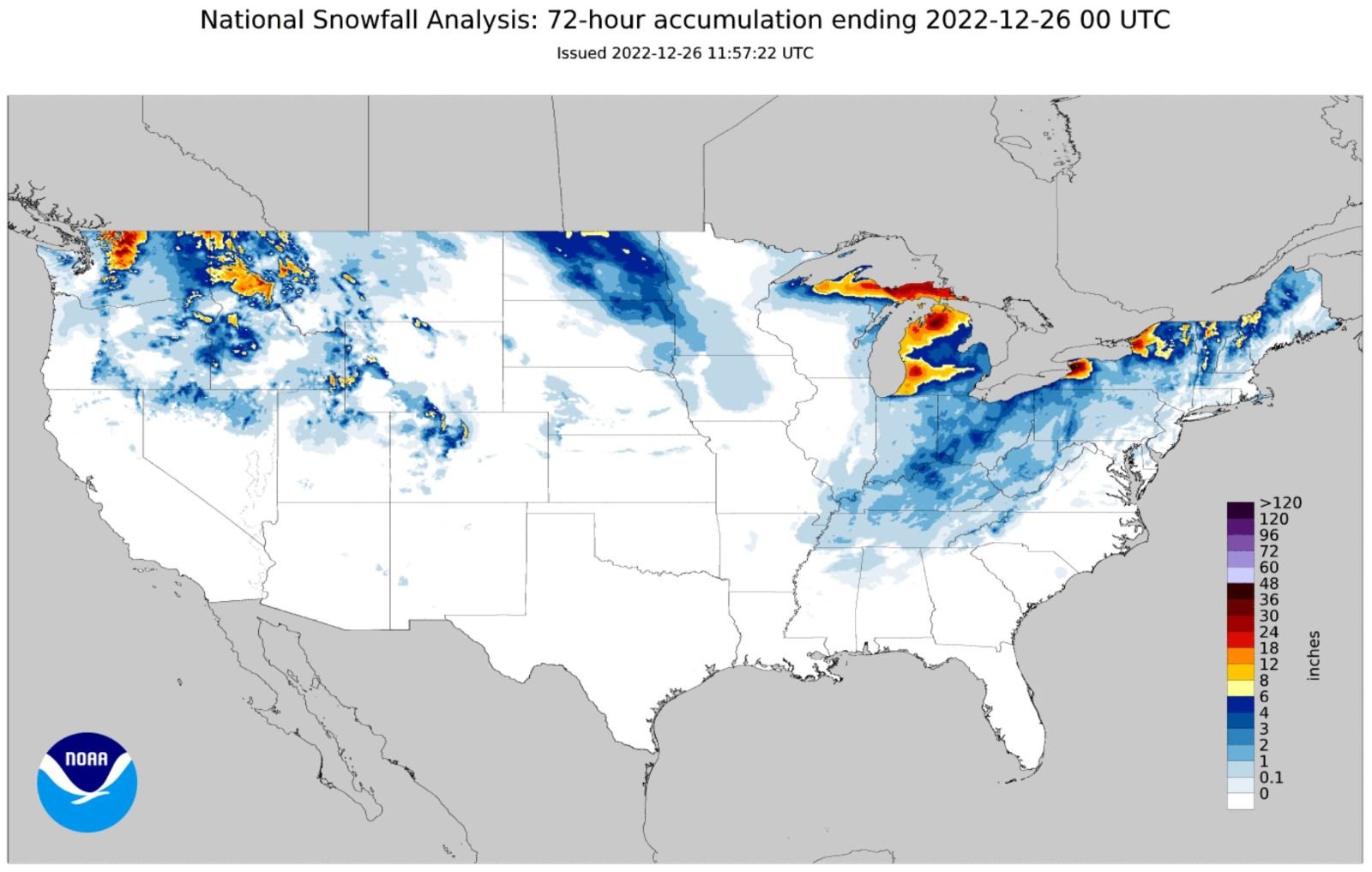 At its peak on Christmas Day, 1.7 million households were without power, and an estimated 6.3 million lost power at some point during the event. North Carolina, Tennessee, Maine, New York, and Virginia. Texas and Georgia also saw significant numbers of outages. These outages likely exacerbated the potential for freeze claims – frozen and burst pipes as well as ice dams – which are a common driver of insured losses from events such as this, especially in southern states where buildings tend to be less insulated, and pipes are more likely to run through unheated parts of buildings. Both the Tennessee Valley Authority and Duke Energy in North Carolina required several hours of rolling blackouts due to high loads across December 23 and 24. However, while freeze should end up a significant driver of the eventual insured loss tally from this event, the number of claims should fall well below the experience of the 2021 Texas freeze event. In the case of 2021 event, the freeze impacts and power outages were both of far longer duration – in this more recent storm, power was generally restored in a reasonable timeframe, reducing the potential for burst pipes and other similar impacts, even despite the much broader and widespread footprint. The event also caused major travel disruption, leading to the cancellation of more than 18,000 flights between the 22nd and 28th of December.
Heavy snow and wind were the main stories in upstate New York, specifically around Buffalo, where winds gusted in excess of 70 miles per hour, and staggering snowfall totals were recorded. The towns of Lake View, Orchard Park, Watertown, Hamburg, and Williamsville all saw snow totals more than three feet, and an incredible 51.5 inches was reported at Buffalo airport. The city of Buffalo saw blizzard conditions for more than a day and a half – 37.5 hours consecutively - during the storm. Lake shore flooding was also reported in Hamburg, and breathtaking photos of homes and businesses encased in ice from the spray from Lake Erie filled social media feeds. All in all, 91 people lost their lives from this event, at least 39 of them in the Buffalo area.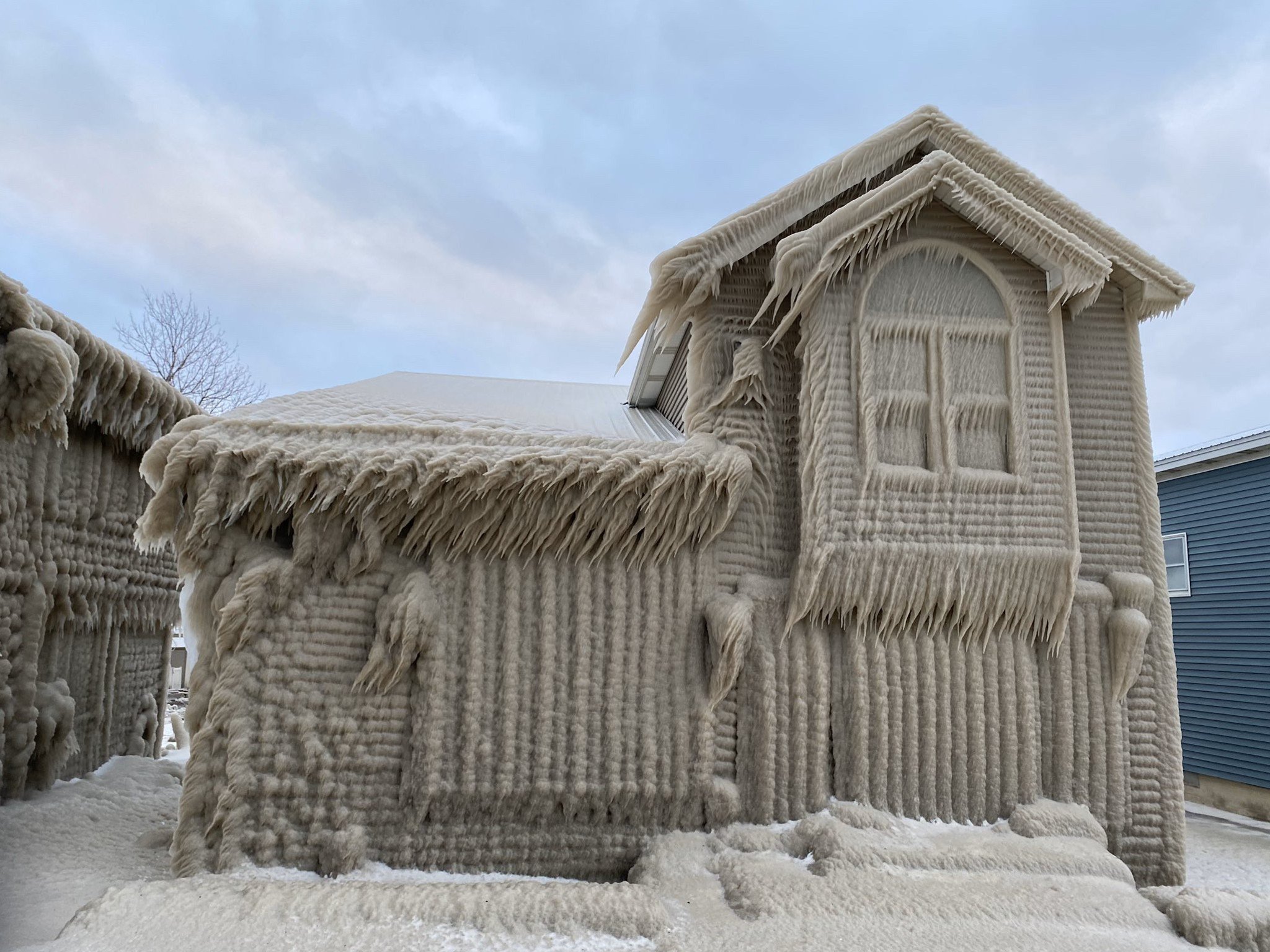 The Verisk ALERT team will continue to study the impacts of this event but have no plans at this time to release an industry loss estimate or associated information. Verisk Property Claims Services (PCS) will release an estimate for this event later this month and has assigned it PCS ID 2273.
Please contact your Verisk representative with any questions.
Event Summary | Downloads

Posting Date: January 4, 2023, 10:00:00 AM