Status: Closed
| Type of posting | Posting date(EST): | Summary | Downloads |
| --- | --- | --- | --- |
| Similar Stochastic Events | 11/22/2022 11:00:00 AM | | |
Similar Stochastic Events | Summary

Posting Date: November 22, 2022, 11:00:00 AM
A magnitude 5.6 earthquake struck the Cianjur region of West Java province in Indonesia yesterday, at a depth of 10 km. Significant damage was caused by the quake – a reported 22,000 homes were destroyed, displacing tens of thousands. 268 fatalities have been reported as a result of the temblor, many of them children who were in school buildings which were collapsed by the quake. Another 151 people are still missing, and over 1,000 have been reported injured so far. Indonesia's bureau of meteorology has warned of possible landslides, particularly in the event of heavy rain, as more than two dozen aftershocks were reported in the hours following the initial event.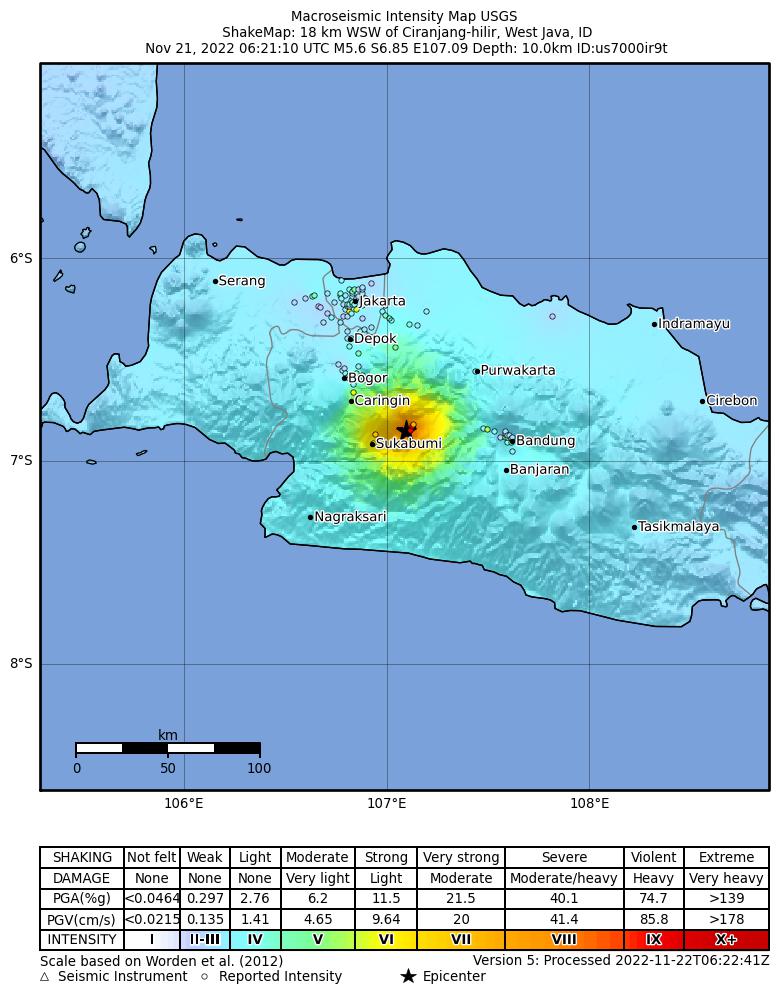 ALERT™ subscribers can download similar stochastic event (SSE) IDs for this earthquake's impacts from the Downloads tab of this posting on the ALERT website. Compatible with Touchstone® and Touchstone Re™, the SSEs were selected based on the quake's key parameters such as location, magnitude, and focal depth.  They are recommended for use with exposures in Indonesia.
Per the United States Geological Survey, this earthquake occurred at shallow depth as a result of strike slip faulting within the crust of the Sunda plate. Focal mechanisms indicate that the rupture occurred on either a steeply dipping north-striking, right-lateral strike-slip fault, or a steeply dipping east-striking left-lateral strike-slip fault. About 260 km southwest of this event, the Australia plate moves north-northeast at about 59 mm/yr with respect to the Sunda plate, subducting at the Sunda Trench.
This region of the plate boundary between the Australia and Sunda plates is highly seismically active. Past strong earthquakes have occurred within each of the Australia and Sunda plates, as well as on the plate interface. Since 2007, there have been four earthquakes of M 6.5 or larger events within 250 km of the November 21, 2022, earthquake. The largest of these events was a M 7.5 on August 8, 2007, which occurred at a depth of about 280 km within the subducted Australia plate.
This is the final planned ALERT for this event.
Similar Stochastic Events | Downloads

Posting Date: November 22, 2022, 11:00:00 AM
The information provided herein is strictly confidential and is solely for the use of AIR clients; disclosure to others is prohibited.
Similar Stochastic Event IDs
Note: These lists give event IDs taken from our stochastic catalog that have similar characteristics as the current event.
| Product | File Type | Description | Download |
| --- | --- | --- | --- |
| TOUCHSTONE / Re | Excel (xls) | Selected set of stochastic events with Readme in Excel format | |
| TOUCHSTONE / Re | CSV (csv) | Selected set of stochastic events, formatted for use in Touchstone/Re | |