Status: Closed
| Type of posting | Posting date(EST): | Summary | Downloads |
| --- | --- | --- | --- |
| Similar Stochastic Events | 12/20/2022 12:00:00 PM | | |
Similar Stochastic Events | Summary

Posting Date: December 20, 2022, 12:00:00 PM
A magnitude 6.4 earthquake has occurred near the town of Ferndale, CA, along the Pacific coast in the northern part of that state, just south of the city of Eureka. The earthquake struck at a depth of 17.9 km at 2:34 am local (Pacific Standard) time, according to the United States Geological Survey. No tsunami was generated nor are any forecast at this time.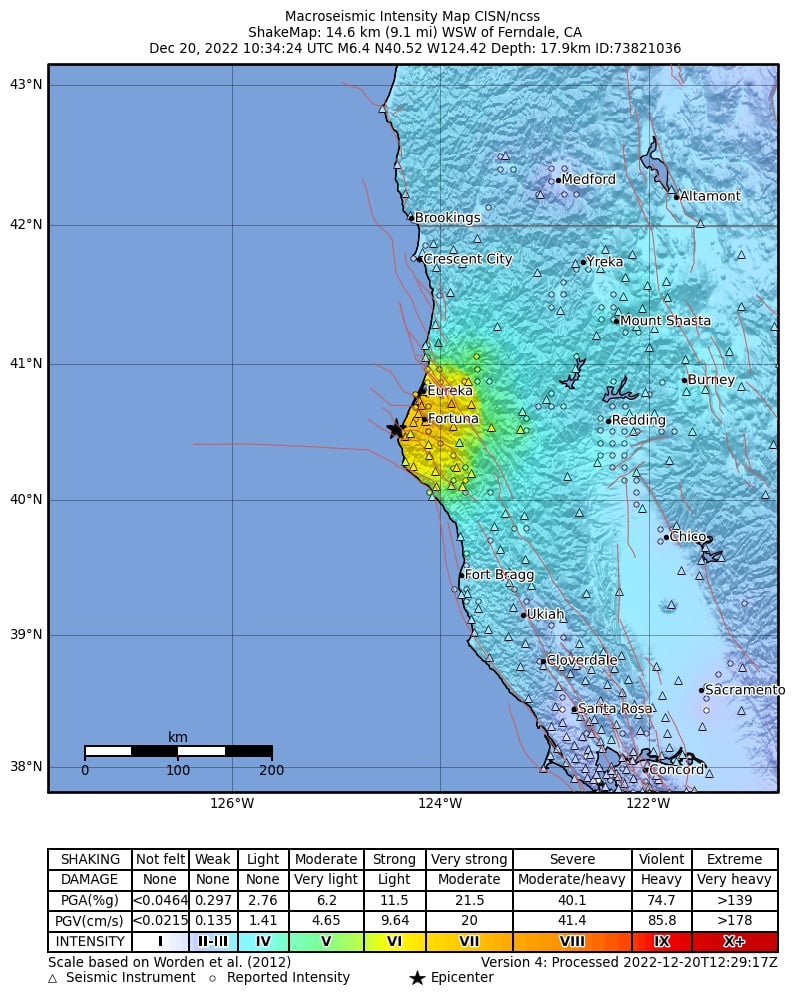 ALERT™ subscribers can download similar stochastic event (SSE) IDs for this earthquake's impacts from the Downloads tab of this posting on the ALERT website. Compatible with Touchstone® and Touchstone Re™, the SSEs were selected based on the quake's key parameters such as location, magnitude, and focal depth. 
The quake knocked out power to more than 70,000 residents of Humboldt County, CA where the temblor was centered, per PowerOutage.us – more than half the households in that county. More than a dozen aftershocks have been reported as of Tuesday morning, with the largest measured at magnitude 4.6. Two injuries have been reported so far.
The worst damage appears to have taken place along the Eel River Valley. In Ferndale, a bridge along State Route 211 has cracked and is temporarily closed while officials continue to assess the damage. Images on social media showed broken plate glass windows for several businesses in downtown Fortuna, just to the west of Ferndale. Numerous clips have appeared on social media showing shelves tipped, cabinets emptied of their contents, and damage to items such as water heaters. Though damage assessment is still ongoing, there have not been reports of widespread major structural damage.
Similar Stochastic Events | Downloads

Posting Date: December 20, 2022, 12:00:00 PM
The information provided herein is strictly confidential and is solely for the use of AIR clients; disclosure to others is prohibited.
Similar Stochastic Event IDs
Note: These lists give event IDs taken from our stochastic catalog that have similar characteristics as this event.
| Product | File Type | Description | Download |
| --- | --- | --- | --- |
| TOUCHSTONE / Re | Excel (xls) | Selected set of stochastic events, with Readme in Excel format | |
| TOUCHSTONE / Re | CSV (csv) | Selected set of stochastic events, formatted for import into Touchstone/Re | |