Status: Monitoring
| Type of posting | Posting date(EST): | Summary | Downloads |
| --- | --- | --- | --- |
| Similar Stochastic Events | 8/18/2023 11:00:00 AM | | |
| Monitoring | 8/17/2023 2:00:00 PM | | |
Similar Stochastic Events | Summary

Posting Date: August 18, 2023, 11:00:00 AM
A magnitude 6.3 earthquake struck central Colombia on Thursday afternoon, killing at least one person. Early reports have not indicated catastrophic damage, though cracks in the walls and floors of commercial buildings were shared on social media in Calvario, close to the epicenter. Window damage was also reported in this municipality. A landslide occurred in nearby Villavicencio, though the main impacts appear to have been road blockages. A decoration fell from the ceiling of the Colombian Congressional chamber, though no one was hurt. The initial temblor was followed by nearly three dozen aftershocks, the strongest of which registered at magnitude 5.7.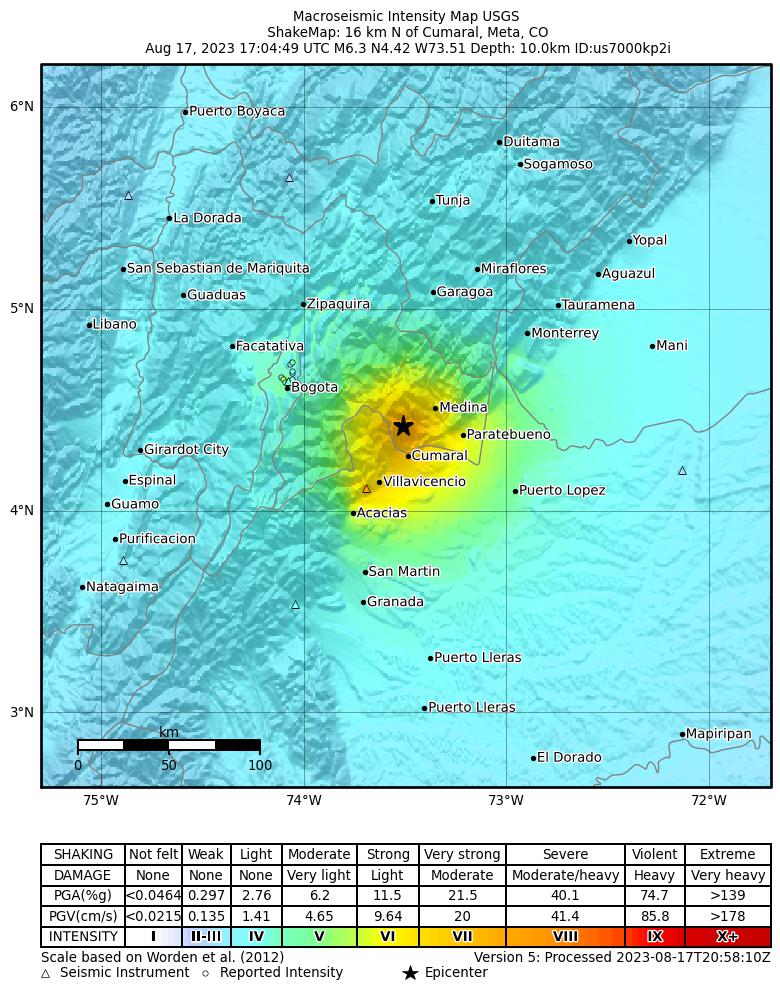 Colombia sits in a highly active seismic region, at the intersection of multiple plates. A magnitude 5.9 quake in 2008 in Calvario, just west of yesterday's event, killed 11, injured more than 4,000, and collapsed several residences.
ALERT™ subscribers can download similar stochastic event (SSE) IDs for this earthquake from the Downloads tab of this posting on the ALERT website. Compatible with Touchstone® and Touchstone Re™, the SSEs were selected based on key earthquake modeling parameters such as location, magnitude, and depth. They should only be used with exposures in Colombia.
This is the final planned ALERT for this event. If you have additional questions, please contact your Verisk representative.
Similar Stochastic Events | Downloads

Posting Date: August 18, 2023, 11:00:00 AM
The information provided herein is strictly confidential and is solely for the use of AIR clients; disclosure to others is prohibited.
Similar Stochastic Event IDs
Note: These lists give event IDs taken from our stochastic catalog that have similar characteristics as the current event.
| Product | File Type | Description | Download |
| --- | --- | --- | --- |
| TOUCHSTONE / Re | Excel (xls) | Selected set of stochastic events, with Readme and insured industry losses in Excel format | |
| TOUCHSTONE / Re | CSV (csv) | Selected set of stochastic events, formatted for import into Touchstone/Re | |