Status: Closed
| Type of posting | Posting date(EST): | Summary | Downloads |
| --- | --- | --- | --- |
| Event Summary | 9/12/2023 9:00:00 AM | | |
Event Summary | Summary

Posting Date: September 12, 2023, 9:00:00 AM
A magnitude 6.8 earthquake struck Morocco late Friday night, killing at least 2,681 persons and injuring thousands more, making it the nation's deadliest quake in more than six decades. The quake struck at a relatively shallow depth, per the United States Geological Survey, making its impacts very widely felt. Al Hauz province in Morocco has been particularly impacted, with significant damage and more than half of the casualties reported so far. The epicenter was located between Agadir and Marrakesh at the southern end of the Atlas Mountains, which had the impact of somewhat limiting damage in both of those cities.
North-west Africa moves WNW at ~4-6 mm/year relative to the Iberian Peninsula. Compressive forces arising from the convergence of these tectonic blocks are accommodated by a series of ENE trending thrust and/or strike-slip faults that extend for >1000 km across Morocco and Northern Algeria. In recent times, accumulating stress generated by these plate motions has been released during several large and damaging earthquakes across this fault network. Northern Algeria experienced Mw 6.7, Mw 7.1, and Mw 6.8 earthquakes in 1954, 1980 and 2003, respectively. In Morocco, earthquakes of Mw 6.0 and Mw 6.3 occurred near Al Hoceima in 1994 and 2004, respectively. Northwest Africa's deadliest recent earthquake was a Mw 5.8 event near Agadir in 1960 which killed over 12,000 people, equating to approximately a third of the city's population.
The September 8th 2023 earthquake had a moment magnitude of 6.8 and occurred within the High Atlas mountain range, ~75 km southwest of Marrakech. Depth estimates for the hypocentre of this event vary between 8-26 km (Morocco's National Institute of Geophysics and USGS, respectively). Ground shaking intensity from earthquakes broadly decays with distance. This event was felt most strongly in a cluster of proximal mountainous villages, it damaged many buildings in Marrakech and was felt as far away as the northern coast. Preliminary focal mechanism solutions and finite-fault models from the USGS suggest that this earthquake ruptured a 20-30 km section of an oblique-reverse fault that either steeply dips to the northwest or shallowly dips to the east. Since 1900, no earthquakes > Mw 6.0 have been recorded within 500 km of this location.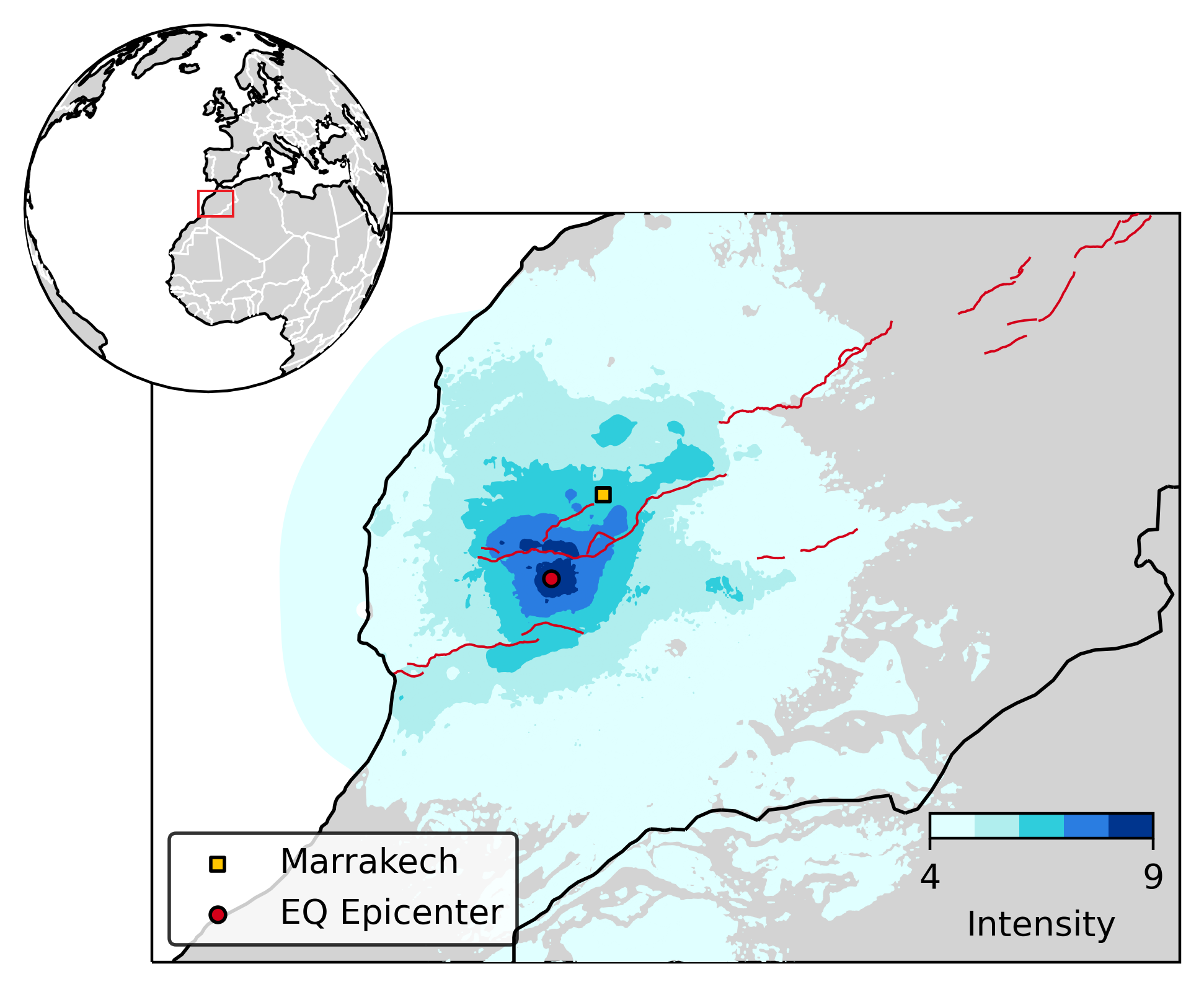 The building stock in Morocco contains large proportions of unreinforced masonry and mudbrick or adobe structures, which do not perform especially well during intense earthquakes. In addition, the building stock in Morocco is generally quite old, and there are no specific seismic building codes to which structures are built. Many of the smaller communities in the foothills of the Atlas Mountains near the epicenter have reported significant if not catastrophic damage, though their remote location has made getting detailed information challenging immediately following the event.
The USGS Prompt Assessment of Global Earthquakes for Response (PAGER) indicated that economic losses had the potential to reach as high as 8% of Morocco's GDP, which indicates the possibility the economic impact of this event could exceed $10 billion USD. However, the property insurance take up in Morocco is quite low. A recent article on Artemis.bm noted only between 2 and 4% of households have any kind of private insurance. The Moroccan government could see recoveries available through some World Bank supported backstops, but these would only provide a modicum of coverage, likely well below the needs of the populace in the worst affected areas. Given all of these factors, the early indications from industry sources and publications indicate this is unlikely to be a significant event for the global insurance and reinsurance markets.
Morocco and the broader region of North Africa are part of the Global Earthquake Model (GEM), to which Verisk has contributed extensive research over the years. The model contains a catalog of events as well as hazard and vulnerability simulation. More on the model itself can be found here. While Verisk does not at present have an earthquake model which includes Morocco, those interested in better understanding the earthquake risk in this region can leverage GEM's model for North Africa within Verisk Model Builder. Model Builder allows users to build or implement custom and third-party models while leveraging Verisk's modeling architecture and Touchstone platform.
Please contact your Verisk representative with any additional questions about this event or our modeling capabilities in this region. No additional ALERTs are planned at this time.
Event Summary | Downloads

Posting Date: September 12, 2023, 9:00:00 AM
There are no downloads associated with this posting.