Status: Closed
| Type of posting | Posting date(EST): | Summary | Downloads |
| --- | --- | --- | --- |
| Event Summary | 10/23/2023 1:00:00 PM | | |
Event Summary | Summary

Posting Date: October 23, 2023, 1:00:00 PM
Storm Babet has caused significant flood impacts in the United Kingdom this past weekend, leading to at least seven deaths and damaging at least 1,250 structures so far.
The storm was officially given the moniker Babet by the UK Met Office on 16 October. Known as Storm Viktor in Germany​, Babet originally moved northwards from the Azores (west of Portugal, see image below), bringing with it plentiful moisture, and stalled over the British Isles between Thursday and Sunday, trapped by high-pressure over Scandinavia. Babet slowly meandered northwards, and finally moved away north of Scotland through Sunday, though some ongoing flood impacts remain because of the storm and additional forecast rain for the early part of this week.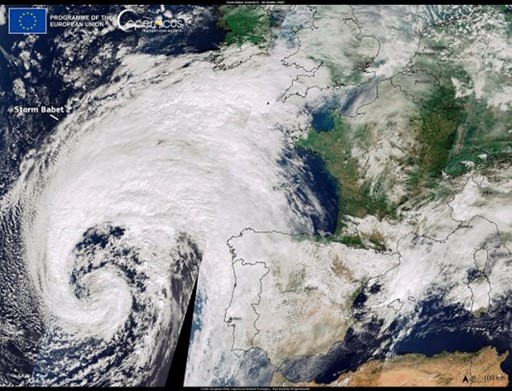 Babet began its impacts over land toward the end of last week, causing wind damage to coastal communities in Scotland as well as southern England. A beachside bar in Torquay was destroyed, and beachside huts in Teignmouth and Paignton were similarly impacted. The wind and other impacts of the storm led to tens of thousands of power outages across England and Scotland. The Met Office released two Red warnings for flooding in eastern parts of Scotland -- signaling a high likelihood of major impacts and loss of life from a weather event. For flooding specifically, this is the first red warning released by the Met Office since Storm Dennis in 2020.
Large portions of eastern Scotland saw rainfall totals in excess of 100 mm, with around 170 mm falling at Waterside Perth in 24 hours between Thursday and Friday last week, according to the Scottish Environmental Protection Agency. Rain continued across much of the UK through the weekend as well, with totals for the storm easily surpassing monthly averages in​ many impacted areas. Parts of England also saw very high rainfall totals, with over 100 mm in 36 hours in the vicinity of Sheffield between Thursday and Friday​.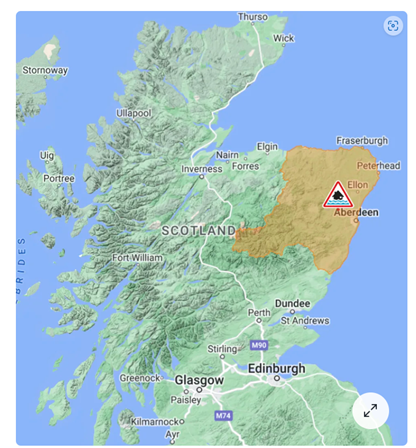 Flood defenses on the River Esk in Scotland were breached near Brechin, with the river an estimated 4.4 meters above normal levels. The flood defense scheme in this area since 2016 was built with a 1-in-200-year flood for that location in mind. Early indications point to this being one of the larger insured flood loss events in recent Scottish history. Significant flood damage was reported in County Cork, Ireland, with the communities of Killeagh, Riverstown, Glanmire, Midleton, Castlemartyr, Cloyne, Rafeen, Ringaskiddy, and Whitegate among those reporting impacts. In England, the East Midlands and Yorkshire were among the regions most impacted by flooding. Among the communities most impacted were Sandiacre, Long Eaton, Derby, Sheffield, Chesterfield, Catcliffe, Nottingham as well as areas such as Framlingham in Suffolk, though wide swaths of these regions experienced flooding rains.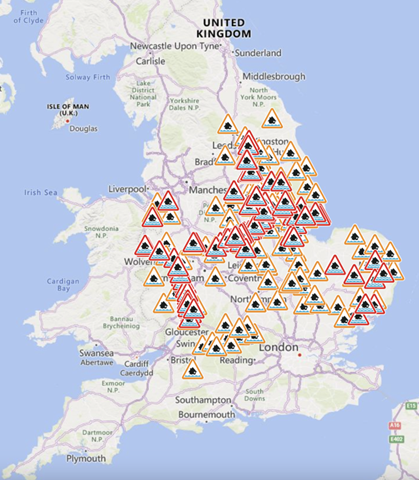 While residential flood insurance take up is relatively high in the UK, there still exists a protection gap for many, especially those in high-risk areas, where insurance is less available and/or is significantly more expensive. In recent years Flood Re has also provided insurance for properties that historically found traditional insurance premiums unaffordable, but this is limited to certain risks.
The Verisk ALERT and Flood teams are continuing to monitor the ongoing impacts from Storm Babet. No ALERT deliverables are scheduled at this time, but we will provide an update on next steps, if any, on Wednesday, 25 October.
Event Summary | Downloads

Posting Date: October 23, 2023, 1:00:00 PM