May 3 Severe Thunderstorm Outbreak
Status: Closed
| Type of posting | Posting date(EST): | Summary | Downloads |
| --- | --- | --- | --- |
| Event Summary | 5/4/2021 11:00:00 AM | | |
Event Summary | Summary

Posting Date: May 4, 2021, 11:00:00 AM
Severe thunderstorms, including 20 reports of tornadoes and up to baseball-sized hail, impacted more than a dozen states from Texas to Virginia on May 3. Hailstones 2 to 3 inches in diameter were reported across the San Antonio metro area. Also in Texas the City of Rio Vista in Johnson County, saw up to 3-inch hail, up to 2.5-inch hail was reported in Scurry, and multiple reports of 2- to 2.5-inch hail came from New Berlin, to the east of San Antonio. According to Verisk Weather Solutions, more than 100,000 roofs may have been damaged by hail yesterday, based on data from Respond.
Minor tornado damage was reported in Abbeville County, South Carolina, and Elbert County, Georgia, after two tornadoes touched down across the area—the first near Lowndesville, South Carolina, and the second just northeast of Abbeville. The Storm Prediction Center also received nearly 200 straight-line wind reports yesterday, including numerous reports of downed trees, toppled power lines, and minor building damage across the affected states.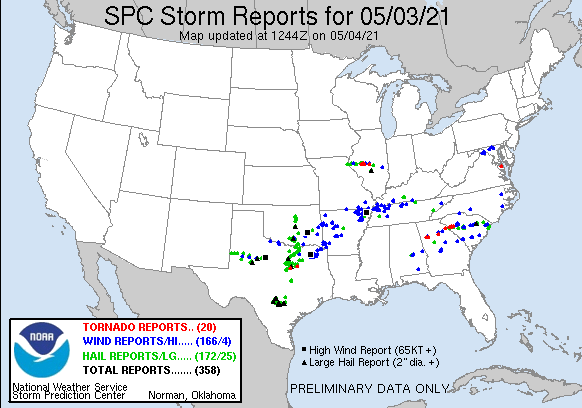 Yesterday's date marks 22 years since the outbreak that spawned the Bridge Creek-Moore tornado, an EF-5 that devastated parts of the Oklahoma City area.
Daily hail and straight-line wind footprints from severe thunderstorm events are available for license through our partners at Verisk Weather Solutions.
No further ALERT™ activity is currently planned for this event.
Event Summary | Downloads

Posting Date: May 4, 2021, 11:00:00 AM