U.S. Severe Weather Outbreak
Status: Monitoring
| Type of posting | Posting date(EST): | Summary | Downloads |
| --- | --- | --- | --- |
| Updated Summary | 12/13/2021 12:30:00 PM | | |
| Initial Summary | 12/11/2021 9:00:00 AM | | |
Initial Summary | Summary

Posting Date: December 11, 2021, 9:00:00 AM
A significant tornado outbreak occurred last night across parts of the U.S. south and Midwest. It appears that a few long track, destructive tornadoes, likely EF3+ at some intervals, were part of this outbreak, likely leading to significant damage and loss of life. One of these long track tornadoes may have covered 150 miles and four states – still yet to be confirmed – which would make it perhaps the longest track tornado recorded, or at least since the tri-state tornado in 1925.
Among the hardest hit areas was Benton county, KY, where the town of Mayfield (pop. 10,000) appears to have taken a direct hit. A candle factory in Mayfield reportedly collapsed, leaving dozens unaccounted for at this time. Elsewhere, in Edwardsville, IL, an Amazon factory collapsed, trapping many and killing at least two. A fatality was also reported in St. Charles county, MO. In addition to the significant tornadoes, the Storm Prediction Center recieved nearly 200 wind reports and several locations reported singificant hail as well.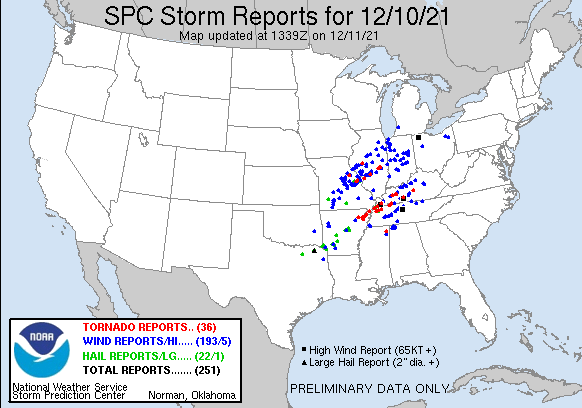 Damage assessment is still in early stages and tornado watches remain in place over a large swath of the central U.S. as of Saturday morning. AIR plans to provide additional updates on this event as more information becomes available.
Initial Summary | Downloads

Posting Date: December 11, 2021, 9:00:00 AM