Status: Active
| Type of posting | Posting date(EST): | Summary | Downloads |
| --- | --- | --- | --- |
| August 21 Update | 8/21/2023 12:00:00 PM | | |
| Monitoring | 8/18/2023 10:00:00 AM | | |
August 21 Update | Summary

Posting Date: August 21, 2023, 12:00:00 PM
Hurricane Hilary brought high winds and flooding to Baja California and historic rainfall to the southwestern U.S. this past weekend. Hilary skirted the northern half of the Baja peninsula overnight Saturday into Sunday morning, making a close pass to the small town of Bahia Tortugas early Sunday morning at Saffir-Simpson category 1 strength. The storm then made landfall over the northern section of the peninsula as a Tropical Storm late Sunday morning, before passing into California as the first Tropical Storm to be centered over that state in 26 years.
Few reports of damage have come in on the Mexico side of the storm; the area along the Baja peninsula which was impacted by Hilary is only sparsely populated. Video on social media showed flood waters rushing down roads, and one person died after driving their car into a flooded area.
In California, the story so far has been nearly unprecedented rainfall. The inland mountainous areas of Los Angeles County have seen the highest rainfall totals, with several locations, including Lewis Ranch, Crystal Lake, and Saugus seeing totals in excess of 6 inches. Typically arid Palm Springs saw a year's worth of rainfall in about six hours, leading to road closures (including Routh 10, the main road in and out of the city), mudflows, and several swift water rescues from cars. A few wind gusts exceeded 80 mph in areas of high elevation in southern California as well. As of this writing, 44,000 customers remained without power across California. Adding to the busy day in this part of the world, a magnitude 5.1 earthquake struck Sunday near Ojai in Ventura County in southern California as well, though no significant damage was reported.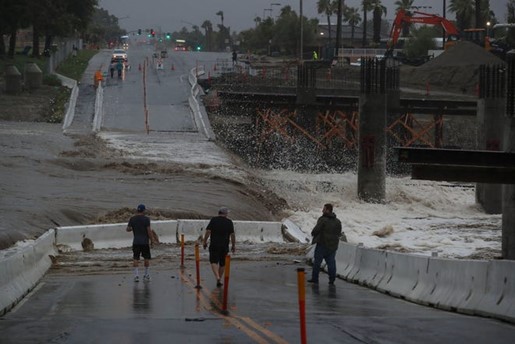 After study of the impacts in Mexico, Verisk expects insured losses to be minimal in that country from Hurricane Hilary. For the flooding in the southwestern U.S., while no ALERT Is currently planned, the Verisk Flood team is continuing to monitor the ongoing impacts, and will provide an update on plans, if any, on Tuesday.
August 21 Update | Downloads

Posting Date: August 21, 2023, 12:00:00 PM