Status: Active
| Type of posting | Posting date(EST): | Summary | Downloads |
| --- | --- | --- | --- |
| Similar Stochastic Events | 10/5/2023 5:00:00 PM | | |
| Monitoring | 10/3/2023 2:00:00 PM | | |
Similar Stochastic Events | Summary

Posting Date: October 5, 2023, 5:00:00 PM
Typhoon Koinu made landfall Thursday morning on the Hengchun peninsula on the southern tip of Taiwan as a category 4 storm on the Saffir-Simpson scale, killing one person and injuring hundreds more.
ALERT™ subscribers can download similar stochastic event (SSE) IDs for Typhoon Koinu from the Downloads tab of this posting on the ALERT website. Compatible with Touchstone® and Touchstone Re™, the SSEs were selected based on Koinu's key meteorological parameters at landfall, in particular central pressure, storm track, and forward speed.They should only be used with exposures in Taiwan.
Koinu brought the strongest winds observed in Taiwan since record keeping started in 1897, with a sustained wind of 124 mph observed on Orchid Island (population 5,500). Images shared on social media from Orchid Island showed windows blown out of buildings and boats damaged and sunk. Over 300,000 customers lost power across the impacted areas of southern Taiwan. In Kaohsiung, the largest population center in the storm's path, wind reached tropical storm force and heavy rain fell, cancelling schools, trains, and flights, but causing relatively light damage. The heaviest rainfall from Koinu fell primarily in mountainous areas on the eastern side of the island, with Taitung, Pingtung, and Hualien counties among those seeing the most precipitation.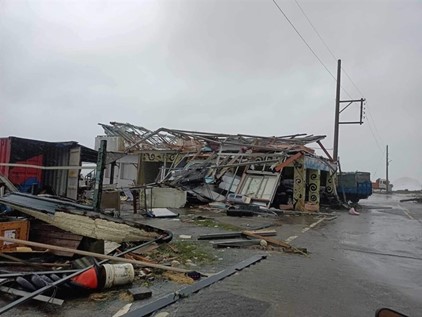 As of 1200 UTC on Thursday, October 5, Typhoon Koinu was located about 500 km east of Hong Kong, with estimated maximum 10-minute sustained winds of 70 knots (81 mph, 130 km/h), and a minimum central pressure of 975 mb, per the Japan Meteorological Agency. The storm is moving west at 9 knots. The forecast for Koinu taks it west for the next day or so before curving southwest and making a close bypass to Hong Kong. Steady weakening of the storm is expected over that period as well.
The Verisk ALERT team will continue to monitor Koinu. No additional ALERTs are planned at this time, though if Koinu approaches Hong Kong and/or mainland China this weekend at typhoon strength and brings those impacts over land, we will provide an additional update next week.
Similar Stochastic Events | Downloads

Posting Date: October 5, 2023, 5:00:00 PM
The information provided herein is strictly confidential and is solely for the use of Verisk clients; disclosure to others is prohibited.
Similar Stochastic Event IDs
Note: These lists give event IDs taken from our stochastic catalog that have similar characteristics as the current event.
| Product | File Type | Description | Download |
| --- | --- | --- | --- |
| TOUCHSTONE / Re | Excel (xls) | Selected set of stochastic events, with Readme in Excel format | |
| TOUCHSTONE / Re | CSV (csv) | Selected set of stochastic events, formatted for import into Touchstone/Re | |