Status: Closed
| Type of posting | Posting date(EST): | Summary | Downloads |
| --- | --- | --- | --- |
| Canada SSEs | 9/26/2022 12:00:00 PM | | |
| Bermuda Update | 9/23/2022 10:00:00 AM | | |
| Similar Stochastic Events | 9/19/2022 3:00:00 PM | | |
Bermuda Update | Summary

Posting Date: September 23, 2022, 10:00:00 AM
As of 8am EDT, Hurricane Fiona was located approximately 100 miles north of Bermuda, with maximum 1-minute sustained winds of 125 mph. The storm made a pass to Bermuda overnight Thursday into this morning, bringing sustained tropical storm force winds and hurricane force gusts. Bermuda has stringent building codes that require buildings to withstand winds up to 110 mph, so significant insured losses are not anticipated in Bermuda from Fiona.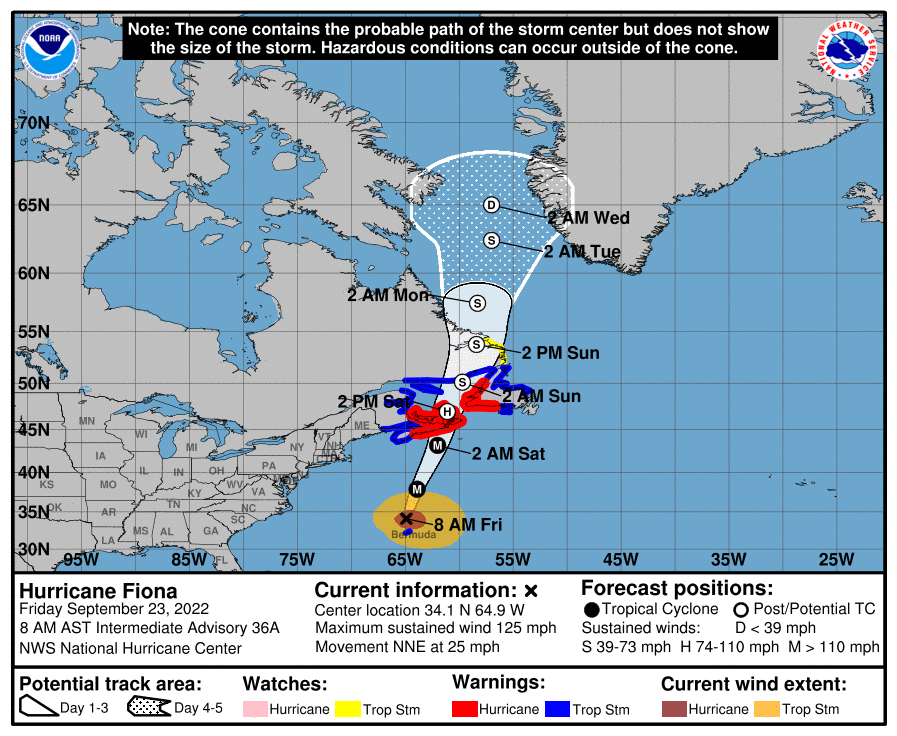 Fiona is expected to transition to extra-tropical over the next 24 hours as it moves north-northeast. Fiona will approach maritime Canada tonight and is expected to make landfall as a powerful extra-tropical storm on the eastern side of Nova Scotia on Saturday morning. Fiona has the potential to set a low pressure record for Canada – the lowest on record is 940.2 mb in 1977. A range of minimum storm pressures are currently forecast from various models, but multiple have forecast pressures below 940 mb for Saturday morning. Wind gusts in excess of 100 mph and a storm surge of 4-8 feet will be possible in parts of Nova Scotia Saturday. Hurricane warnings are in place in Nova Scotia between Hubbards and Brule, as well as for Prince Edward Island, Isle-de-la-Madeleine, and in Newfoundland from Parson's Pong to Francois.
The Verisk ALERT team plans to issue similar stochastic events for Fiona in Canada on Monday, September 26th.
Bermuda Update | Downloads

Posting Date: September 23, 2022, 10:00:00 AM