Status: Closed
| Type of posting | Posting date(EST): | Summary | Downloads |
| --- | --- | --- | --- |
| Canada SSEs | 9/26/2022 12:00:00 PM | | |
| Bermuda Update | 9/23/2022 10:00:00 AM | | |
| Similar Stochastic Events | 9/19/2022 3:00:00 PM | | |
Similar Stochastic Events | Summary

Posting Date: September 19, 2022, 3:00:00 PM
Hurricane Fiona has made two landfalls in the Caribbean thus far – the first on Sunday (9/18) afternoon on the southwestern corner of Puerto Rico near Punta Tocon, with maximum 1-minute sustained winds of 85 mph, followed by a second landfall near Boca de Yuma, Dominican Republic early Monday (9/19) morning, with maximum 1-minute sustained winds of 90 mph, per the National Hurricane Center. After initially battling wind shear, Fiona began to organize and strengthen over the weekend, reaching hurricane status on Sunday morning.
ALERT™ subscribers can download similar stochastic event (SSE) IDs for Hurricane Fiona from the Downloads tab of this posting on the ALERT website. Compatible with Touchstone® and Touchstone Re™, the SSEs were selected based on Fiona's track – in particular to capture the slow passage of the storm near Puerto Rico and the Dominican Republic, and to avoid U.S. landfall – as well as minimum central pressure, forward speed, radius of maximum winds, and landfall angle. They should only be used with exposures in Puerto Rico and the Dominican Republic.
Catastrophic flooding is likely to be the main impact from Fiona. Up to 20 inches of rain, with the potential for locally up to 30 inches are forecast for Puerto Rico, with up to 12 inches forecast for parts of eastern Dominican Republic. Power is out across Puerto Rico on Monday – according to LUMA energy, which is the primary power utility there, that it could be several days before power is restored for many, though the outage will not be near as severe as that caused by 2017 Hurricane Maria, which left much of the island without power for the better part of a year. Several rivers in eastern Puerto Rico are at or near flood stage, and mudslides and landslides are likely in parts of both territories impacted by Fiona as the precipitation continues on Monday.
Fiona is expected to continue its northward turn and to strengthen over the rest of this coming week. The eastern Bahamas and Turks and Caicos will experience tropical storm force winds and heavy rainfall on Tuesday as the storm passes, with hurricane force winds possible over Turks and Caicos. From there on, the storm will start to curve and accelerate toward the northeast. The current forecast takes Fiona on a relatively close pass to Bermuda later on Thursday into Friday.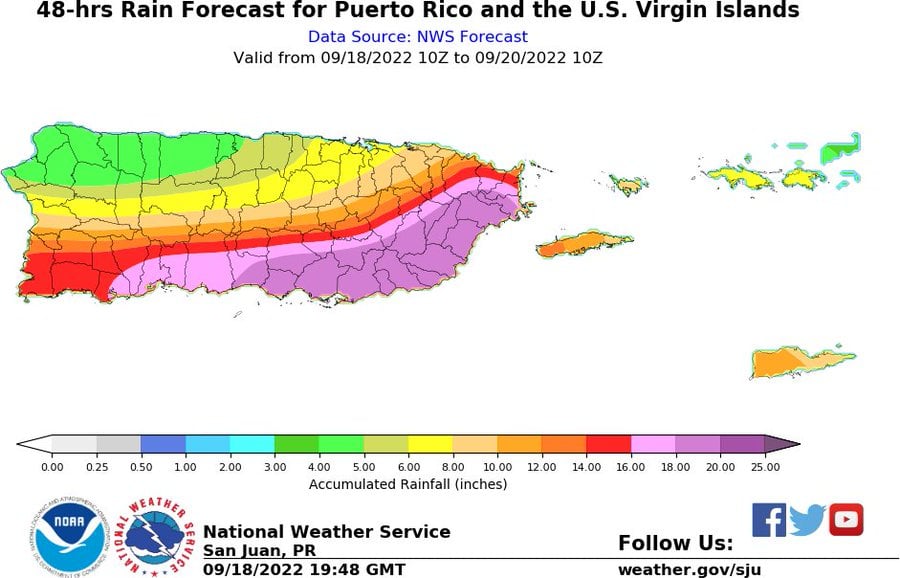 The Verisk ALERT team will continue to monitor Hurricane Fiona as it tracks across the north Atlantic toward Bermuda. Depending on the storm's eventual path and intensity, we may issue additional updates later this week.
Similar Stochastic Events | Downloads

Posting Date: September 19, 2022, 3:00:00 PM
The information provided herein is strictly confidential and is solely for the use of AIR clients; disclosure to others is prohibited.
Similar Stochastic Event IDs
Note: These lists give event IDs taken from our stochastic catalog that have similar characteristics as the current event.
| Product | File Type | Description | Download |
| --- | --- | --- | --- |
| TOUCHSTONE / Re | Excel (xls) | Selected set of stochastic events with Readme in Excel format | |
| TOUCHSTONE / Re | CSV (csv) | Selected set of stochastic events formatted for import into Touchstone/Re | |