Atmospheric Rivers in California
Status: Monitoring
| Type of posting | Posting date(EST): | Summary | Downloads |
| --- | --- | --- | --- |
| January 18 Update | 1/18/2023 12:00:00 PM | | |
| January 13 Update | 1/13/2023 1:00:00 PM | | |
| Monitoring | 1/9/2023 2:00:00 PM | | |
January 13 Update | Summary

Posting Date: January 13, 2023, 1:00:00 PM
Flooding rains from an ongoing series of atmospheric rivers have continued to impact the state of California this week. More than a half dozen storms have plagued the drought ravaged state, with more forecast through the coming weekend.
Hazard Observations
Rainfall totals for the most recent storms have far exceeded norms for this time of year, and in some cases have set records. Downtown Los Angeles has seen over 5 inches, while San Francisco has seen just short of 6 inches with this latest round of storms – both totals are multiples of the rain expected year to date. Going back to the beginning of this series of events, the totals are even higher – Ventura, CA has seen 18 inches of rain over the past two plus weeks. Other event series totals include Oakland at 13 inches, 12 inches in Santa Barbara, Napa and Redding coming is at 11 inches, and nearly 10 inches so far in downtown Sacramento. Meanwhile, in the Sierra Nevada mountains, much of the precipitation has fallen as snow, with some locations seeing as much as 100 inches or more in the past two weeks.
A silver lining of these prodigious totals is the lessening of drought conditions in the state – two weeks ago, nearly half the state was in an "extreme" or worse drought condition – now, there is virtually no location in the state experiencing this level of drought conditions. However, while the overall impact on drought conditions in California has been positive, they will not be fully eradicated by this series of storms.
Damage Observations
Pockets of property damage from floodwaters and related hazards have been observed across a large swath of the state. In Belmont, in San Mateo County, south of San Francisco, a mobile home park was inundated, damaging all 80 residences there. In Santa Cruz County, a preliminary assessment of damage in flooded areas showed more than 160 homes and businesses damaged, with a handful more uninhabitable. In Merced County, southeast of San Francisco, the town of Planada (pop. 4,000) was evacuated earlier this week as flood waters from Miles and Bear Creeks inundated parts of the town, as well as the nearby city of Merced. Sinkholes have opened in the Chatsworth neighborhood of Los Angeles and also in Santa Maria in Santa Barbara County, affecting multiple homes in each area.
Damage to infrastructure has also been seen across the state. More than 40 state roads were closed across the state for various flood related reasons as of Thursday afternoon. In parts of Santa Barbara County, flood waters overwhelmed the sewer system, leading to sewage leaking out into streets. Officials warned that the Monterrey peninsula, just south of San Francisco and home to the cities of Carmel, Pacific Grove, and Monterrey, could be cut off from the mainland and become an island due to flood waters, as happened most recently in a 1995 flood event.
Flood Insurance in California
Flood insurance take up is quite low in California, especially for residential risks, with most counties having no more than 1 to 3% of insurable properties covered, and less than 1% estimated to be covered in many areas. The take up is higher for commercial risks, but still generally topping out around 30%. For both classes of risks, this is lower than the take up for earthquake insurance in the state, and significantly lower on residential lines. Flood policies in the affected areas will typically cover the impacts of mudflows - defined as a river of liquid and flowing mud on the surfaces of normally dry land areas such as when earth is carried by a current of water – but do not cover landslides, slope failures, saturated soil moving down a slope, or sinkholes. As is often the case with flood events, the economic loss for this series of storms is likely to far exceed the insured tally. Hours clauses for flood policies in the U.S. typically cover 168 hours, or one week, which given the long duration of this event could complicate claims settlement. Verisk Property Claims Services (PCS) has thus far issued two CAT IDs (2274 and 2311) for this series of storms, each covering a seven-day period, so far through January 10th.
Forecast and Next Steps
Two more storms will pass through California over the upcoming holiday weekend. The latest event will primarily impact the Pacific Northwest and parts of northern coastal California, with 3 to 5 inches of rain forecast this weekend in the Sacramento and San Joaquin Valleys, and an additional 2 to 3 feet of snow in the Sierra Nevadas. Another storm will arrive Sunday into Monday but will not be as intense as some of the other recent storms in this series. Still, an additional 1 to 2 inches of rain should impact much of central and southern California, with higher amounts up to 5 inches possible in the foothills away from the coast.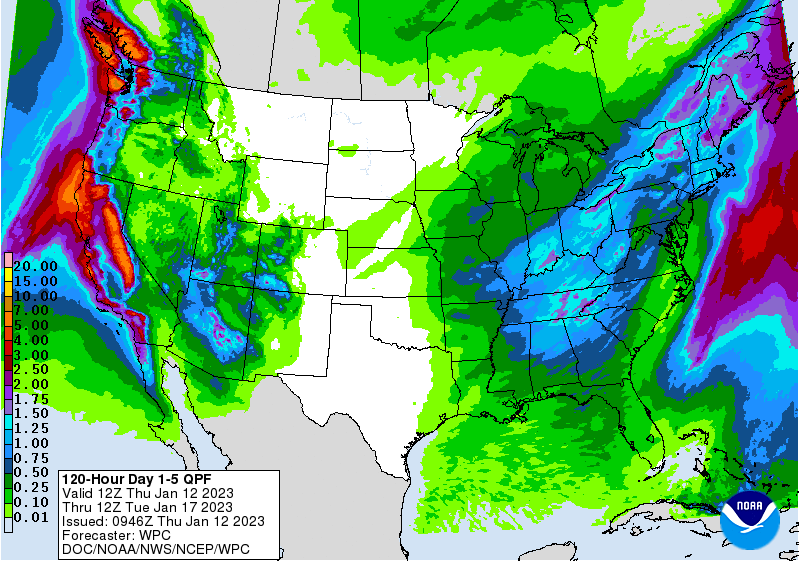 As this broader event remains ongoing, the Verisk ALERT and Flood teams are continuing to analyze data and observations gathered so far, as well as continuing to monitor the next storms in the series over the coming weekend. We will provide our next update on this event on Wednesday, January 18th.
January 13 Update | Downloads

Posting Date: January 13, 2023, 1:00:00 PM