Atmospheric Rivers in California
Status: Monitoring
| Type of posting | Posting date(EST): | Summary | Downloads |
| --- | --- | --- | --- |
| January 18 Update | 1/18/2023 12:00:00 PM | | |
| January 13 Update | 1/13/2023 1:00:00 PM | | |
| Monitoring | 1/9/2023 2:00:00 PM | | |
Monitoring | Summary

Posting Date: January 9, 2023, 2:00:00 PM
The latest and strongest in a series of atmospheric river events to affect California over the past couple of weeks is making itself felt across the state on Monday. What had been a drought ravaged state up through much of December has now been impacted with yet another wet and windy weather event and significant risk of flooding across the state.
According to the National Oceanic and Atmospheric Administration (NOAA), atmospheric rivers are relatively long, narrow regions of the atmosphere that transport the vast majority of the water vapor outside of the tropics. These columns of vapor move with the weather, and when they make landfall, they often release this water vapor in the form of rain or snow, which can lead to flooding, mudslides, and other hazards.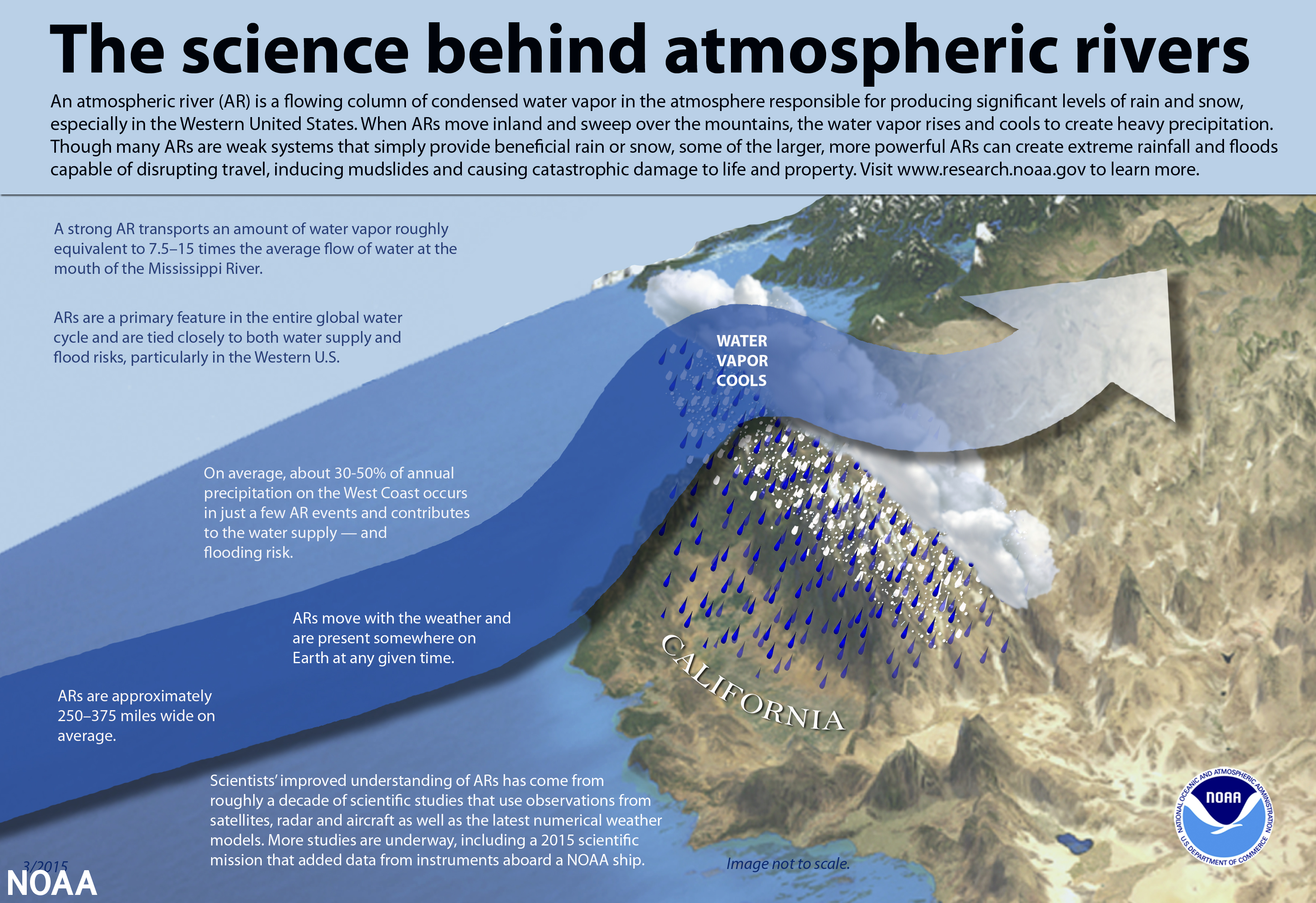 The first in this series of storms came just before the new year, at first largely delivering much needed moisture to the region. Another round of storms last week caused power outages for more than 60,000 in California, flooded roadways across Los Angeles county, and severe damage to the piers in Capitola and Seacliff in Santa Cruz county. Now, in the latest wave, in excess of 400,000 customers have lost power, with more than 120,000 still as of 10am EST Monday. Flooding rains have continued – areas in the north central part of the state have seen in excess of six inches. Each of the international airports in Sacramento, San Francisco, and Los Angeles have seen about 2-3 inches, and elsewhere in Sacramento county, officials have called for an evacuation of the town of Wilton, along the Cosumnes River. Gusty winds have also been an issue – winds gusting to 60 mph downed trees in the Sacramento area. More than a dozen locations at higher elevations reported hurricane force wind gusts, peaking with a 119 mph gust at Kirkwood Meadows – where nearly three feet of snow has also fallen in this most recent storm. Snowfall rates of 5 to 7 inches are possible in the Sierra Nevada mountains with this latest event, with more than six feet forecast overall this week in some location.
Yet another storm is due Tuesday, with the impacts aimed more at southern California. Up to a foot of rain is forecast in the hills of Los Angeles, Ventura, and Santa Barbara counties over the next several days, and up to five inches in Downtown Los Angeles. The foothills of the northern and central parts of the states are also expected to see another 6-12 inches of rain, along with the prodigious snow totals expected in the Sierra Nevada mountains. The precipitation has also greatly increased the risk for mudslides, especially in areas otherwise impacted by burn scars. Much of California is forecast to have at least a moderate (40%) probability of excessive rainfall over the next 24 hours. As of noon EST Monday, two NOAA flood gauges were at major flood stage in California.
The Verisk ALERT and Flood teams are actively monitoring this ongoing event. No ALERT industry loss estimates, event sets, or loss based similar stochastic events are currently anticipated, but we will provide an update once the full scope of the event is better understood, no later than Friday, January 13th. More on ALERT for the Flood peril can be found in the ALERT Posting Process and Deliverables document on our Client Portal.
Monitoring | Downloads

Posting Date: January 9, 2023, 2:00:00 PM