Status: Closed
| Type of posting | Posting date(EST): | Summary | Downloads |
| --- | --- | --- | --- |
| Post-Landfall Precip Flood Update | 9/13/2021 7:00:00 AM | | |
| Post-Landfall Wind and Surge Event Sets | 9/3/2021 6:00:00 AM | | |
| Post-Landfall Summary | 8/30/2021 12:00:00 PM | | |
| Pre-Landfall SSEs #3 | 8/29/2021 10:00:00 AM | | |
| Pre-Landfall SSEs #2 | 8/28/2021 10:00:00 AM | | |
| Pre-Landfall SSEs #1 | 8/27/2021 10:00:00 AM | | |
| Monitoring Invest 99L | 8/26/2021 10:00:00 AM | | |
Post-Landfall Wind and Surge Event Sets | Summary

Posting Date: September 3, 2021, 6:00:00 AM
AIR estimates that industry insured losses to onshore property resulting from Hurricane Ida's winds and storm surge will range from USD 17 billion to USD 25 billion.
AIR continues to evaluate the precipitation-induced flood impacts from Ida and will offer an update as warranted next week. Hurricane precipitation-induced flood losses are not included in AIR estimates at this time.
ALERT™ subscribers can now download Touchstone® and Touchstone Re™ event sets, loss-based similar stochastic events (SSEs), and wind and surge shapefiles of the median event for Hurricane Ida from the Downloads tab.The SSEs are recommended for exposures in Louisiana, Mississippi, and Alabama. The information provided herein is strictly confidential and is solely for the use of AIR clients; disclosure to others is prohibited unless noted in your AIR software license.
Included in the industry insured loss estimate are losses to onshore residential, commercial, and industrial properties and automobiles for their building, contents, and time element coverage, and the impact of demand surge.
The industry loss estimates also reflect an adjustment to account for increased material and other repair costs in the current construction market. Based on our analysis of the current market conditions, AIR estimates losses will be 9–15% above the modeled results. It should be carefully noted that this 9–15% adjustment is an industry average expectation. Thus, this adjustment has been applied only to the industry loss range quoted above, and is not explicitly included in the Touchstone and Touchstone Re event sets. As the impact of these market conditions could vary significantly from company to company, we recommend that clients make their own adjustments to replacement values to account for these conditions. Further discussion of the impact of current market conditions can be found in the "Additional Considerations" section.
See below for additional information.
AIR's modeled insured loss estimates include:
Insured physical damage to property (residential, commercial, industrial, auto), both structures and their contents from winds, wind-borne debris, and storm surge
Additional living expenses (ALE) for residential lines and business interruption losses for commercial lines
A 5% leakage is assumed to estimate the amount of damage/losses caused by storm surge attributed to wind for residential lines
The loss estimates for commercial lines reflect insured estimates of storm surge, which is a combination of leakage and take-up depending on the market segment
For the automobile line, estimates reflect AIR's view that insurers will pay for all of the storm surge damage in addition to damage from wind
The impact of demand surge
AIR's modeled insured loss estimates do not include:
Losses paid out by the National Flood Insurance Program
Losses due to precipitation-induced flooding
Losses to inland marine, ocean-going marine cargo and hull, and pleasure boats
Losses to uninsured properties
Losses to infrastructure
Losses from extra-contractual obligations
Losses from hazardous waste cleanup, vandalism, or civil commotion, whether directly or indirectly caused by the event
Losses resulting from the compromise of existing defenses (e.g., natural and man-made levees)
Loss adjustment expenses
Other non-modeled losses, including those resulting from tornadoes spawned by the storm
Losses for U.S. offshore assets and non-U.S. property
Hurricane Ida Recap
Ida traveled over very warm Gulf waters, including a thick layer of warm water in the Loop Current, and intensified to make two landfalls in Louisiana, both at Category 4 strength, on August 29. The storm's first landfall was near Port Fourchon about 60 miles south of New Orleans, at 11:55 a.m. CDT with a maximum sustained wind speed of 150 mph; its second landfall was at 2 p.m. CDT southwest of Galliano, with a maximum sustained wind speed of 145 mph. Around the time of landfall, the storm was undergoing an eyewall replacement, which is a process that tends to widen tropical cyclone windfields and cause strong winds farther from the storm center. In practical terms, New Orleans experienced strong winds on the order of 90 to 100 mph due to the large windfield and a slow decay of storm. The storm surge Ida produced was along expected lines and generally not as severe as Hurricane Katrina's—particularly in Mississippi and New Orleans (the latter of which was fully protected by the city's levee system)—but some areas of southeastern Louisiana with insufficient protection experienced severe storm surge during Ida. The storm also produced localized heavy rains. The severity of winds, storm surge, and rain, caused a significant number of instruments to fail. Two deaths in Louisiana, two in Mississippi, and two in Alabama have been attributed to the storm. President Joe Biden approved Louisiana's disaster declaration on the night of Ida's landfall.
Impacts to Infrastructure
As Ida moved through southeastern Louisiana, power to more than 1 million customers in the state, including all of New Orleans, was knocked out as the storm hit and is gradually being restored; the number of customers without power has dipped below 1 million now and some eastern New Orleans customers have had power restored. Entergy, Louisiana's largest electric utility, has stressed that critical infrastructure such as hospitals are first in line to get their power restored. Some have given an estimate of a few weeks before power is fully restored to the area, but the exact amount of time it will take is unknown. With the heat advisories that went into effect in Louisiana, the follow-on effects of lack of air conditioning combined with the lack of water service to roughly 700,000 in the state could have dire consequences. Tens of thousands of those who do have water service must boil it, according to an advisory. Post-storm evacuations are being considered. In addition, about 130,000 people in Mississippi lost power the day Ida hit, but that number has decreased to about 30,000 now. Mississippi is also under a heat advisory. This can further exacerbate damage due to mold and lead to costly claims being paid out.
According to analysis by Wood Mackenzie, a sister company in the Verisk family, Hurricane Ida has had a significant impact on Louisiana refinery operations and Gulf of Mexico production, causing a historic U.S. crude supply chain disruption.
One day before Hurricane Ida made landfall, several refineries closed in anticipation of the storm, including Marathon – Garyville (608,000 barrels per day/bpd); PBF – Chalmette (197,000 bpd); Phillips 66 – Alliance (269,000 bpd); Placid – Port Allen (82,500 bpd); Shell – Norco (250,000 bpd); Valero – Meraux (128,000 bpd); Valero – St. Charles (220,000 bpd); and Exxon – Baton Rouge – partial shutdown (539,000 bpd).
Phone service has run from non-existent to very limited across southeastern Louisiana; importantly, 911 service went down the day Ida struck, which may have hampered rescue efforts. Although 911 service resumed the next day, residents may not have been aware of this. Many roads have been blocked by fallen trees or have been made unsafe by downed power lines, so assessing the damage caused by the storm comprehensively on the ground has been impossible. Aerial surveys, however, have been conducted in a few areas.
Schools are closed indefinitely in impacted areas of Louisiana. On August 31, students of Tulane University were bused to Houston and told to return in October.
Utility disruptions caused by lack of power, mobile data services, and water, could lead to Ida becoming a long-tailed event when it comes to claims reporting, payouts, etc.
Wind Impacts
While New Orleans' levees held, the city was not spared Ida's wind impacts. Damage was variable given the nature of building inventory in the metro New Orleans area. While a large number of residential homes saw damage ranging from loss of roof cover to collapses due to tree falls, damage to the commercial inventory was to the envelope/façade elements primarily. Communities along the southeastern Louisiana coast saw homes and businesses flattened; others had roofs blown off and windows blown out. Areas close to where Ida made landfall such as LaFourche Parish, where Port Fourchon is located, was particularly hard hit with widespread destruction. Grand Isle Parish, a barrier island, has been declared uninhabitable. Even in towns just inland from where Ida came ashore, such as Galliano and Houma, wind damage was severe to catastrophic. Many residents across Louisiana are dealing with blocked roadways, downed power lines, and houses and commercial buildings with their roofs torn partially or completely off.
Early post-event reconnaissance indicated a significant number of industrial facilities were impacted by both wind and surge from Ida. The facilities at Port Fourchon bore significant damage to gas and petroleum industry assets which could have an impact on the supply to and from offshore facilities. More than 90% of the Gulf of Mexico's deepwater oil production goes through there. According an NPR interview with the executive director of the port, Chett Chiasson, damage at the port was extensive and points to a long recovery. Surge along the Mississippi in Carlisle saw inundation to assets, including a major oil refinery plant. Multiple smaller facilities along the bayous around Jean Lafitte and Lafitte were also inundated with rising surge waters.
As of September 1, limited information had been provided by offshore oil producers. Most U.S. Gulf platforms still remained shut-in and companies were still attempting to mobilize and assess offshore impacts; the structural damage at ports and helipads were hampering these efforts. Generally positive information had been provided thus far and no damage to offshore structures had yet been reported.
Storm Surge Impacts
In terms of storm surge, coastal towns weren't the only ones significantly impacted. Most levees held up well, with a few localized failures that have created flooding beyond that from storm surge. Communities to the north, west, south, and east of the hurricane protection system that surrounds New Orleans were inundated. Ida's storm surge inundated far into the bayous and inhabited areas of southeastern Louisiana, as well as areas near Lake Pontchartrain. Minor near-coastal inundation also occurred in Mississippi and Alabama. Key areas flooded by storm surge in Louisiana include Port Fourchon, Grand Isle, Delacroix, Alliance, Lafitte, Jean Lafitte, Barataria, Laplace, Mandeville, Braithwaite, Shell Beach, Galliano, Golden Meadow, and Venetian Isles. Surge inundation depth exceeded 10 feet in some places, but several tide gauges near maximum storm surge broke, leading to uncertainty in Ida's maximum storm surge water level.
Validating AIR's Custom Events for Ida
Data plays a major role when it comes to validating our custom event sets, getting a good estimate of the modeled wind speeds and losses, and correlating this information to damage observed on the field. At AIR we leverage data from a wide variety of sources within and outside the Verisk enterprise. This includes claim locations and claim estimates in near real time from Xactware®, a sister company within Verisk, detailed damage observations that are curated from the internet by AIR engineers, and crowdsourced data feeding in from social media platforms. Figure 1 shows a plot of the median event footprint and claim locations. Plots such as these help us gauge the robustness of the footprints in capturing claim locations. In addition, it also gives an indication of the intensity that correlates with the claim value/estimate.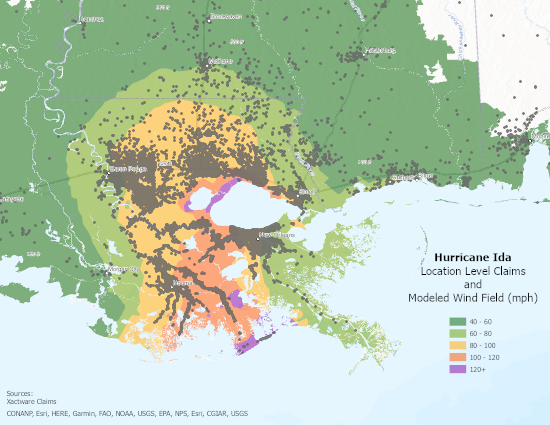 Figure 1. AIR's median event wind speed footprint overlaid with claim locations.
Similarly, overlaying the damage observations with event footprints as shown in Figure 2 provides yet another validation for the footprint extents and intensities. While in most cases it might be extremely difficult to point out the exact winds that would cause the damage observed, it can help with obtaining qualitative and relative estimates of wind speeds. Data such as that shown in this section plays a significant role, especially when actual wind speed measurements available mainly through ASOS or CMAN/buoys stations are scarce and incomplete.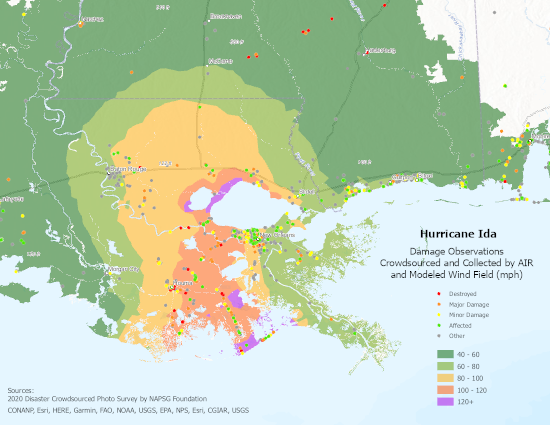 Figure 2. Validating wind speed footprints and intensity using damage observations curated by AIR engineers and crowdsourced data.
Identifying historical events that are similar in track and intensity to the current event being modeled is a good way of validating the insured loss estimates. An unnamed hurricane that affected Louisiana between September 21 and October 1, 1915, had New Orleans on its east side by subjecting it to Category 1/2 winds. The losses that this event produces when modeled against today's industry exposures can provide a good benchmark for Ida's loss potential in this area. Similarly, the modeled losses from Hurricane Betsy in 1965 against current day industry exposures can serve as a good benchmark for Ida's loss potential in Terrebonne Parish, home to the city of Houma and the town of Lockport, both of which suffered significant destruction.
COVID-19 Considerations
Per 100,000 people, Louisiana is seeing the nation's third-highest outbreak of the COVID-19 virus, complicating efforts to shelter people who have been affected by the storm. Hundreds of thousands of evacuees were directed to thousands of hotel rooms in addition to shelters to maintain social distancing norms. Eleven hospitals, many of whose patients suffer from the COVID-19 virus, were evacuated. New Orleans officials are considering the opening of the convention center for people in the state with specialized medical needs. More than 30 shelters across the state are open, offering refuge to thousands. The Governor of Louisiana asked that people not return to their homes until told they can do so, as they may have no power, no water, no ability to communicate with emergency services, and damage to their homes that may have rendered them uninhabitable. It should be noted that last year, three hurricanes—Laura, Delta, and Zeta—plus tropical storms Cristobal and Marco struck Louisiana's almost 400 miles of coastline, all of them during the COVID-19 pandemic, so officials there have had ample experience in coping with natural disasters under these difficult circumstances.
Louisiana Building Codes and Their Enforcement
Louisiana has a statewide adoption of the Louisiana State Uniform Construction Code. This code is an adaptation of the 2015 editions of the International Building Code (IBC) and International Residential Code (IRC) with amendments. These codes were adopted and have been effective since early 2018. According to these standards, buildings are required to be designed to a prescribed wind speed that varies spatially with higher design wind speeds along the coast and the values decreasing as we move inland. For Port Fourchon and Grand Isle, the design 3-second gust wind speeds for typical residential and commercial structures is between 160 and 170 mph. For towns such as Golden Meadow, Galliano, Dulac, and the southern portions of Houma, design requirements are between 150 and 160 mph on 3-second gust basis. New Orleans, Lockport, and towns along Route 90 require buildings to be designed to winds of 140 to 150 mph 3-second gust.
Commercial buildings with higher human occupancy requirements and those serving essential functions such as hospitals are typically subject to more stringent requirements per the IBC, given the risk category in which individual commercial buildings fall. Generally, Hurricane Ida was below the design standards for structures built under these standards. Widespread catastrophic structural failure was therefore not expected. Buildings that are older and predate the adoption of some of these standards can be expected to perform worse and sometimes become debris sources that can impact adjacent newer buildings. While adoption of building codes is one aspect, an equally important aspect is their enforcement. While enforcement is good for coastal counties, the same is not true for inland counties. Therefore, as Ida trekked through the state and continued to produce damaging winds, damage can be expected to buildings across the entire state.
According to AIR and Xactware analyses, materials costs have gone up significantly in the past year from supply chain disruption in the construction market. Although these costs have moderated since their peak in July when they were 80% higher than September of last year, they remain about 30% higher. (Please click this Xactware link for more details.) Repair costs are still up significantly.
The bottom line is that reconstruction costs are more expensive today than they were a year ago. The increase in the total reconstruction cost index means that costs are higher on average nationally; this affects the low- as well as the high-severity events. The difference in magnitude of the impact will come from the mix of construction materials used. For example, minor wind losses are less likely to require repairs that use more expensive inputs such as structural lumber; however, dwellings that are a total loss would require a broader mix of inputs that reflect the higher increases indicated by the total reconstruction index. These increases are outside the scope of demand surge, which tries to answer the cost increase question from a post–extreme event perspective. Therefore, companies should bear these increases in mind and should expect the average claim to be higher before considering demand surge.
An additional source of uncertainty related to materials cost demand surge is the cost of diesel fuel, which has been impacted by the shutdown of refineries during Ida; this fuel would be used to transport materials. While some of these facilities were undamaged, the uncertainty around the timing of the restoration of the power grid and lack of electricity in the meantime is going to keep some of them from coming back online and contributing to the diesel fuel supply. For more details, please click this Wood Mackenzie link.
Finally, one other important aspect of demand surge to note is that after Hurricane Katrina, about half of the population of New Orleans moved away and the city never returned to pre-Katrina population levels. This mass migration probably mitigated economic demand surge, which was not as great as it might have been after that storm. It is unclear at this point whether Ida will prompt a similar exodus.
Post-Landfall Wind and Surge Event Sets | Downloads

Posting Date: September 3, 2021, 6:00:00 AM
The information provided herein is strictly confidential and is solely for the use of AIR clients; disclosure to others is prohibited.
Simulated Event Set
Event sets containing five custom scenarios for wind and storm surge impacts from Hurricane Ida, for use in Touchstone and Touchstone Re.
| Product | Version | Description | Download |
| --- | --- | --- | --- |
| TOUCHSTONE Re | 8 and 9 | Selected set of simulated scenarios | |
| TOUCHSTONE | 8 and 9 | Selected set of simulated scenarios | |
Loss Based Similar Stochastic Event IDs
Event IDs taken from our stochastic catalog that have similar insured industry loss footprints to the custom scenarios in the Simulated Event Set.
| Product | File Type | Description | Download |
| --- | --- | --- | --- |
| TOUCHSTONE / TOUCHSTONE Re | Excel (xls) | Selected set of stochastic events | |
Additional Downloads
Note: Additional downloads related to the posting are listed below. Please use the appropriate application to view these files.
| Title | File Type | Description | Download |
| --- | --- | --- | --- |
| Hurricane Ida Wind Shapefile | .zip | A shapefile for the median loss scenario wind footprint from the Simulated Event Set | |
| Hurricane Ida Storm Surge Shapefile | .zip | A shapefile for the median loss scenario storm surge inundation footprint from the Simulated Event Set | |
| Hurricane Ida Simulated Event Set Information | .xls | Event parameters and modeled insured industry loss estimates for the five custom scenarios for Hurricane Ida found in the Simulated Event Sets. | |
| Hurricane Ida Loss Based SSE Information | .xls | Event parameters, insured industry loss breakdown by state, and a track map for the Loss Based SSEs. | |
| Hurricane Ida Loss Based SSE Track Files | .zip | Track files for the selection of Loss Based SSEs for Ida. | |