Status: Closed
| Type of posting | Posting date(EST): | Summary | Downloads |
| --- | --- | --- | --- |
| Post-Landfall Precip Flood Update | 9/13/2021 7:00:00 AM | | |
| Post-Landfall Wind and Surge Event Sets | 9/3/2021 6:00:00 AM | | |
| Post-Landfall Summary | 8/30/2021 12:00:00 PM | | |
| Pre-Landfall SSEs #3 | 8/29/2021 10:00:00 AM | | |
| Pre-Landfall SSEs #2 | 8/28/2021 10:00:00 AM | | |
| Pre-Landfall SSEs #1 | 8/27/2021 10:00:00 AM | | |
| Monitoring Invest 99L | 8/26/2021 10:00:00 AM | | |
Pre-Landfall SSEs #2 | Summary

Posting Date: August 28, 2021, 10:00:00 AM
Tropical Storm Ida has further strengthened in the Caribbean and Gulf of Mexico, and is now Hurricane Ida.
As of 7 a.m. CDT, the National Hurricane Center (NHC) reported that Hurricane Ida was located at 24.4°N 85.7°W and is moving northwest at 16 mph (26 km/h). Ida's forecast intensity at landfall in central or southeast Louisiana late Sunday or early Monday morning has increased to Category 4 hurricane strength, bringing potentially catastrophic winds, life-threatening storm surge, flooding, and tornadoes to the Northern Gulf Coast and further inland as the storm travels north and east after landfall.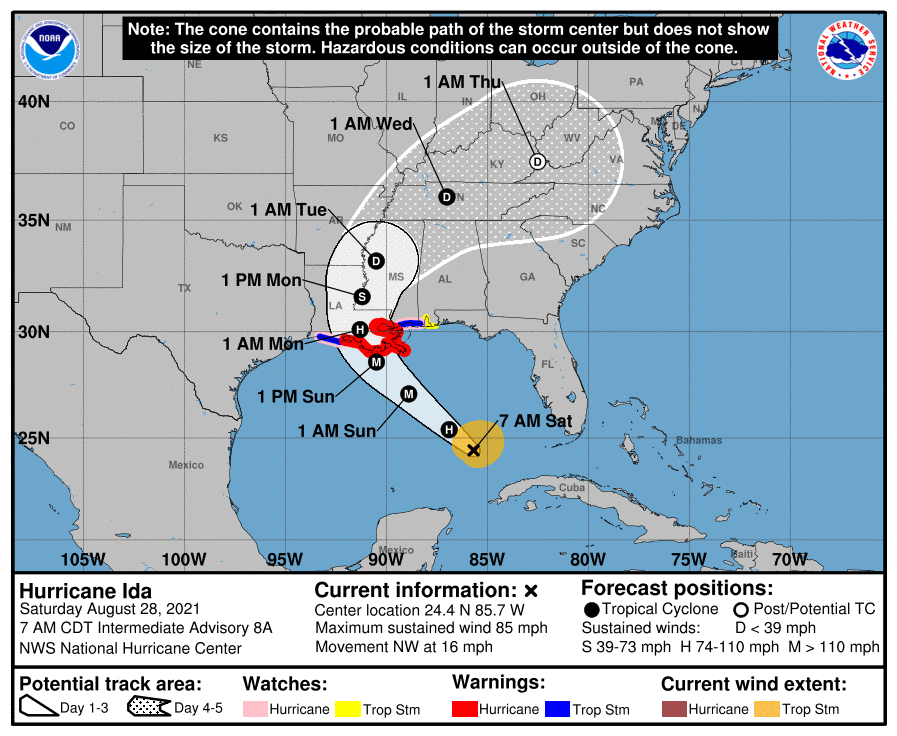 ALERT™ subscribers can download similar stochastic event (SSE) IDs for Ida from the Downloads tab of the ALERT website. Compatible with Touchstone® and Touchstone Re™, the SSEs were selected based on event parameters (not industry losses) and are recommended for Louisiana, Alabama, Mississippi, Tennessee, Kentucky, Georgia, and Arkansas exposures. The information provided herein is strictly confidential and is solely for the use of AIR clients; disclosure to others is prohibited unless noted in your AIR software license.
NHC Forecast Track and Intensity
Ida continues to intensify over the Gulf of Mexico. As of this morning, 7 a.m. CDT, Ida is a Category 1 hurricane with maximum sustained winds of 85 mph (140 km/h) and is about 385 miles (620 km) south-southeast of the mouth of the Mississippi River, and 440 miles (710 km) south-southeast of New Orleans.
Ida crossed western Cuba Friday night and entered the Gulf of Mexico, passing into an area of deep warm waters fueling rapid intensification. Ida is forecast to continue to move steadily northwestward across the Gulf of Mexico during the next 24-36 hours. The current NHC forecast states Ida will intensify to an "extremely dangerous" Category 4 hurricane, up from Category 3 yesterday's forecast, with forecast peak sustained winds to reach 140 mph (225 km/h), before Ida makes landfall south of Morgan City, Louisiana late Sunday night or early Monday morning, local time. Impacts are expected across Louisiana, Alabama, and Mississippi. Tropical storm conditions in hurricane warning areas are expected to begin as early as late Saturday night.
After landfall, Ida is expected to continue north and then curve to the east, weakening in intensity and bringing heavy rains into Tennessee, Kentucky, and Arkansas.
If Hurricane Ida makes landfall tomorrow night, August 29, it will be on the anniversary of Hurricane Katrina striking the New Orleans area, which was the costliest storm in U.S. history.
NHC Forecast Hazards
The system is expected to bring "potentially catastrophic" impacts from wind, "life-threatening" storm surge, and heavy rainfall to areas along the coasts of Louisiana, Mississippi, Alabama. Flash flood and riverine flood risks Sunday into Monday will reach significant portions of the Gulf Coast and further inland along the storm's path.
A Hurricane Warning is in effect across Louisiana from Intracoastal City to the mouth of the Pearl River, including Metropolitan New Orleans. A Hurricane Watch is in effect for Cameron, Louisiana to west of Intracoastal City, and across the Mississippi coast, while a Tropical Storm Watch is in effect across Alabama to the Florida border.
A Storm Surge Warning is in effect along the coasts of Louisiana and Mississippi from east of Rockefeller Wildlife Refuge in Louisiana to the Mississippi/Alabama border. A Storm Surge Watch is in effect for Sabine Pass to the Rockefeller Refuge and Mobile Bay, Alabama. Surge inundation of 10 to 15 feet above ground level is possible in Louisiana from Morgan City to the mouth of the Mississippi River, with the potential to overtop levees.
Storm Preparations
Ida's rapid formation and intensification left minimal time for local preparations. Existing storm surge and hurricane watches along the Gulf Coast in Louisiana, Mississippi, and Alabama were upgraded Friday afternoon to hurricane warnings. Louisiana Governor John Bel Edwards has declared a state of emergency, and President Biden declared a national state of emergency for Ida in Louisiana to supplement state and local response efforts. Evacuations have been ordered in Grand Isle, Plaquemines Parish, St. Charles Parish and Lafourche Parish. On Friday, the mayor of New Orleans initially ordered mandatory evacuation of areas outside the levee protections in New Orleans East and recommended evacuations for others, but by later that evening, residents were instead told to shelter in place, as there wasn't enough time before landfall to establish highway evacuation procedures.
New Orleans Sewerage and Water Board stated that 96 out of 99 drainage pumps are operational. However, the NHC forecast has warned that some areas have the potential to see overtopping of levees from the forecast surge.
AIR Plans
AIR plans to issue another set of similar stochastic events for Ida on Sunday morning, August 29, EDT, after which we will provide an update on additional plans to follow.
Pre-Landfall SSEs #2 | Downloads

Posting Date: August 28, 2021, 10:00:00 AM
The information provided herein is strictly confidential and is solely for the use of AIR clients; disclosure to others is prohibited.
Similar Stochastic Event IDs
Event IDs taken from our stochastic catalog that have similar characteristics as the current event.
| Product | File Type | Description | Download |
| --- | --- | --- | --- |
| TOUCHSTONE / TOUCHSTONE Re | Excel (xls) | Selected set of stochastic events | |
Additional Downloads
Note: Additional downloads related to the posting are listed below. Please use the appropriate application to view these files.
| Title | File Type | Description | Download |
| --- | --- | --- | --- |
| Ida Scenario Overview | .xls | Commentary, event parameters, insured industry losses, and a track map for today's selections | |
| Ida Track Files | .zip | Track files for today's selections for use in GIS applications | |