Status: Closed
| Type of posting | Posting date(EST): | Summary | Downloads |
| --- | --- | --- | --- |
| Post-Landfall Florida Wind and Surge | 10/3/2022 6:00:00 AM | | |
| South Carolina SSEs | 9/30/2022 10:00:00 AM | | |
| Post-Landfall Update #1 | 9/29/2022 10:00:00 AM | | |
| Landfall Update | 9/28/2022 3:00:00 PM | | |
| Pre-Landfall SSEs #2 | 9/28/2022 10:00:00 AM | | |
| Pre Landfall SSEs #1 | 9/27/2022 10:00:00 AM | | |
| Monitoring | 9/26/2022 3:00:00 PM | | |
Post-Landfall Update #1 | Summary

Posting Date: September 29, 2022, 10:00:00 AM
Hurricane Ian made landfall at 3:05 pm EDT near Cayo Costa, Florida, with maximum 1-minute sustained winds near 150 mph and an estimated minimum central pressure of 940 mb, placing it into a tie for the 4th most intense hurricane landfall in Florida on record (trailing only the 1935 Labor Day Hurricane, Andrew, and Michael), and a tie for the 5th most intense U.S. landfall. As of 8:00 am EDT, Ian was centered approximately 40 miles west of Orlando, with maximum 1-minute sustained winds of 65 mph, and was tracking northeast at 8 mph.
The Verisk ALERT team examined Wednesday's set of similar stochastic events, and examined new candidate events from the Verisk Hurricane model for the U.S., and have determined that given the continued uncertainty in the ultimate impacts of the storm, including areas currently without communication and inland impacts, we are not releasing any updates to our similar stochastic events at this time. Yesterday's selection of similar stochastic events can be accessed in the "Pre-Landfall SSEs #2" posting on the Hurricane Ian page on the ALERT Website.
Storm Surge Warnings are currently in effect from the Flagler/Volusia county line to the mouth of the South Santee River, where there is also currently a Hurricane Watch, and for the St. John's River. Tropical Storm Warnings are in effect from Jupiter Inlet Florida to Cape Lookout, North Carolina, and for Lake Okeechobee.
Ian made landfall in the exact location as Hurricane Charley in 2004 with uncannily similar intensity – both storms had peak winds of 150 mph, and only 1 mb difference in central pressure (Ian at 940 mb, Charley at 941). However, the close comparison ends there; Ian is a significantly larger storm than Charley was, and is moving at about half the speed, which should exacerbate durational wind impacts, storm surge, and precipitation-induced flooding. However, Charley was in the middle of a rapid intensification while Ian's peak winds had plateaued as it made landfall, completing its rapid intensification several hours earlier. This difference should lead to winds abating somewhat faster from Ian than they did for Charley as the storm moves inland. For reference, losses if Charley were to occur today would be around $16 billion, per the Verisk Hurricane Model for the United States and based on exposure values as of December 31, 2021.
As Ian came ashore, several locations reported potentially destructive wind observations – the highest was a station in Cape Coral, which reported sustained 1-minute winds of 112 mph with a gust of 135 mph, and later in the day, a 140 mph gust. In Redfish Pass, north of Sanibel Island, a gust of 126 mph was observed; on Sanibel Island itself, the highest reported gust was 107 mph. In Punta Gorda, sustained winds of 75 mph were reported, with a gust up to 124 mph. In Naples, a gust of 112 mph was observed. In Delray Beach, FL, and unconfirmed tornado tore walls from several multi-family homes and condominiums. A roof was ripped from a motel in Punta Gorda, resulting in one injury.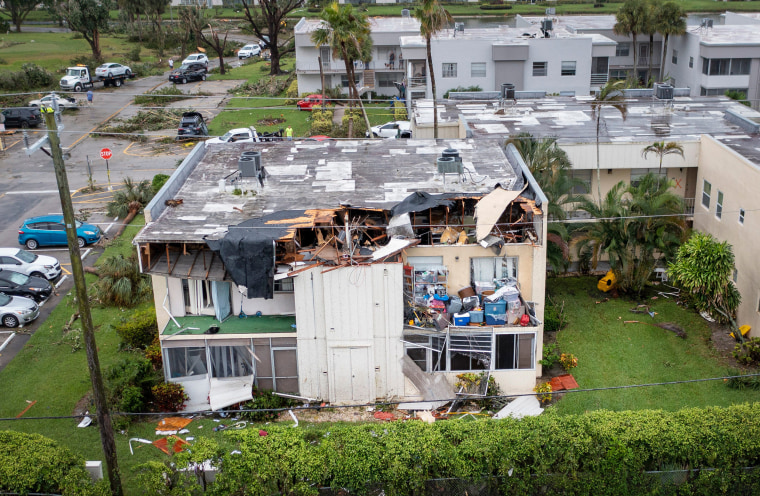 Per the NOAA Coastal Inundation dashboard, water levels rose to 6.2 feet above Mean High Water Height in Naples; in Fort Myers, 7.5 feet above. Both measurements were the highest on record at those locations, and for Fort Myers, nearly 4 feet higher than the next highest observation of the past 50 years. A video on Facebook showed the members of the Naples fire department wading through waste deep water to remove equipment from trucks after their station (which is approximately 0.7 miles from the coast) was inundated with surge. In a press conference on Wednesday evening, Florida Governor Ron DeSantis was quoted as saying storm surge up to 12 feet had been observed, though did not provide details. The city manager for the town of Marco Island on Wednesday afternoon described the streets in his city as "almost entirely flooded" and basically indistinguishable from the canals that run through the community. 6 feet of water was observed on Estero Boulevard in Naples. Another video circulating on social media showed what appeared to be a small house floating down a street in Naples.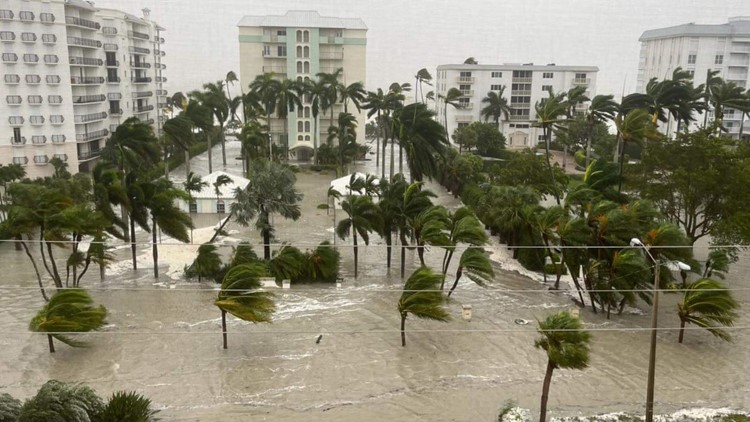 On Wednesday night, the National Weather Service in Tampa issued a Flash Flood Emergency in south central Sarasota County, southeast Manatee count, northwest Desoto County, and northwest Highlands counties, noting that 12-19 inches of rain had fallen to that point in those areas, with another 3 to 8 inches expected in the hours to follow. A widespread 10 to 15 inches were forecasted across a wide swath of Florida, with the potential for up 20-24 inches locally.
More than 2.5 million households are without power from Ian, per Poweroutage.us, as of Thursday morning. Over 3,200 flights in and out of Florida airports have been cancelled thus far.
Forecast for Ian
Ian is forecasted to move off the coast of Florida today and approach the South Carolina coast on Friday. The center of the storm is forecasted to move inland across the Carolinas Friday into Saturday. Ian is currently at tropical storm force intensity with maximum sustained winds of 65 mph. There is some re-intensification in the forecast, and Ian is currently forecasted to be near but below hurricane strength when approaching the South Carolina coast. Heavy rainfall leading to inland flooding, strong wind gusts in excess of 60 mph, storm surge flooding, and a few tornadoes all remain likely as Ian's impacts move from east-central and northeast Florida into portions of Georgia, the Carolinas, and southern Mid-Atlantic
ALERT Plans for Hurricane Ian
The Verisk ALERT team examined Wednesday's set of similar stochastic events and determined that given the continued uncertainty in the ultimate impacts of the storm, including areas currently without communication and inland impacts, we are not releasing any updates to our similar stochastic events at this time.
On Friday morning, EDT, we will provide an update of this summary along with a shapefile from Verisk Weather Solutions' Respond product showing 3-second wind gust bands across the track of Hurricane Ian, along with instructions for importing it into Touchstone. Respond® is a near real-time geospatial weather solution providing high-resolution detail specific to natural hazard events.
On Monday morning, London/BST, we will provide an estimated industry loss range, custom event sets for Touchstone and Touchstone Re, loss based similar stochastic events, and shapefiles of our modeled wind and storm surge footprints for Ian's wind and storm surge impacts.
We will also continue to monitor the potential precipitation-induced flood impacts and provide an update, including additional deliverables, next week as warranted.
Please contact your Verisk representative with any questions regarding Hurricane Ian.
Post-Landfall Update #1 | Downloads

Posting Date: September 29, 2022, 10:00:00 AM
Please see the 'Pre-Landfall SSEs #2' posting for the latest set of similar stochastic events. There are no updates to yesterday's selections for today.
The information provided herein is strictly confidential and is solely for the use of AIR clients; disclosure to others is prohibited.