Status: Closed
| Type of posting | Posting date(EST): | Summary | Downloads |
| --- | --- | --- | --- |
| Post-Landfall Florida Wind and Surge | 10/3/2022 6:00:00 AM | | |
| South Carolina SSEs | 9/30/2022 10:00:00 AM | | |
| Post-Landfall Update #1 | 9/29/2022 10:00:00 AM | | |
| Landfall Update | 9/28/2022 3:00:00 PM | | |
| Pre-Landfall SSEs #2 | 9/28/2022 10:00:00 AM | | |
| Pre Landfall SSEs #1 | 9/27/2022 10:00:00 AM | | |
| Monitoring | 9/26/2022 3:00:00 PM | | |
Pre Landfall SSEs #1 | Summary

Posting Date: September 27, 2022, 10:00:00 AM
As of 8:00am EDT, Hurricane Ian was located over western Cuba near the city of Pinar Del Rio with maximum 1-minute sustained winds of 125 mph and a minimum central pressure of 950 mb, per the National Hurricane Center. Hurricane warnings are currently in place along the Florida coastline from Bonita Beach to the Anclote River, including the city of Tampa.
ALERT™ subscribers can download similar stochastic event (SSE) IDs for Hurricane Ian from the Downloads tab of this posting on the  ALERT website. Compatible with Touchstone® and Touchstone Re™, the SSEs were selected based on Ian's key meteorological parameters and its current forecast.  They should only be used with exposures in Florida. Please see the Event Commentary section of the Scenario Overview download for additional information and context on today's selections.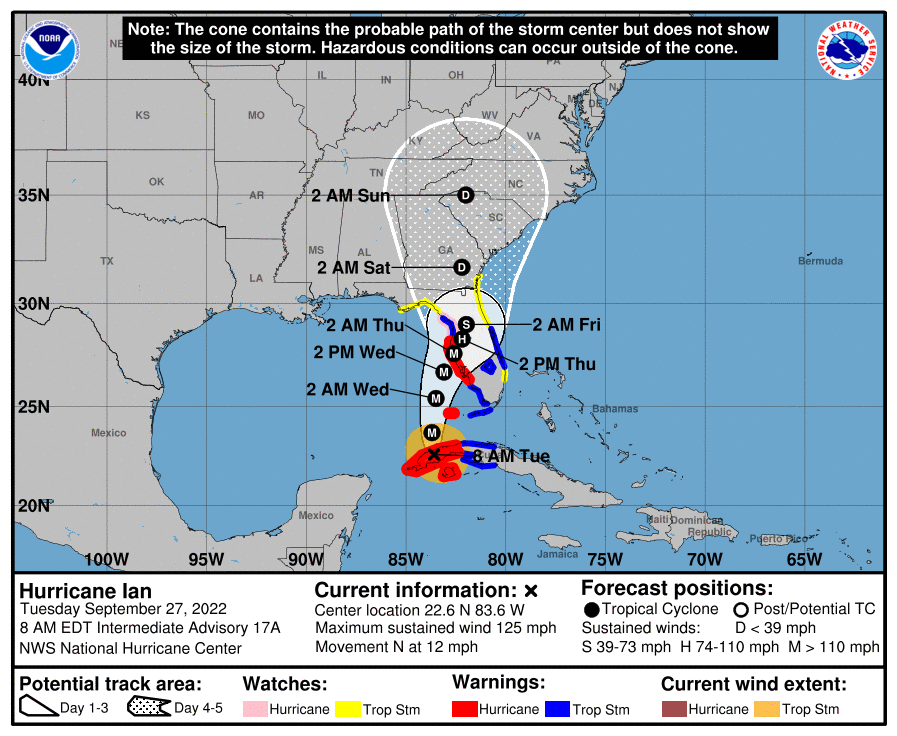 The forecast remains more uncertain than usual over the next couple of days. Ian is moving north, but will eventually be steered more northeasterly due to a trough over the U.S. east coast. Ian will initially have a window for some strengthening as it emerges off Cuba, and the official NHC forecast brings it back to category 4, likely followed by steady weakening due to increasing wind shear as the storm approaches the coast.
Pre Landfall SSEs #1 | Downloads

Posting Date: September 27, 2022, 10:00:00 AM
The information provided herein is strictly confidential and is solely for the use of Verisk clients; disclosure to others is prohibited.
Similar Stochastic Event IDs
Note: These lists give event IDs taken from our stochastic catalog that have similar characteristics as the current event.
| Product | File Type | Description | Download |
| --- | --- | --- | --- |
| TOUCHSTONE / Re | Excel (xls) | Selected set of stochastic events with commentary, track map, and industry losses in Excel Format | |
| TOUCHSTONE / Re | CSV (csv) | Selected set of stochastic events formatted for import into Touchstone/Re | |
Additional Downloads
Note: Additional downloads related to the posting are listed below. Please use the appropriate application to view these files.
| Title | File Type | Description | Download |
| --- | --- | --- | --- |
| Track Files | .zip | Track files for today's selection in Shapefile Format. | |