Status: Closed
| Type of posting | Posting date(EST): | Summary | Downloads |
| --- | --- | --- | --- |
| September 15 Update | 9/15/2023 12:00:00 PM | | |
| Monitoring | 9/13/2023 12:00:00 PM | | |
Monitoring | Summary

Posting Date: September 13, 2023, 12:00:00 PM
As of 11:00 am AST, Hurricane Lee was located about 430 miles south-southwest of Bermuda, with maximum sustained 1-minute winds of 115 mph and a minimum central pressure of 948 mb, per the National Hurricane Center. Lee is moving north-northwest at 9 mph.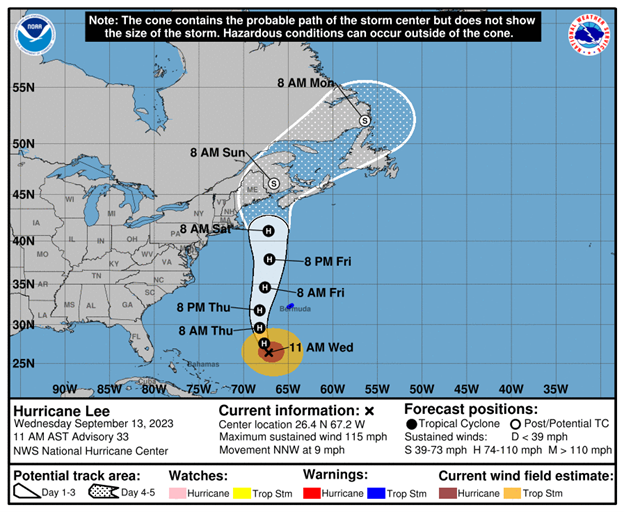 Lee is expected to impact Bermuda on Thursday as the storm passes to its west with Tropical Storm conditions, including 1 to 2 inches of rain from Lee's outer rain bands. Given the robust construction practices in Bermuda, the storm appears highly unlikely to make a significant impact on that island. A Tropical Storm Warning is in place for Bermuda.
Lee is expected to weaken as it continues northward due to colder sea surface temperatures, drier air, and increased vertical wind shear. Trackwise, the models are clustered into a landfall in the region of eastern Maine and western Nova Scotia sometime on Saturday as a strong tropical/extra-tropical storm. Lee will likely have a very broad circulation by the time it makes landfall in this region, meaning that the winds will be much weaker and more spread out than the landfall minimum central pressure would traditionally suggest. Based on the current forecast, we are anticipating a broad swath of tropical storm force winds through Nova Scotia and the eastern coasts of New England. Localized flooding is also possible in New England from Lee, given the large size of the storm and the recent significant rainfalls in the region which have saturated the ground.
Give uncertainty in Lee's eventual track and intensity at landfall, a number of ALERT scenarios are on the table. Following is a list of the most likely scenarios:
If the NHC best forecast track indicates Lee making landfall as a Hurricane in the United States within 48 hours, we will begin to release similar stochastic events and do so each morning by 10:00 am EDT through landfall.
If the Lee makes landfall in Canada this weekend as a hurricane, we will release similar stochastic events Monday morning, September 18th.
If Lee makes landfall as a Tropical Storm, we will provide a summary of impacts of the event but do not plan to release similar stochastic events.
We will provide another update on plans for Lee no later than Friday morning, EDT, September 15th. In the meantime, please contact your Verisk representative with any additional questions about this event.
Monitoring | Downloads

Posting Date: September 13, 2023, 12:00:00 PM
There are no downloads associated with this posting.