Status: Closed
| Type of posting | Posting date(EST): | Summary | Downloads |
| --- | --- | --- | --- |
| September 15 Update | 9/15/2023 12:00:00 PM | | |
| Monitoring | 9/13/2023 12:00:00 PM | | |
September 15 Update | Summary

Posting Date: September 15, 2023, 12:00:00 PM
As of 11:00 am AST, Hurricane Lee was located just under 400 miles south-southeast of Nantucket, Massachusetts, with maximum 1-minute sustained winds of 80 mph and minimum central pressure of 962 mb. The storm is moving just east of due north at 18 mph.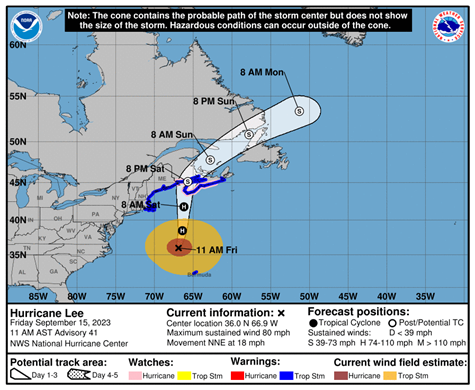 Lee is expected to remain a hurricane for the next 24 hours before gradually weakening and transitioning into an extra-tropical storm. Lee is currently forecast to be extra-tropical by the time it reaches land some time on Saturday. Tonight, Lee is expected to interact with the tail-end of a trough over New England, which should act to move Lee on a more northerly and likely even a north-northwesterly path, drawing it a little closer to New England. After this small jog westward, Lee's path will again become more northerly tomorrow and the system is forecast to make landfall somewhere on the southern coast of Nova Scotia (most likely the western side near Yarmouth) or move into the Bay of Fundy somewhere east of the Maine-New Brunswick border, before accelerating northeastward, weakening, and being absorbed into another system.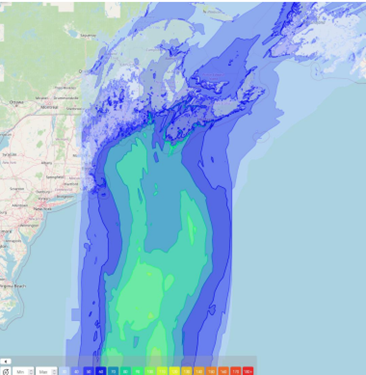 Some areas – Cape Cod and the Islands, the northern coast of Maine, and southern coastal areas of New Brunswick and Nova Scotia – could see hurricane force wind gusts as a result of Lee. More widespread tropical storm force gusts are likely to impact eastern New England and larger swaths of New Brunswick and Nova Scotia through Saturday and into Sunday morning. There is the potential for storm surge of up to 3 feet along virtually the entire New England coastline as well as along the coasts of New Brunswick and Nova Scotia. Areas of northern Maine, New Brunswick, and Nova Scotia could see as much as 4 to 6 inches of rain from Lee.
Given Lee is forecast to make landfall at below hurricane strength, no additional ALERTs are currently planned at this time. The Verisk ALERT team will monitor Lee over the weekend and provide further updates if warranted. Please contact your Verisk representative with additional questions about this event.
September 15 Update | Downloads

Posting Date: September 15, 2023, 12:00:00 PM
No downloads are associated with this posting.