Status: Closed
| Type of posting | Posting date(EST): | Summary | Downloads |
| --- | --- | --- | --- |
| Updated Similar Stochastic Events | 9/22/2022 3:00:00 PM | | |
| Similar Stochastic Events | 9/19/2022 3:00:00 PM | | |
| Update | 9/18/2022 3:00:00 PM | | |
| Monitoring and Plans | 9/15/2022 4:00:00 PM | | |
Similar Stochastic Events | Summary

Posting Date: September 19, 2022, 3:00:00 PM
Typhoon Nanmadol, the fourth strongest typhoon to make landfall in Japan in the last half century, made its first landfall on Sunday, September 18 around 7pm local time near Kagoshima City on the southwestern tip of Kyushu Island with maximum sustained 1-minute winds of approximately 115 mph. The storm then tracked just west of due north over Kyushu Island before turning northeast and tracking along the northern coast of Honshu. Nanmadol is currently located along the north coast of Shimane prefecture and has weakened to a Tropical Storm.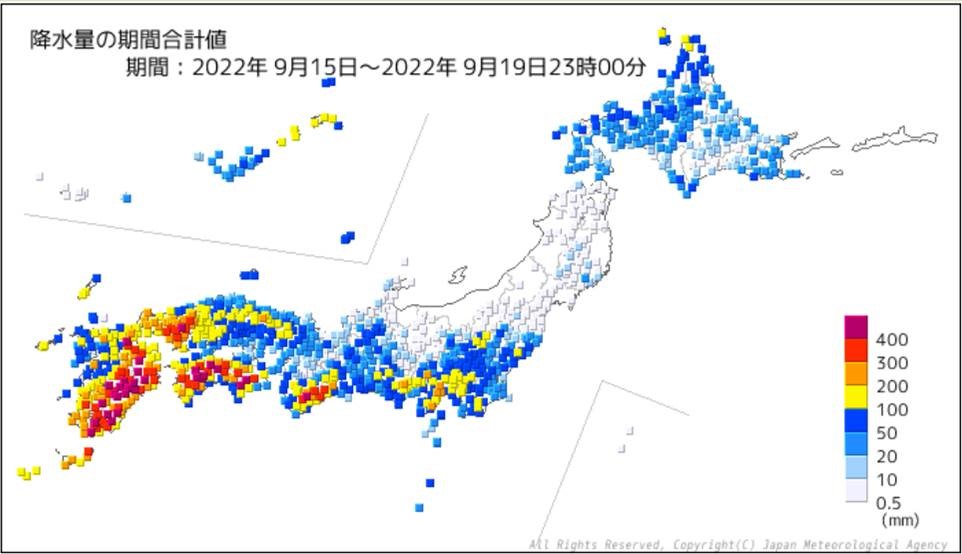 ALERT™ subscribers can download similar stochastic event (SSE) IDs for Typhoon Nanmadol from the Downloads tab of this posting on the ALERT website. Compatible with Touchstone® and Touchstone Re™, the SSEs were selected based on Nanmadol's track, minimum central pressure, forward speed, radius of maximum winds, and landfall angle, and should be used only for exposures in Japan.
Ahead of Nanmadol's arrival, more than 9 million residents in the storm's expected track were asked to evacuate. Two people have died, and more than 260,000 residents are still without power as of this writing. Over 800 flights, in addition to train services and ferries, have been cancelled across the country on Monday. Around the city of Kagoshima, on the southern tip of Japan's southerly Kyushu island, wind and flood damage have been reported. There are widespread reports of downed trees, certain roofs ripped off buildings, and toppled billboards. In addition to impacts from winds, heavy precipitation will also drive losses from Nanmadol. Widespread reports of rainfall of 400mm (~16 inches) have been reported across Kyushu Island, with a high of 900mm (~35 inches) reported in Misato town in Miyazaki prefecture.
There is considerable uncertainty in the reported minimum central pressure at landfall for Typhoon Nanmadol. The Japan Meteorological Agency reported a central pressure at landfall of 935 mb, while the Joint Typhoon Warning Center reported a pressure of 947 mb just prior to landfall, and 958 mb just after. A storm chaser in Kagoshima city reported a pressure of 940.3 mb in the eye of the storm, but this is an unofficial report. Given the large range of reported minimum central pressure values, and its key role in driving storm strength, the Verisk ALERT team has selected a range of similar stochastic events for Nanmadol which reflects this range of values, resulting in a larger than usual range of potential losses.
The Verisk ALERT team is continuing to study the impacts from Typhoon Nanmadol. We will provide an update on findings and potential next steps on Tuesday, U.S. EDT (by Wednesday morning in the Asia-Pacific Region).
Similar Stochastic Events | Downloads

Posting Date: September 19, 2022, 3:00:00 PM
The information provided herein is strictly confidential and is solely for the use of AIR clients; disclosure to others is prohibited.
Similar Stochastic Event IDs
Note: These lists give event IDs taken from our stochastic catalog that have similar characteristics as the current event.
| Product | File Type | Description | Download |
| --- | --- | --- | --- |
| TOUCHSTONE / Re | Excel (xls) | Selected set of stochastic events with Readme in Excel format | |
| TOUCHSTONE / Re | CSV (csv) | Selected set of stochastic events formatted for import into Touchstone/Re | |