Status: Closed
| Type of posting | Posting date(EST): | Summary | Downloads |
| --- | --- | --- | --- |
| Custom Event Sets | 9/4/2023 5:00:00 AM | | |
| Update and Respond Shapefile | 8/31/2023 1:00:00 PM | | |
| Landfall SSEs | 8/30/2023 10:00:00 AM | | |
| 24 Hr Pre-Landfall SSEs | 8/29/2023 10:00:00 AM | | |
| 48 Hr Pre-Landfall SSEs | 8/28/2023 10:00:00 AM | | |
48 Hr Pre-Landfall SSEs | Summary

Posting Date: August 28, 2023, 10:00:00 AM
As of 8:00 am EDT, Idalia was located just south of the western tip of Cuba, with maximum 1-minute sustained winds of 65 mph and a minimum central pressure of 989 mb, per the National Hurricane Center.
ALERT™ subscribers can download similar stochastic event (SSE) IDs for Idalia from the Downloads tab of this posting on the ALERT website. Compatible with Touchstone® and Touchstone Re™, the SSEs were selected based on Idalia's projected key meteorological parameters at landfall, in particular central pressure, storm track, and forward speed. They are recommended for use with exposures in Florida.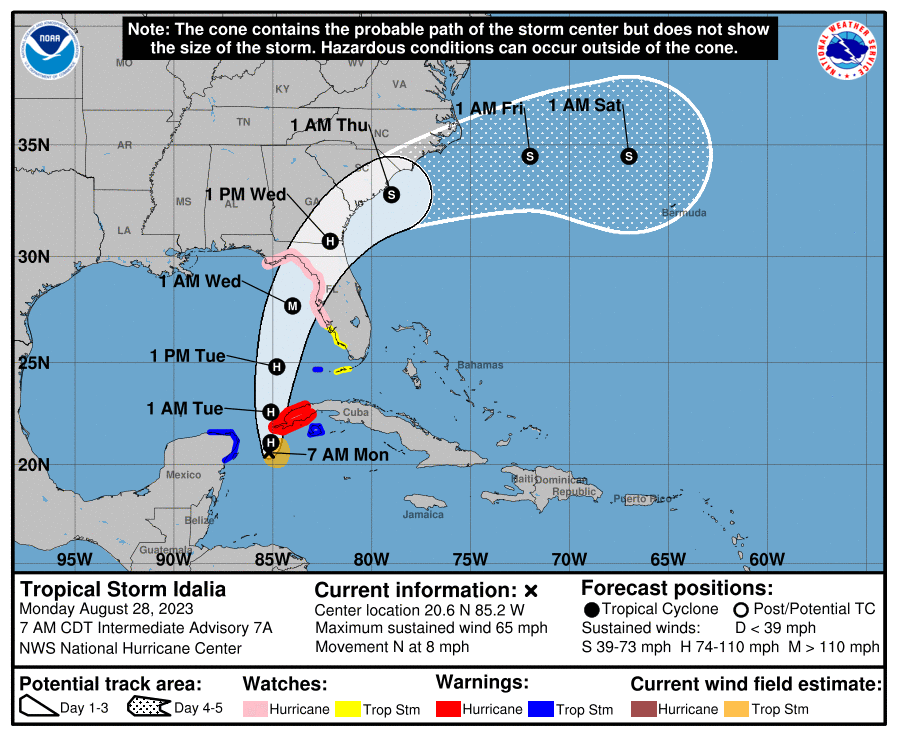 Idalia's forecast has shifted dramatically over the weekend and is now projected to be a major hurricane as it approaches the Gulf Coast of Florida. As of this writing, the storm has not fully organized yet, with a southward tilt its vertical structure, and some northwesterly wind shear should continue to moderate Idalia's intensification for the next 24 hours. However, once the cyclone reaches the Gulf of Mexico on Tuesday, rapid intensification appears likely, and Idalia may continue to strengthen all the way up through landfall, which is currently projected for Wednesday morning.
The Verisk ALERT team will continue to release similar stochastic events each day though landfall by around 10:00 am Boston time. Additional plans beyond landfall - including an industry loss estimate - are very likely given the forecast, with timing and details still to be determined. Our next update will be Tuesday morning.
48 Hr Pre-Landfall SSEs | Downloads

Posting Date: August 28, 2023, 10:00:00 AM
The information provided herein is strictly confidential and is solely for the use of Verisk clients; disclosure to others is prohibited.
Similar Stochastic Events
| Product | File Type | Description | Download |
| --- | --- | --- | --- |
| TOUCHSTONE / Re | Excel (xls) | Selected set of stochastic events, with Readme, track map, and industry losses in Excel format | |
| TOUCHSTONE / Re | CSV (csv) | Selected set of stochastic events, formatted for import into Touchstone/Re | |
Additional Downloads
| Title | File Type | Description | Download |
| --- | --- | --- | --- |
| Track Files | .shp/.lyr | Track files for today's selection in Shapefile Format. | |