Status: Closed
| Type of posting | Posting date(EST): | Summary | Downloads |
| --- | --- | --- | --- |
| Custom Event Sets | 9/4/2023 5:00:00 AM | | |
| Update and Respond Shapefile | 8/31/2023 1:00:00 PM | | |
| Landfall SSEs | 8/30/2023 10:00:00 AM | | |
| 24 Hr Pre-Landfall SSEs | 8/29/2023 10:00:00 AM | | |
| 48 Hr Pre-Landfall SSEs | 8/28/2023 10:00:00 AM | | |
Landfall SSEs | Summary

Posting Date: August 30, 2023, 10:00:00 AM
Hurricane Idalia made landfall at 7:45 EDT at Keaton Beach, Florida, with maximum sustained 1-minute winds of 125 mph and a minimum central pressure of 947 mb. Since landfall, the pressure has risen to 957 mb and maximum winds have dropped to 110 mph as of this writing. The storm is moving north-northeast at 18 mph.
ALERT™ subscribers can download similar stochastic event (SSE) IDs for Idalia from the Downloads tab of this posting on the ALERT website. Compatible with Touchstone® and Touchstone Re™, the SSEs were selected based on Idalia's projected key meteorological parameters at landfall, in particular central pressure, storm track, and forward speed. They are recommended for use with exposures in Florida, Georgia, South Carolina, and North Carolina.
Catalog Viewer users are suggested to use the following initial ranges for search, in addition to the forecast track: Forward Speed 10 to 25 mph; Central Pressure 930 to 955; Radius of Maximum Winds 20 to 40 mi.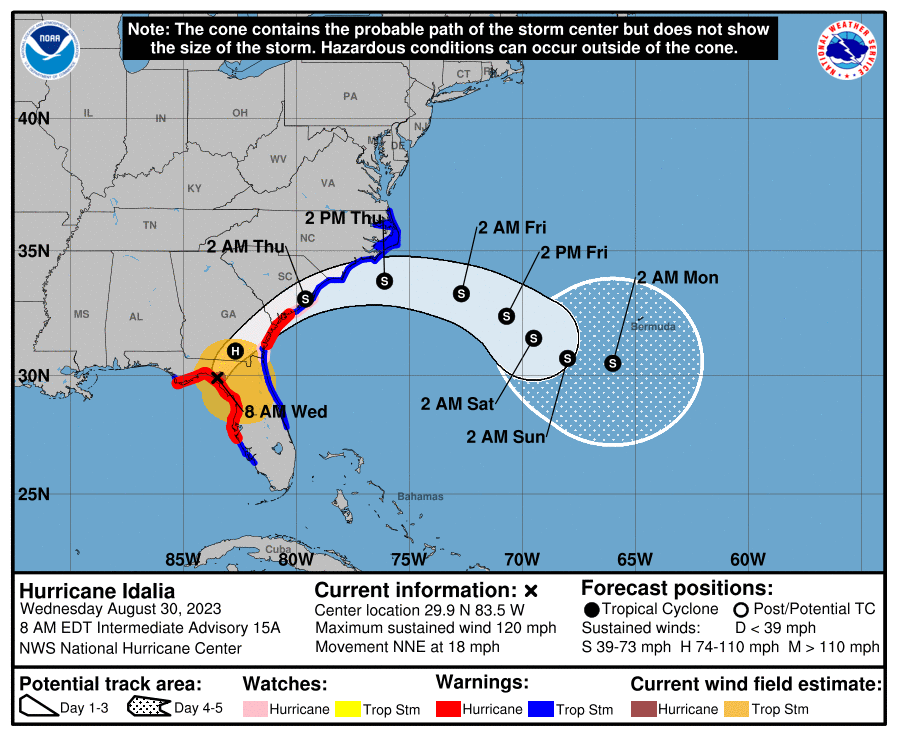 Hurricane warnings remain in effect middle of Longboat Key northward to Indian Pass, Florida, including Tampa Bay, as well as from Altamaha Sound, Georgia to Edisto Beach, South Carolina. Peak storm surge of 12 to 16 feet is expected somewhere between the Wakulla/Jefferson County border and Yankeetown. Street flooding has been reported in Tampa, St. Petersburg, and Venice as the storm bypassed offshore. 5 to 6 feet of surge elevation has been observed in the Tampa Bay area this morning. A tidal gauge at Cedar Key reported a water level of 6.2 feet higher than mean high water.
ALERT plans for Idalia in the coming days are as follows:
On Thursday, August 31, we will release a modeled wind footprint for Idalia from Verisk Weather Solutions Respond product, along with an update on Idalia's impacts up to that time.
On Monday, September 4, we will release custom event sets for Touchstone and Touchstone Re with five modeled scenarios for Idalia, a selection of industry loss based similar stochastic events, shapefiles of median modeled wind and storm surge footprints, an industry loss estimate, and additional commentary on Idalia's impacts. Timing will be morning BST/CET.
Please contact your Verisk representative with any additional questions about this event.
Landfall SSEs | Downloads

Posting Date: August 30, 2023, 10:00:00 AM
The information provided herein is strictly confidential and is solely for the use of Verisk clients; disclosure to others is prohibited.
Similar Stochastic Event IDs
| Product | File Type | Description | Download |
| --- | --- | --- | --- |
| TOUCHSTONE / Re | Excel (xls) | Selected set of stochastic events, with Readme, track map, and industry losses in Excel format | |
| TOUCHSTONE / Re | CSV (csv) | Selected set of stochastic events, formatted for import into Touchstone/Re | |
Additional Downloads
Note: Additional downloads related to the posting are listed below. Please use the appropriate application to view these files.
| Title | File Type | Description | Download |
| --- | --- | --- | --- |
| SSE Track Files | .shp/.lyr | Track files in shapefile format for today's selections | |