Status: Closed
| Type of posting | Posting date(EST): | Summary | Downloads |
| --- | --- | --- | --- |
| Custom Event Sets | 9/4/2023 5:00:00 AM | | |
| Update and Respond Shapefile | 8/31/2023 1:00:00 PM | | |
| Landfall SSEs | 8/30/2023 10:00:00 AM | | |
| 24 Hr Pre-Landfall SSEs | 8/29/2023 10:00:00 AM | | |
| 48 Hr Pre-Landfall SSEs | 8/28/2023 10:00:00 AM | | |
Update and Respond Shapefile | Summary

Posting Date: August 31, 2023, 1:00:00 PM
As of 11:00 am, Thursday, August 31, Tropical Storm Idalia was located 85 miles southeast of Cape Lookout, NC, with maximum 1-minute sustained winds of 60 mph and a minimum central pressure of 992 mb. The storm is moving east at 20 mph.
Update on Impacts from Idalia
Idalia made landfall yesterday at Keaton Beach, Florida as a Saffir-Simpson Category 3 storm, making it the first major hurricane to make landfall in the Big Bend area of Florida since 1896, and the first to make landfall between Panama City and Cedar Key since official record keeping began in 1851. The storm rapidly intensified to a Category 4 storm in the 31 degree C waters of the eastern Gulf before an eyewall replacement cycle before landfall weakened the storm a bit just prior to landfall. The area where Idalia came ashore is among the least developed and populated along the entire Florida coastline, as shown in the figure below: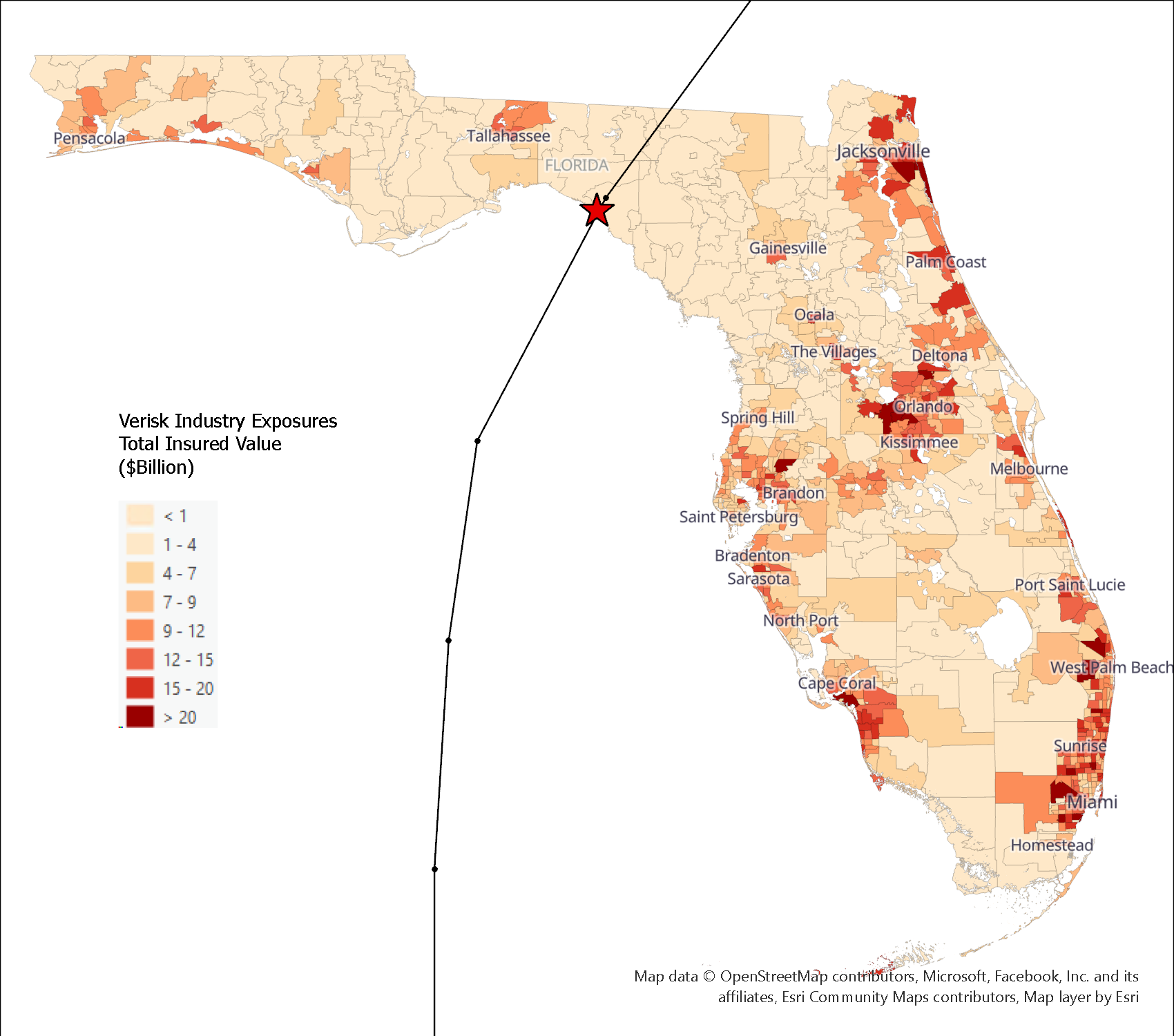 Storm surge levels did not reach the direst forecasts of 12 to 16 feet, but approached 10 feet in the vicinity of landfall, with a peak measurement of 8.54 feet in Cedar Key among the higher observations. In Steinhatchee, just south of landfall, time lapse videos on social media showed major structural damage due to storm surge, with what appeared to be multiple homes effectively washed away. To the south, surge levels exceeded 4 feet in Tampa Bay and nearby Clearwater. Images from Perry and Cedar Key in the path of the core of the storm also showed significant wind impacts. Trees broken and uprooted, roofs damaged or in some cases torn off, and signs and facades ripped from buildings were observed. Both significant flooding as well as structural damage due to wind was seen in the small community of Horseshoe Beach.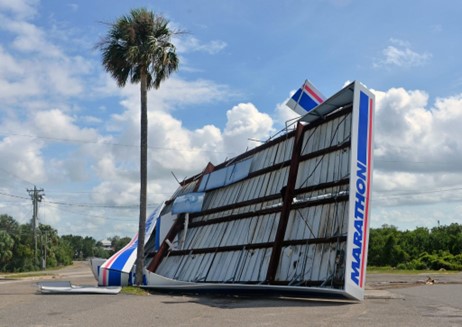 Idalia's impacts continued as the storm trekked inland into southeast Georgia and into the Carolinas. Valdosta, GA saw wind gusts as high as 67 mph along with 5.5 inches of rain. In Waycross, GA, the roof was stripped from a school building. Parts of Charleston, South Carolina were flooded by a combination of storm surge and a King Tide, and a brief tornado spawned in the area flipped cars across a highway.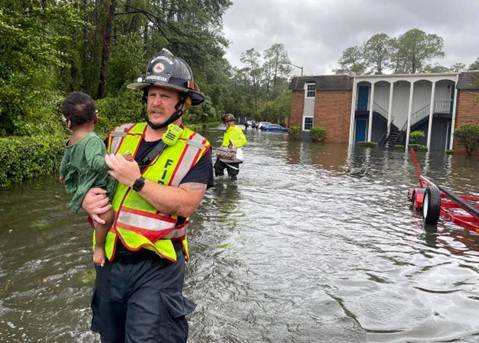 ALERT Plans for Idalia
Today we are releasing a shapefile of modeled maximum 3-second wind gusts across Idalia's track from Verisk Weather Solutions Respond Hurricane product. More information on this can be found in the next section.
On Monday, September 4, we will release custom event sets for Touchstone and Touchstone Re with five modeled scenarios for Idalia for wind and storm surge, a selection of industry loss based similar stochastic events, shapefiles of median modeled wind and storm surge footprints, an industry loss estimate, and additional commentary on Idalia's impacts. Timing will be morning BST/CET.
Verisk Respond Hurricane Wind Shapefile
ALERT™ subscribers can download a Verisk Respond shapefile of modeled 3-second wind gusts across Idalia's track from the Downloads tab of this posting on the ALERT website. Instructions are included for using this shapefile in Touchstone®.  For more information on the Verisk Respond data, please see the summary below.
Verisk's Respond Hurricane solution uses a multi-input model to provide a comprehensive and accurate view of tropical cyclone winds. The solution couples a five-day forecast of wind with a post-event view to provide a full wind field understanding of the impacts that have already occurred alongside the potential impacts that have yet to occur from a tropical system. The Respond Hurricane solution updates every six hours for any named storm in the Atlantic Ocean basin. Wind information is expressed both in terms of one-minute sustained wind speeds as well as three-second wind gusts. In addition, wind speed durations of 39 mph or greater (tropical storm force), 50 mph or greater, and 74 mph or greater (hurricane force) are also conveyed to provide a more comprehensive understanding of the wind threat.
Verisk's Respond Hurricane model adds improvements to a leading National Oceanic and Atmospheric Administration (NOAA) hurricane model. For each forecast time step of the model, the Verisk model performs computations to translate winds from above the surface of the Earth into 10-meter wind speeds and gusts. Further, the model uses information derived from satellites to compute surface friction and uses this to better understand the local impacts of how wind flows along the surface of Earth. Verisk's model then temporally interpolates the data to present a more comprehensive depiction of the winds throughout the life of the system, including wind impacts between model time steps. For the post-event portion of the wind swath, short-term forecasts from prior model runs are aggregated in a similar manner as the forecast data to develop a best estimate modeled view of the full wind field throughout the life of the system.
In the event of a landfalling U.S. hurricane, within 24 hours of downgrade of the system to a tropical depression or post-tropical system, the Verisk Respond Hurricane maximum wind gust data are corrected by assimilating actual wind observations from multiple sources into the wind field to bias and error correct the modeled estimate. Special consideration is taken in this process to ensure the wind observations being incorporated accurately reflect the conditions at the location at a 10-meter height. This final maximum wind gust field will not only more closely match the assimilated observations, but final wind field values will be more accurate in general across the entire wind field, although typical differences between the modeled estimates and the observation-corrected post-storm are 10% or less. Respond Hurricane solution subscribers will receive this final view of Idalia's winds by this weekend.
For this ALERT posting, we have provided the most recent Respond Hurricane maximum wind gust data, depicting the model estimate across the track of the storm. The wind gust data are contoured at 30 mph increments whereas the full Respond Hurricane solution is contoured at 10 mph increments.
Users should note that the Respond Hurricane data is not necessarily reflective of modeling or losses produced by the Verisk Hurricane Model for the United States. The methods of producing the modeled winds are different between the two products, and in this case offer different perspectives of the wind as well – the Respond Hurricane shapefile is in 3-second gusts, while the Verisk Hurricane Model for the United States uses 1-minute sustained winds.
Our next update on Hurricane Idalia will be Monday, September 4.
Update and Respond Shapefile | Downloads

Posting Date: August 31, 2023, 1:00:00 PM
The information provided herein is strictly confidential and is solely for the use of Verisk clients; disclosure to others is prohibited.
Downloads
| Title | File Type | Description | Download |
| --- | --- | --- | --- |
| Respond Hurricane Wind Shapefile | .shp | A shapefile of modeled maximum 3-second wind gusts from Verisk Weather's Respond Hurricane product. | |