Status: Closed
| Type of posting | Posting date(EST): | Summary | Downloads |
| --- | --- | --- | --- |
| Post Landfall 4 | 9/7/2017 7:15:00 AM | | |
| Post Landfall 3 | 9/5/2017 11:45:00 AM | | |
| Post Landfall 2 | 8/31/2017 5:30:00 PM | | |
| Post Landfall 1 | 8/28/2017 10:00:00 AM | | |
| Landfall | 8/26/2017 9:00:00 AM | | |
| Pre-Landfall 2 | 8/25/2017 12:00:00 PM | | |
| Pre-Landfall 1 | 8/24/2017 1:00:00 PM | | |
Landfall | Summary

Posting Date: August 26, 2017, 9:00:00 AM
After strengthening throughout the day, Hurricane Harvey made landfall late Friday night at approximately 10:00 PM CDT on the Texas coast with Category 4 winds, according to the National Hurricane Center (NHC). The eye of the storm crossed between Port Aransas and Port O'Connor, about 30 miles east-northeast of Corpus Christi. Winds at landfall were approximately 130 mph, with hurricane-force winds extending 40 miles from the center and tropical-storm-force winds extending 140 miles from the center. Harvey made a second landfall a few hours later just north of Rockport, TX. The expected storm surge is 6 to 12 feet in some locations
Harvey has since weakened to a Category 1 storm with maximum winds of 75 mph. It is bringing torrential rainfall, with accumulated totals of more than 30 inches in some locations, that is expected to cause catastrophic flooding along its very slow path throughout the weekend and into next week. A huge swath of Texas and Louisiana is expected to be affected (see rainfall forecast below).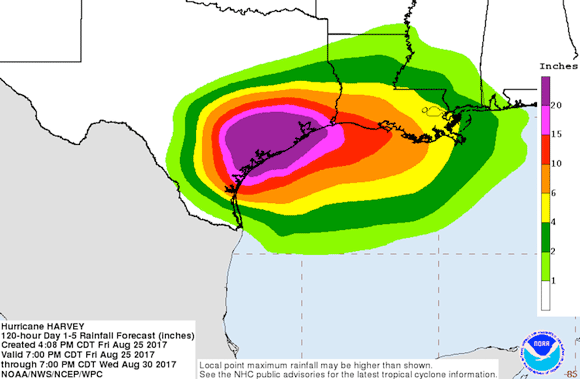 5-Day Rainfall Forecast (Source: NOAA)
Reported Impacts
In Rockport, TX, just 4 miles west of the landfall location, extensive building damage has been reported, including a large part of a high school caving in, a collapsed roof at a senior center, and structural damage to the courthouse and other downtown buildings.
A tornado was reported in Sienna Plantation, TX, early Saturday morning that ripped off roofs and caused severe tree damage.
Downed trees and powerlines have blocked roadways in Corpus Christi, but direct structural damage to building thus far appears to be limited. Corpus Christi has issued a precautionary boil water order for residents, and power outages have affected wastewater treatment plants. However, it is still in the very early aftermath of landfall and reconnaissance has only just begun.
More than 300,000 residents are without power throughout the state as of 6:30 a.m. local time, according to the Electric Reliability Council of Texas. Ahead of the storm, the ports at Corpus Christi, Galveston, and Houston have been shut. By Friday, about 22% of crude oil production and 23% of natural gas production in the Gulf of Mexico was shut down. Although as of Friday, August 26, personnel had been evacuated from 86 production platforms, there have been no reports of damage to offshore rigs or to onshore refineries thus far.
President Trump has signed a disaster declaration, which will direct federal funds to aid in state and local response efforts.
Outlook
Hurricane Harvey is the first major hurricane to make landfall in the U.S. since Hurricane Wilma in 2005. Its greatest impact, however, may be yet to come. Harvey's forecast track very near the coast is slowing the storm's weakening as it continues to receive fuel from the warm Gulf waters and it is expected to maintain at least tropical storm status for several days. Coupled with its extremely slow movement and massive amounts of precipitation, the storm is expected to unleash catastrophic flooding in southeast Texas, potentially extending to the Houston metropolitan area, which has become more vulnerable to flooding as a result of urbanization.
The AIR tropical cyclone team is continuing to monitor this storm and will provide further updates on Monday, August 28.
Landfall | Downloads

Posting Date: August 26, 2017, 9:00:00 AM