Status: Closed
| Type of posting | Posting date(EST): | Summary | Downloads |
| --- | --- | --- | --- |
| Post Landfall 4 | 9/7/2017 7:15:00 AM | | |
| Post Landfall 3 | 9/5/2017 11:45:00 AM | | |
| Post Landfall 2 | 8/31/2017 5:30:00 PM | | |
| Post Landfall 1 | 8/28/2017 10:00:00 AM | | |
| Landfall | 8/26/2017 9:00:00 AM | | |
| Pre-Landfall 2 | 8/25/2017 12:00:00 PM | | |
| Pre-Landfall 1 | 8/24/2017 1:00:00 PM | | |
Pre-Landfall 1 | Summary

Posting Date: August 24, 2017, 1:00:00 PM
Intensifying quickly as it tracks relentlessly toward southern Texas, Hurricane Harvey is expected to make landfall as a Category 3 storm Friday evening or Saturday morning near Corpus Christi. The first hurricane to strike Texas since 2008, Harvey brings the threat of strong hurricane winds, life-threatening storm surge, and days of heavy rain—which could cause dangerous inland flooding—to Texas, Louisiana, and possibly Mexico. Although much uncertainty remains about the storm's track and speed post landfall, some forecasts suggest the storm system will stall over land, which could result in 12-20 inches of rain through Wednesday, August 30, in many areas, and as much as 30 inches in some locations.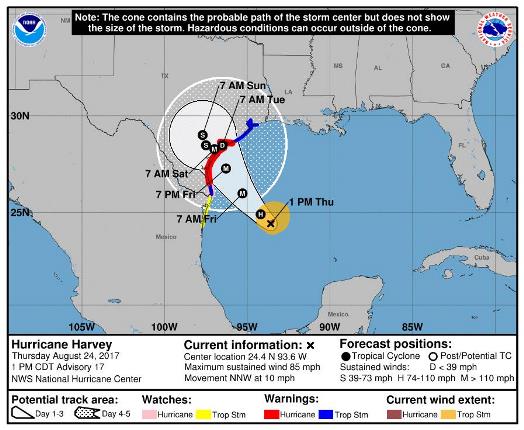 Hurricane Harvey track as of 1:00 PM CDT on Thursday, August 24, 2017. (Source: NOAA)

For the United States, storm surge, hurricane, and tropical storm warnings and watches have been issued for a vast area, stretching from the mouth of the Rio Grande to High Island, Texas, east of Galveston. In addition, many inland cities, including Houston and San Antonio, Texas, could be impacted by heavy rainfall.

The Mexican government has announced a tropical storm watch from Boca De Catan to the Rio Grande.

Expected Damage and Disruption

Although Hurricane Harvey is expected to bring hurricane winds and storm surge to many regions along the Gulf Coast, the heavy rain—which will be exacerbated if the storm stalls over land—could result in severe and dangerous inland flooding for parts of Texas, southwestern Louisiana, and even northeastern Mexico. To accelerate the state's response to Hurricane Harvey, the Governor of Texas has already declared a state of disaster for 30 counties.

The threat to New Orleans is particularly serious due to flooding that occurred there earlier this month when the city's pumping system experienced widespread failure. Although evacuations have not been announced for New Orleans, they are under consideration.

The rapid intensification of Harvey could impede evacuation and recovery efforts, both because of the short preparation time for this major hurricane and because some residents chose to stay in place when it was projected to make landfall as a weaker storm.

Offshore Impacts

In the Gulf of Mexico, offshore oil and gas platforms and rigs have begun to be evacuated in anticipation of Hurricane Harvey. Anadarko Petroleum has removed non-essential staff and temporarily shut off production at four facilities, while Royal Dutch Shell and Exxon Mobil have also started curbing production. Other oil companies are closely monitoring the storm and will evaluate procedures as necessary.

Exposure at Risk

In both Texas and Louisiana, more than 80% of the residential construction is wood, with an estimated 5% having basements. Over half of the commercial buildings are steel and concrete. Unlike residential structures, commercial buildings often are engineered and built to stricter standards, and are thus less vulnerable than single-family homes. Still, mechanical, electrical and plumbing (MEP) systems can experience severe damage, which results in high losses.

More than 40% of buildings in the U.S. Gulf Coast region meet Flood Insurance Rate Map (FIRM) standards set in 1980. While the specifics of the FIRM standards vary somewhat by building construction and occupancy class, these standards dictate that buildings must be elevated above base flood elevation, as defined by the Federal Emergency Management Agency (FEMA), and that any parts of a building that remain below base flood elevation must be constructed of flood-resistant materials.

In addition, only 0-10% of buildings constructed since 1980 in the Gulf States have basements (which increase vulnerability to flood damage). Buildings in the region are more typically built on slab foundations, which are designed to withstand flotation, collapse, or lateral movement that can be inflicted by floodwaters. Crawl space foundations in residential buildings in the region are required to have flood openings no more than 1 foot above grade.

Forecast Track and Intensity

According to the National Hurricane Center, a turn toward the northwest is expected later today, with Hurricane Harvey's forward speed decreasing over the next couple of days. Currently, tropical storm–force winds extend up to 90 miles from the center.

Depending on the large-scale flow of the storm system—which is now moving over water quite favorable for intensification—Hurricane Harvey could track west toward Mexico, northeast toward Louisiana, or stall over Texas. Some scenarios even have the storm re-entering the Gulf next week and restrengthening, before making a second landfall in Louisiana.
Pre-Landfall 1 | Downloads

Posting Date: August 24, 2017, 1:00:00 PM