Status: Closed
| Type of posting | Posting date(EST): | Summary | Downloads |
| --- | --- | --- | --- |
| Post Landfall 4 | 9/7/2017 7:15:00 AM | | |
| Post Landfall 3 | 9/5/2017 11:45:00 AM | | |
| Post Landfall 2 | 8/31/2017 5:30:00 PM | | |
| Post Landfall 1 | 8/28/2017 10:00:00 AM | | |
| Landfall | 8/26/2017 9:00:00 AM | | |
| Pre-Landfall 2 | 8/25/2017 12:00:00 PM | | |
| Pre-Landfall 1 | 8/24/2017 1:00:00 PM | | |
Pre-Landfall 2 | Summary

Posting Date: August 25, 2017, 12:00:00 PM
Harvey has become more organized and intensified from a Category 1 hurricane to a Category 3. The storm is located in the Gulf of Mexico about 85 miles east-southeast of Corpus Christi, Texas, moving northwest at 10 mph over warm waters and facing light wind shear, both of which are conducive to additional strengthening before landfall. Harvey's rain and winds have already begun affecting the Texas coast. Landfall is currently forecast for late tonight or early morning, Saturday, near Corpus Christi.
If the forecasts hold, Harvey would be the first major hurricane to strike the U.S. since Wilma struck Florida in October 2005, breaking the major hurricane drought. Harvey would also be the first hurricane to strike Texas since 2008 when Ike caused significant coastal damage in Louisiana and Texas. There is uncertainty about Harvey's intensity at landfall due to the effects of eyewall replacement. No matter what Harvey's intensity is at landfall, however, the National Hurricane Center (NHC) is predicting that many coastal and inland areas in southern and southeastern Texas will experience catastrophic flooding caused by prolonged heavy rains and/or storm surge. Harvey is expected to slow and not anticipated to move far inland, while likely maintaining tropical storm status through Wednesday, August 30.
Corpus Christi, the eighth largest city in Texas, is about 460 square miles, about 300 of which is water, and is the county seat of Nueces County. The city's metropolitan area, whose population is nearly half a million, includes Aransas, Kleberg, and San Patricio counties. The Port of Corpus Christi is the fifth-largest port in the United States.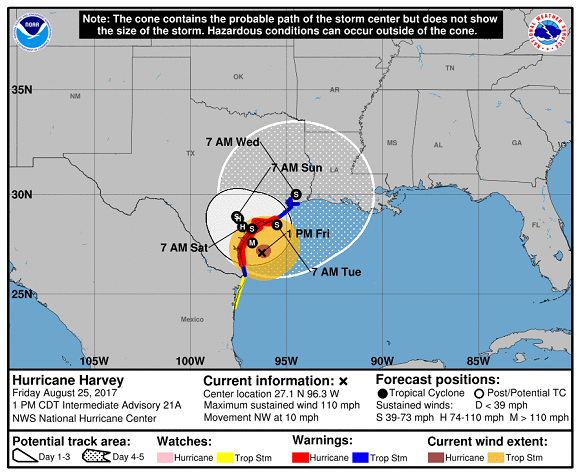 Hurricane Harvey track as of 1:00 p.m. CDT on August 25, 2017. (Source: NHC)
Forecast Track and Intensity
Considerable uncertainty remains about the storm's track and speed post landfall. The storm is bracketed by two high pressure systems on either side, and their relative strength will influence landfall location. If landfall occurs northeast of Corpus Christi but still far to the southwest of Galveston in a sparsely populated area, Harvey's impacts will be significantly lessened; but if Corpus Christi is in or near the right eyewall, where the strongest winds would be directed onshore, the wind and surge impacts could be much more serious. As Harvey moves onto the continental shelf from the deeper part of the Gulf, the storm will no longer be able to mix colder water to the surface from below, so there is an opportunity for Harvey to continue to strengthen until landfall. It is expected to slow or stall after landfall near or just inland of the Texas Coast during the next 36–48 hours, which could result in 15–25 inches of rain in the area through Wednesday, August 30, and as much as 35 inches in some locations. Four or five days after landfall, Harvey is expected to move slowly eastward. The NHC considers it too early to say whether Harvey will re-emerge over the northwestern Gulf of Mexico.
Storm Preparations
Brock Long, the new chief of the Federal Emergency Management Agency (FEMA) has been quoted as saying, "Texas is about to have a significant disaster." FEMA has positioned incident management teams, life-saving and life-sustaining commodities, and search-and-rescue teams in Texas. Other preparations include: the Governor of Texas Greg Abbott has declared a disaster for 30 Texas counties and has requested that 700 National Guard members be activated; a storm surge warning is in effect for much of the Texas coast; the ports of Corpus Christi and Galveston are closed; mandatory evacuations have been issued for many counties; Naval Air Station Corpus Christi is closed until further notice; the Port Aransas ferry has suspended operations; the campus of Texas A&M University-Corpus Christi has closed and evacuations are under way; a weeklong state of emergency has been declared for Three Rivers; North and South beaches of the Padre Island National Seashore are closed.
Offshore Impacts
Offshore oil and gas operators in the Gulf of Mexico are evacuating platforms and rigs in the path of Hurricane Harvey. According to a news release issued today by the Federal Bureau of Safety and Environmental Enforcement (BSEE), personnel have been evacuated from 89 production platforms, or about 11% of the 737 manned platforms in the Gulf of Mexico. Personnel have been evacuated from four of the 10 non-dynamically positioned rigs in the Gulf of Mexico. One of the 21 dynamically positioned rigs has moved off location as of today. Approximately 21% of the current daily oil production and approximately 23% of the daily natural gas production in the Gulf of Mexico has been shut-in.
Pre-Landfall 2 | Downloads

Posting Date: August 25, 2017, 12:00:00 PM