Status: Closed
| Type of posting | Posting date(EST): | Summary | Downloads |
| --- | --- | --- | --- |
| Post Landfall 4 | 9/7/2017 7:15:00 AM | | |
| Post Landfall 3 | 9/5/2017 11:45:00 AM | | |
| Post Landfall 2 | 8/31/2017 5:30:00 PM | | |
| Post Landfall 1 | 8/28/2017 10:00:00 AM | | |
| Landfall | 8/26/2017 9:00:00 AM | | |
| Pre-Landfall 2 | 8/25/2017 12:00:00 PM | | |
| Pre-Landfall 1 | 8/24/2017 1:00:00 PM | | |
Post Landfall 2 | Summary

Posting Date: August 31, 2017, 5:30:00 PM
Harvey made a second landfall as a tropical storm early Wednesday morning near Cameron, Louisiana, one day after the 12th anniversary of Hurricane Katrina's arrival. The storm has since been downgraded to a tropical depression. Earlier this week, record amounts of rainfall were deposited in Texas over a four-day period. Although precipitation has now ceased in the area, rivers and reservoirs remain at or near flood level and catastrophic and life-threatening flooding will continue in the region for several days.
In the 96 hours following its landfall, stranded between two high pressure systems, Harvey moved inland at walking pace dumping prodigious amounts of precipitation. Many areas received 30 to 50 inches and the highest total recorded in the region was 51.88 inches in Cedar Bayou. Houston gets an average 50 inches in a year, but more than 24 inches fell on the city during the first 24 hours, with a total of 43.38 inches reported by the National Weather Service Forecast Office.
Reported Impacts
Houston covers 667 square miles and is the fourth largest city in the country. Its metropolitan area houses 6.5 million people and is located on a flat plain naturally prone to flooding. The large quantity of rainfall delivered by Hurricane Harvey in a brief span of time rapidly overwhelmed Houston's storm management infrastructure, resulting in widespread flooding. According to one estimate, 25 to 30% of Harris County was under water by Tuesday afternoon.
On Monday, 181 school districts in Texas canceled or delayed classes at the beginning of the academic year; many won't open until next week, and some are closed indefinitely. Rice University reopened Wednesday, but the University of Houston will be closed through Labor Day. Houston's two airports opened for limited domestic airline passenger services on Thursday, but the Port of Houston will likely be closed until the end of the week.
At least 35 people have lost their lives as a result of flooding associated with Hurricane Harvey; more than 13,000 have been rescued in the Houston metropolitan area; upwards of 32,000 are in shelters; and a curfew has been established in Houston. Given the scale of the disaster and that rescues are continuing, it is too soon for a clear picture of the extent of the damage to emerge. Officials in Texas estimated initially that at least 50,000 homes had been flooded in the area, and they expect that figure to rise. Bridges and roads are known to have been damaged, and on Thursday morning two explosions rocked a flooded chemical plant in Crosby, about 20 miles northeast of Houston as a result of storm-related power outages. Near the Louisiana border, the city of Beaumont has lost its water supply after pumps were swamped by spillover from a swollen river.
In Harris County, structures within the Special Flood Hazard Area (SFHA) in communities participating in the National Flood Insurance Program are subject to Floodplain Management Regulations. For example, a Floodplain Development Permit is required for all work in the floodplain, including grading, filling, and residential and commercial construction, and the finished floor elevation of structures must be a minimum of 18" above the Base Flood Elevation. Harris County's regulations are more stringent than the federal standards governing development within the SFHA and apply both to new construction and substantial improvements to existing structures.
More than 40% of buildings in the U.S. Gulf Coast region meet Flood Insurance Rate Map (FIRM) standards set in 1980. While the specifics of the FIRM standards vary somewhat by building construction and occupancy class, these standards dictate that buildings must be elevated above base flood elevation, as defined by FEMA, and that any parts of a building that remain below base flood elevation must be constructed of flood-resistant materials.
In addition, only 0-10% of buildings constructed since 1980 in the Gulf States have basements (which increase vulnerability to flood damage). Buildings in the region are more typically built on slab foundations, which are designed to withstand flotation, collapse, or lateral movement that can be inflicted by floodwaters. Crawl space foundations in residential buildings in the region are required to have flood openings no more than 1 foot above grade.
Impact to Offshore Assets
Information on observed damage to offshore exposure has been limited in part because of restricted access to structures due to the current weather conditions. For offshore energy exposure, business interruption (BI) coverage is typically written on a minority of policies for named windstorm. When BI is written for offshore exposure, waiting periods can typically be 90 days. For onshore energy exposure BI is more common and waiting periods shorter, on the order of a few weeks. Hence a larger proportion of onshore BI losses are expected to enter the insurance market than offshore energy.
Offshore asset shut-in information. (Data source: Bureau of Safety and Environmental Enforcement)

Onshore, nearly half of U.S. oil refining capacity is located on the Gulf Coast. Reuters estimates that nearly 20% of total U.S. refining capacity is currently offline in Texas and Louisiana; restarting the plants will likely take a week more in ideal conditions.
Impact on Agriculture
Hurricane Harvey struck southern Texas at a critical time for key crops in the area. Prior to the arrival of Harvey, it was expected that cotton yield would attain record values, and farmers raced to harvest crops before landfall. Most of the crop near Corpus Christi was harvested but some, left in the field, was subject to contamination by floodwaters and dispersal by strong winds. Closer to Houston, cotton was mostly awaiting harvest and sustained significant damage from floodwaters. The second rice crop in coastal Louisiana and Texas could be a total loss. Most of the first crop was harvested prior to Harvey, but floodwaters and wind damaged portions of it in storage. Rice farther inland has not been harvested and is threatened by flooding.
Flooding and wind directly damaged crop plants in the field throughout the area, and additional losses are expected because harvesting is being hampered. Even where flooding did not damage crops outright, losses will still occur. The U.S. Food and Drug Administration requires the edible portion of crops exposed to floodwaters not to enter human food channels and inundated fruits and vegetables to be destroyed. About a quarter of U.S. wheat exports pass through the ports of Corpus Christi and Houston, and with transportation infrastructure under stress, stocks are not moving.
A Second Landfall in Louisiana
After moving back out over the Gulf of Mexico Hurricane Harvey weakened to a tropical storm and made a second landfall in Louisiana early on Wednesday. In advance of its arrival, a storm surge warning was posted for the coast from Holly Beach to Morgan City and flash flood warnings were issued. Public facilities and schools in New Orleans—where deficiencies in the unique drainage system were exposed by strong storms a few weeks ago—were closed Tuesday as the city braced itself for up to 10 inches of rain in 36 hours.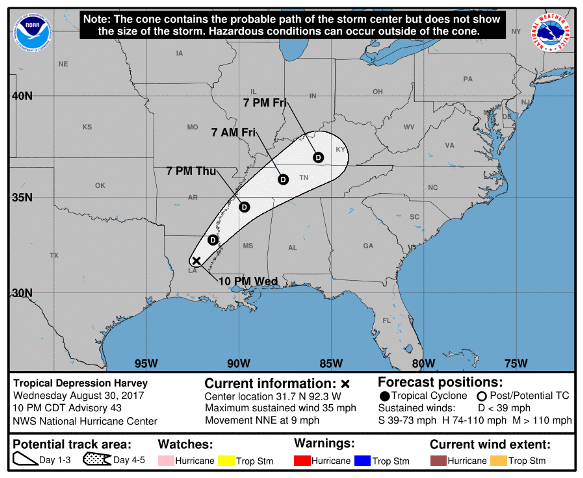 Track map for Tropical Depression Harvey issued 10 p.m. CDT Wednesday, August 30. (Source: NOAA)
Winds along the northern Gulf Coast have decreased and Harvey is now a tropical depression. It is expected to continue moving northeast for the next two days, reaching the lower Ohio Valley by early Saturday, where it is likely to dissipate by the afternoon. Although winds have moderated, Harvey will continue to deliver heavy rainfall and flooding, but its faster forward speed should keep rainfall totals well below those experienced in Texas. Rainfall accumulations of 3 to 6 inches with isolated amounts up to 10 inches are expected from southwestern Louisiana and eastern Texas northeastward into western Kentucky through Friday.


Post Landfall 2 | Downloads

Posting Date: August 31, 2017, 5:30:00 PM