Status: Closed
| Type of posting | Posting date(EST): | Summary | Downloads |
| --- | --- | --- | --- |
| Post Landfall 4 | 9/7/2017 7:15:00 AM | | |
| Post Landfall 3 | 9/5/2017 11:45:00 AM | | |
| Post Landfall 2 | 8/31/2017 5:30:00 PM | | |
| Post Landfall 1 | 8/28/2017 10:00:00 AM | | |
| Landfall | 8/26/2017 9:00:00 AM | | |
| Pre-Landfall 2 | 8/25/2017 12:00:00 PM | | |
| Pre-Landfall 1 | 8/24/2017 1:00:00 PM | | |
Post Landfall 1 | Summary

Posting Date: August 28, 2017, 10:00:00 AM
AIR estimates that industry insured losses for Texas resulting from Hurricane Harvey's winds and storm surge will range from USD 1.2 billion to USD 2.3 billion.
Note that these estimates do not include the impact of the ongoing flooding from Hurricane Harvey's unprecedented precipitation. Loss estimates are based on the National Hurricane Center's 4:00 a.m. CDT, Sunday, August 27, advisory and do not contemplate Harvey's latest forecast track, which suggests a second landfall near Houston later this week at tropical storm strength.
The current estimates include wind and storm surge damage within the extent of Harvey's tropicalstorm–force and hurricane-force wind field. Included in the estimates are onshore residential, commercial, and industrial properties and their contents, automobiles, and time element coverage (additional living expenses for residential properties and business interruption for commercial properties; the estimates do not, however, include business interruption losses resulting from the closure of oil refineries in the region). See below for additional information:
AIR's modeled insured loss estimates for the United States include:
Insured physical damage to property (residential, commercial, industrial, auto), both structures and their contents
Additional living expenses (ALE) for residential claims
For residential lines, 5% of modeled storm surge damage as wind losses
For commercial lines, insured physical damage to structures and contents, and business interruption directly caused by storm surge (other flood losses are not modeled or reflected in estimates;business interruption losses include direct and indirect losses for insured risks that experience physical damage)
For the automobile line, estimates reflect AIR's view that insurers will pay 100% of the storm surge damage
2017 indexed take-up rates
AIR's modeled insured loss estimates do not include:
Losses paid out by the National Flood Insurance Program
Losses resulting from the compromise of existing defenses (e.g., natural and man-made levees)
Losses from the flooding of tunnels and subways
Losses to uninsured properties
Losses to infrastructure
Losses to inland marine, marine cargo and hull, and pleasure boats
Losses from extra-contractual obligations
Losses from hazardous waste cleanup, vandalism, or civil commotion, whether directly or indirectly caused by the event
Other non-modeled losses, including those resulting from tornadoes spawned by the storm
Losses for U.S. offshore assets and non-U.S. property
Meteorological Summary
Hurricane Harvey's Category 4 wind speeds brought devastation to the city of Rockport, Texas (est. pop. 10,650), and surrounding towns when the storm made landfall at approximately 10:00 p.m. CDT on Friday, August 25. According to the National Hurricane Center (NHC), winds at landfall were approximately 130 mph, with hurricane-force winds extending 40 miles from the center and tropical storm–force winds extending 140 miles from the center. Storm surge was estimated at 6 to 12 feet. Harvey weakened to a Category 1 by 5:00 a.m. CDT Saturday morning and was downgraded to a tropical storm with sustained winds of 70 mph at 1:00 p.m. later that day.
With no large-scale steering patterns present, Harvey essentially stalled over southeastern Texas for most of Saturday and Sunday, still at tropical storm strength. Feeder bands continued to bring abundant amounts of moisture from the Gulf of Mexico over land, with the Houston area being the primary target. Rainfall rates embedded in these storm bands ranged from 3–7 inches/hour from Saturday to Sunday in southeastern Texas. As of late Saturday night, three-hour rainfall totals of 12–15 inches were reported in and around Galveston and Harris counties and the rain bands persisted over the next 12–18 hours, dumping an additional 10–20 inches. By Monday morning, 24.44 inches of rain had fallen at Bush International Airport in Houston, where a new daily rainfall record was broken with 16.07 inches falling in one day. Current rainfall totals range from 15–30 inches across the entire region.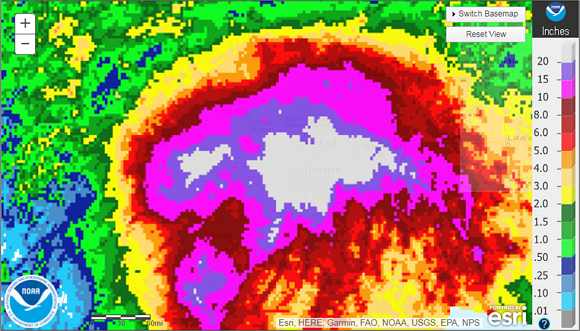 Precipitation totals for Harvey from August 24–28 as of 8 a.m. EST on August 28, 2017. (Source: National Weather Service)
With a lack of large-scale atmospheric steering, Harvey's motion has been stalled, resulting in continuous rain and flooding across southeastern Texas. Harvey has already unleashed catastrophic and unprecedented flooding in southeastern Texas, and these conditions are expected to last for several more days. Water from both Addicks and Barker dams—in the northwestern end of Houston—is being released to help mitigate flooding in the Houston area, according to the U.S. Army Corp of Engineers.
As of 7:00 a.m. CDT Monday, Harvey is re-emerging into the Gulf where it is expected to continue moving southeastward at just 3 mph. Later today or overnight, the storm is forecast to turn northeastward, potentially making a second landfall near Houston later this week. While some strengthening is possible, forecasters at the NHC currently do not expect Harvey to achieve hurricane status as it lacks an organized core and is encountering strong southwesterly wind shear. An additional 10–20 inches of rain are expected between now and Friday, September 1.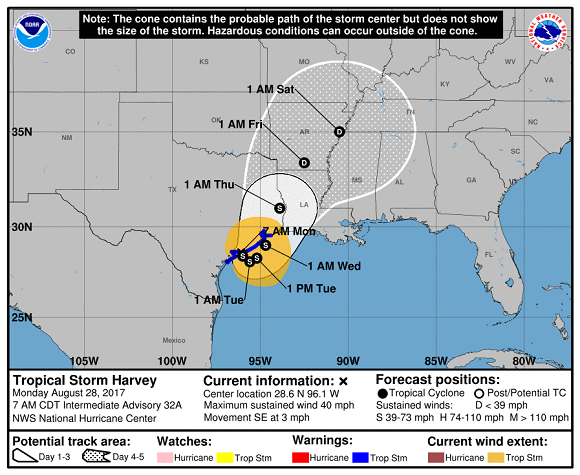 Track map of Harvey as of 7 a.m. CDT on August 28, 2017. (Source: NOAA)
Reported Impacts
Residents who were ordered to evacuate prior to Harvey's arrival are being asked to stay away because essential services remain unavailable, including power, water, and food. In Rockport, just 4 miles west of the landfall location, damage was severe; masonry walls collapsed, wood frame homes were shattered, roofs and metal siding were peeled off, mobile homes were overturned, and trees were uprooted. Among the more noteworthy buildings that suffered significant damage were the high school, a senior center, and the city's courthouse. Businesses in Rockport remain closed.
According to NOAA's Storm Prediction Center, preliminary reports of 21 tornadoes were recorded in Texas from Friday night through Saturday, including one in Sienna Plantation early Saturday morning that ripped off roofs and caused severe tree damage.
In Corpus Christi (est. pop. 325,000), downed trees, debris, and power lines blocked roadways, signs were blown down, and some roofs were at least partially torn off. Incidents of direct structural damage, however, were limited. The city issued a precautionary boil water order for residents on Saturday, but that has since been rescinded. Approximately 125,000 customers were still without power as of Sunday night. At the height of the storm, more than 300,000 residents were without power across the state, according to the Electric Reliability Council of Texas.
More than 1,400 flight cancellations have already been reported for Monday, and Houston's two airports remain closed to all but relief efforts. Houston Bush Intercontinental Airport may reopen on Monday, but Houston International Airport is scheduled to remain closed until Wednesday morning.
As of 11:30 CDT on Sunday, it was reported by the Bureau of Safety and Environmental Enforcement (BSEE) that personnel had been evacuated from a total of 105 production platforms, representing 14.25% of the manned platforms in the Gulf. The BSEE estimates that approximately 21.64% of the current oil production in the Gulf has been shut-in and that 25.71% of natural gas production has been shut-in. There have been no reports, as yet, of significant structural damage to offshore assets as a result of Hurricane Harvey.
Ten oil refinery plants in the Houston area and Corpus Christi have shut down operations because of ongoing flooding, according to a report released on Sunday by S&P Global Platts. These include Exxon Mobil's Baytown refinery, the second largest in the country. The facility can process up to 584,000 barrels of crude oil a day.
Texas Building Codes
Prior to 2003, Texas had no statewide standards for residential or commercial buildings. Cities chose what, if any, building code(s) to adopt for construction within city limits, and each city amended its code to meet local concerns. In 2003, the Texas Legislature mandated that all homes in the state, including those in the unincorporated areas, be built to International Residential Code (IRC) standards. This was the first statewide residential building code in Texas. In 2003, most cities of Texas adopted modern building codes to reflect improved wind load design provisions for the building envelope. Lastly, in 2004, the legislature mandated that all commercial structures started after January 1, 2006, meet the requirements of the International Building Code (IBC) statewide.
The Texas Department of Insurance (TDI) has a strong program to enforce wind-borne debris protection in coastal counties. The Windstorm Inspection Program at TDI was created for the 14 coastal counties (the first tier of coastal counties from South Padre Island to the Louisiana border) in 1988. After Hurricane Andrew, the TDI adopted the Windstorm Resistant Construction Code, which was based on the nationally recognized design standard ASCE-7 and went into effect in 1998. In 2003, the TDI adopted the 2000 International Residential Code (IRC) and the 2000 International Building Code (IBC) as amended by the Texas Revisions as the building standards for windstorm resistant construction, effective as of February 1, 2003. Although TDI codes are voluntary, they are mandatory in practice. Insurance companies, mortgage lenders, and commercial banks all require windstorm compliance before they will approve construction of a new structure along the Texas coast.
From a statewide perspective, the current building codes in place are the 2006 IBC and residential codes. Coastal counties have much better enforcement of the building codes due to the TDI compliance requirements. Inland county building codes are not as well enforced, as is evident from the Insurance Institutes of Business and Home Safety (IBHS) 2012 rating report that listed Texas as one of the worst states for building code enforcement and adoption practices—with a score of 18/100. The 2015 IBHS report noted some improvements and revised their score upward to 36/100. The low score is predominantly driven by the fact that the state has yet to adopt more recent versions of the building codes, such as the 2012 or 2015 IBC codes. To provide some perspective, Florida—one of the highest performers on the building code rating scale—received scores of 95 and 94 for 2012 and 2015, respectively.
Important to note is that the improvements in Texas, although small, will only be applicable to buildings built in the last few years. This does not bode well for Hurricane Harvey's impacts, given the distribution of older homes in these regions. The design wind speeds that are currently implemented in the building code are based on the 1998 ASCE wind standards. The design wind speeds for coastal Texas are 3-second gusts between 120 mph and 140 mph.
Flood Outlook
As devastating as the wind damage was in Rockport and surrounding towns, flooding from Harvey's torrential rains has had the greatest impact. Because the storm remained very near the coast, and is now re-emerging into the Gulf, it has continued to receive both energy and moisture from the very warm waters in the region. Harvey has already unleashed catastrophic and unprecedented flooding in southeastern Texas, and these conditions are expected to last for several more days. Louisiana is already experiencing heavy rainfall; the flood threat there will likely spread eastward once Harvey begins its northeastward path toward Houston.
As a result of the unprecedented rainfall that has fallen in Houston and its surrounding areas, 66 of the 120 river gauging stations of the National Weather Service in Houston and Galveston are currently at various stages of flooding. By September 2, 74 of these gauging stations are expected to have flooded, about 50 of which will experience major flood stages. Many of the rivers in the area will crest with new record-setting flood levels. For example, the Buffalo Bayou, which flows through the downtown Houston area, is likely to crest at 73.0 feet, an astounding 11 feet higher than the previous historical record of 61.2 feet set in 1992. Similarly, Cypress Creek, which flows through neighborhoods north of downtown Houston, is likely to crest about 4 feet higher than the previous record of 94.3 feet set in 1949.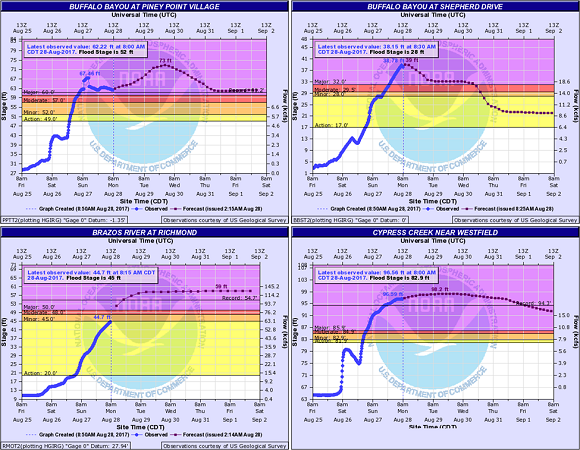 Observed and forecast river flood stages at four river gauging stations in and around Houston as of 8 a.m. EST on August 28, 2017. (Source: National Weather Service)
According to the Insurance Council of Texas, only about 20% of homeowners have flood insurance, almost all of which is through the National Flood Insurance Program (NFIP) run by FEMA. The NFIP is already nearly USD 25 billion in debt. Harvey may well push the NFIP up against its borrowing limit of USD 30 billion and prompt action by lawmakers to reform the program, which is due to be reauthorized at the end of September. In Harris County alone—home to Houston—the NFIP holds more than 240,000 policies, representing more than USD 60 billion in coverage.
Post Landfall 1 | Downloads

Posting Date: August 28, 2017, 10:00:00 AM