Status: Closed
| Type of posting | Posting date(EST): | Summary | Downloads |
| --- | --- | --- | --- |
| Final Update | 7/7/2021 3:00:00 PM | | |
| Event Update 4 | 7/6/2021 9:00:00 AM | | |
| Event Update 3 | 7/5/2021 9:00:00 AM | | |
| Event Update 2 | 7/4/2021 9:00:00 AM | | |
| Event Update 1 | 7/3/2021 9:00:00 AM | | |
| Event Summary | 7/2/2021 1:00:00 PM | | |
Event Summary | Summary

Posting Date: July 2, 2021, 1:00:00 PM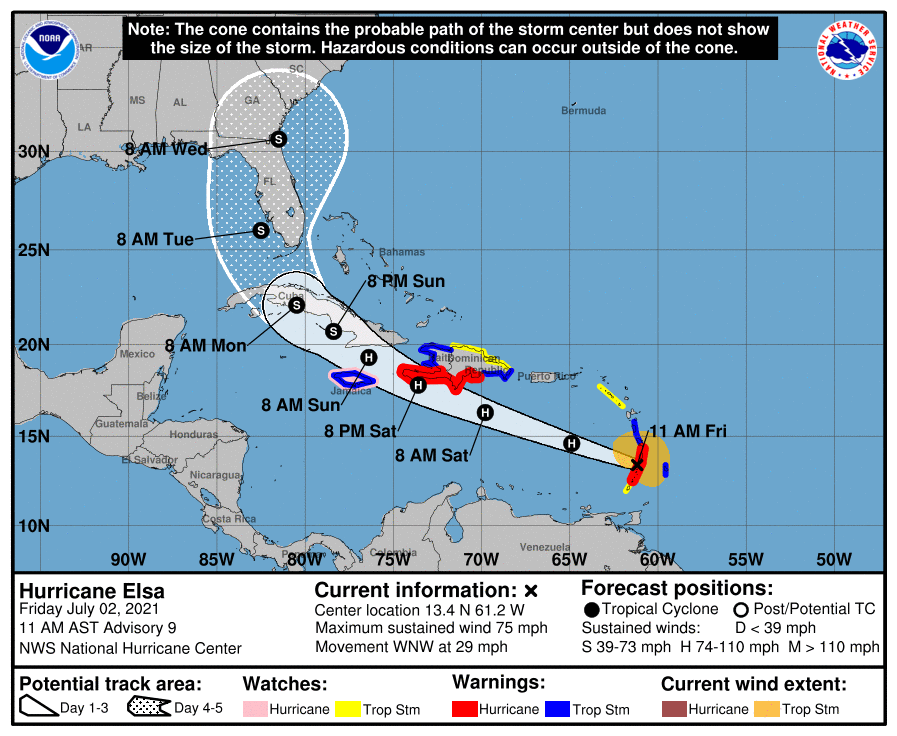 As of the 11 a.m. National Hurricane Center (NHC) advisory, Hurricane Elsa is located at 13.4°N, 61.2°W, with a minimum central pressure of 995 mb and maximum sustained 1-minute wind speeds of 75 mph. The storm is moving west-northwest at 29 mph, and is expected to remain on this trajectory for the next couple of days, before turning farther to the north. Hurricane warnings are in effect for St. Lucia, St. Vincent and the Grenadines, and the southern portion of Haiti from Port Au Prince to the southern border with the Dominican Republic. Tropical storm warnings have been issued for Barbados, Martinique, Dominica, the southern coast of Dominican Republic from Cabo Engaño to the border with Haiti, the coast of Haiti north of Port Au Prince, and Jamaica.

The eventual track and intensity of Elsa remains highly uncertain. Models indicate outcomes ranging from dissipation to a Category 2 hurricane as the storm approaches Hispaniola and Cuba; the intensity of the storm as it approaches Florida will likely depend on the strength of the storm as it reaches those islands, as well as the path the storm may take over their mountainous terrain.

Given the considerable uncertainty in the forecast, the timing and scope for our ALERT™ response also remains uncertain at this time. AIR plans to monitor Elsa throughout the upcoming 3-day weekend and to provide updates on our plans at 9:00 a.m EDT each day, starting Saturday, July 3.

For the Caribbean, we will monitor the impacts of Elsa's land interactions and will make a determination based on the landfall location and intensity of Elsa, as well as other factors, whether similar stochastic events will be released. If impacts are severe enough to warrant release of similar stochastic events for Elsa's impacts in the Caribbean, these will be released on Monday, July 5.

For the U.S., if starting with the Sunday, July 4, 5 a.m. NHC forecast, Elsa is projected to make landfall in the mainland U.S. as a hurricane, AIR will release similar stochastic events starting that day (Sunday, July 4), and, assuming the forecast remains for a hurricane landfall, each day at 10:00 a.m. EDT through landfall. Again, AIR will provide daily updates by 9:00 a.m EDT on our latest thinking and plans for Elsa.

Verisk Weather Respond® subscribers can receive forecast wind footprints for Elsa four times daily. Contact your AIR or Verisk representative to learn more about this and other Verisk Real-Time Analytics solutions.

AIR will continue to monitor Elsa, with our next update coming tomorrow at 9:00 a.m. EDT.
Event Summary | Downloads

Posting Date: July 2, 2021, 1:00:00 PM