Status: Closed
| Type of posting | Posting date(EST): | Summary | Downloads |
| --- | --- | --- | --- |
| Final Update | 7/7/2021 3:00:00 PM | | |
| Event Update 4 | 7/6/2021 9:00:00 AM | | |
| Event Update 3 | 7/5/2021 9:00:00 AM | | |
| Event Update 2 | 7/4/2021 9:00:00 AM | | |
| Event Update 1 | 7/3/2021 9:00:00 AM | | |
| Event Summary | 7/2/2021 1:00:00 PM | | |
Event Update 1 | Summary

Posting Date: July 3, 2021, 9:00:00 AM
AIR is monitoring Hurricane Elsa, located at 16.5°N, 70.3°W, with maximum sustained winds of 75 mph and a central pressure of 999 mb, as of 8 a.m. Atlantic Standard Time on July 3, according to the National Hurricane Center (NHC).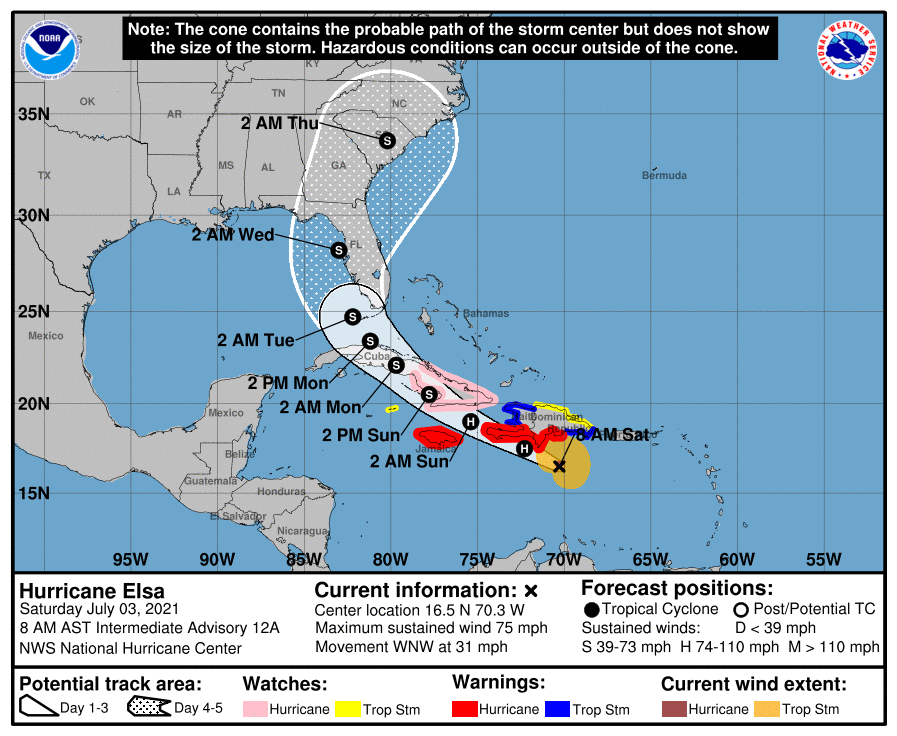 According to the NHC, Elsa continues to move west-northwestward at a fast clip, about 31 mph, which should take the core of the storm just south of or over southern Hispaniola later today and near or across Jamaica and eastern Cuba on Sunday. The models appear to be slowly converging on Elsa making a northward turn somewhere over Cuba on Monday and then heading in the vicinity of Florida or the eastern Gulf of Mexico late Monday through Wednesday, but there is still a considerable amount of spread among the models and the details of the long-term track are still uncertain.
Elsa is less organized this morning than it has been, owing in part to the storm's rapid forward speed preventing the storm's circulation from aligning vertically. Elsa should slow down some in the coming days, allowing its core to become more aligned and better organized. The intensity of the storm as it approaches Florida is still a big question, as it will likely depend on the strength of the storm as it reaches Hispaniola and Cuba and the degree of interaction with the mountainous terrain of those islands.
Air Force Hurricane Hunter aircraft will be flying through Elsa later today, and the data the plane collects will provide a better estimate of Elsa's intensity and structure.
Given the considerable uncertainty in the forecast, the timing and scope for our ALERT™ response also remains uncertain at this time. AIR continues to monitor Elsa and will provide updates on our plans at 9:00 a.m. EDT each day until there is more certainty in the forecast.
For the Caribbean, we will continue to monitor the impacts of Elsa's land interactions and will make a determination based on the landfall location and intensity of Elsa, as well as other factors, whether similar stochastic events will be released. If impacts are severe enough to warrant release of similar stochastic events for Elsa's impacts in the Caribbean, these will be released on Monday, July 5.
For the U.S., if starting as early the Sunday, July 4, 5 a.m. NHC forecast, Elsa is projected to make landfall in the mainland U.S. as a hurricane within ~48 hours, AIR will release similar stochastic events starting that day (Sunday, July 4), and, assuming the forecast remains for a hurricane landfall, each day at 10:00 a.m. EDT through landfall. Again, AIR will provide daily updates by 9:00 a.m EDT on our latest thinking and plans for Elsa.
Please be aware that additional information on Hurricane Elsa is available to Verisk Weather Respond subscribers. Beginning Wednesday, June 30, and continuing through U.S. landfall, Respond® subscribers receive data packs that include forecast wind footprints for Elsa four times daily. These footprints can be analyzed in any GIS tool to evaluate the strength, path, and impact of the event as it approaches land. Contact your AIR or Verisk representative to learn more about this and other Verisk Real-Time Analytics that can be paired with ALERT.
AIR is continuing to monitor potential impacts in the Caribbean and will provide another ALERT update at 9 a.m. EDT tomorrow, July 4.
Event Update 1 | Downloads

Posting Date: July 3, 2021, 9:00:00 AM