Status: Closed
| Type of posting | Posting date(EST): | Summary | Downloads |
| --- | --- | --- | --- |
| Final Update | 7/7/2021 3:00:00 PM | | |
| Event Update 4 | 7/6/2021 9:00:00 AM | | |
| Event Update 3 | 7/5/2021 9:00:00 AM | | |
| Event Update 2 | 7/4/2021 9:00:00 AM | | |
| Event Update 1 | 7/3/2021 9:00:00 AM | | |
| Event Summary | 7/2/2021 1:00:00 PM | | |
Final Update | Summary

Posting Date: July 7, 2021, 3:00:00 PM
Tropical Storm Elsa came ashore in Taylor County, on the Gulf Coast of northern Florida on July 7. Elsa downed trees and flooded roads in Florida's coastal counties. More than 24,000 customers are without power in Florida.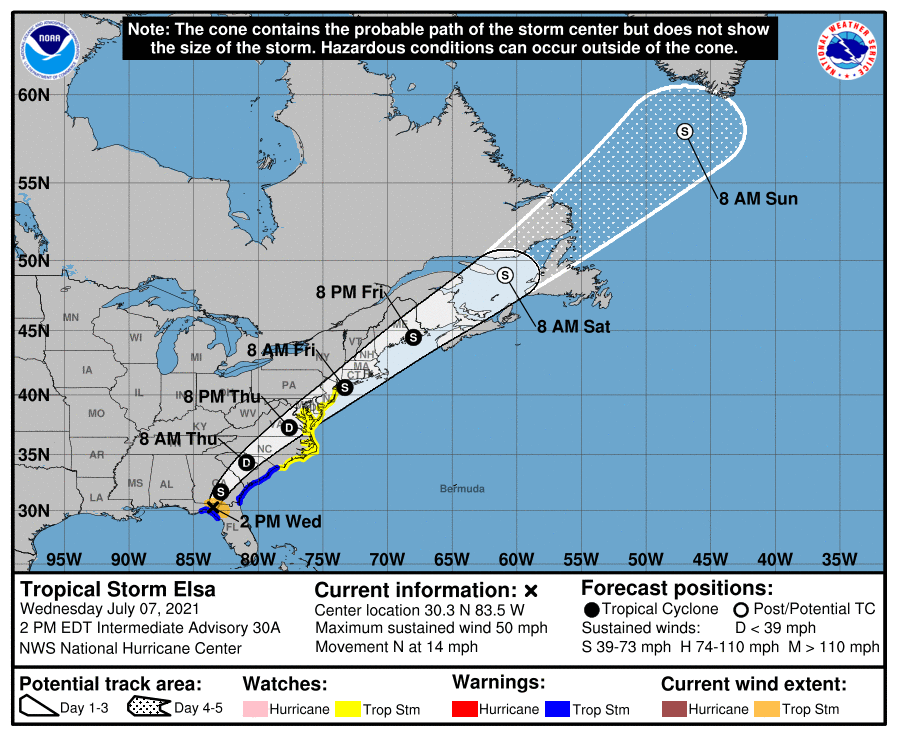 Elsa was the first hurricane, briefly, this year; the third tropical storm to make landfall in the U.S. during the 2021 season; and the earliest fifth named Atlantic storm on record.
NHC Forecast
As Elsa moves across the western and northern Florida Peninsula today, heavy rainfall may result in considerable flash, urban, and isolated moderate river flooding. There is still a danger of life-threatening storm surge along portions of the west coast of Florida today, and a Storm Surge Warning is in effect for that area. Tropical storm conditions will continue today across portions of the northeast Gulf coast today within the warning area.
Although the center of Elsa is expected to remain inland of the coastline from Georgia through the Carolinas during the next day or two, tropical storm conditions are expected along much of the coasts of Georgia and South Carolina. Heavy rainfall across southeast Georgia, South Carolina, North Carolina, and southeastern Virginia may result in isolated flash and urban flooding, with considerable flash and urban flooding possible across southeast Georgia and the Lowcountry of South Carolina.
Tropical storm conditions are also possible along the coast of the mid-Atlantic states by Thursday night or Friday. Heavy rainfall across the Northeast and New England Thursday and Friday could lead to isolated flash and urban flooding.
Please be aware that additional information on Hurricane Elsa is available to Verisk Weather Respond subscribers. Beginning Wednesday, June 30, and continuing through today's landfall, Respond® subscribers receive data packs that include forecast wind footprints for Elsa four times daily. These footprints can be analyzed in any GIS tool to evaluate the strength, path, and impact of the event as it approaches land. Contact your AIR or Verisk representative to learn more about this and other Verisk Real-Time Analytics that can be paired with ALERT®.
This is the final ALERT planned for Tropical Storm Elsa at this time.
Final Update | Downloads

Posting Date: July 7, 2021, 3:00:00 PM